FORT ATKINSON, Iowa — The weather was miserable this spring, but there was a 10-day window that "absolutely made it perfect for putting up the first cutting of alfalfa," said Paul McGill, owner of the Rock Valley Hay Auction.
"If people caught that window, they had tremendous luck and good quality and generally pretty respectable yields," McGill said.
Second cutting has had its share of issues in northwest Iowa. It's been wetter and higher humidity. Most producers in McGill's trade area are at second cutting or about to start.
Hay quantity varies a lot. He said many acres were lost to winterkill along Iowa's Nebraska/South Dakota border. But tonnage per acre on alfalfa that had decent stands was average to better.
"Now short-term, supply is pretty ample, but long-term is another story," he said. "We'll have to see how the rest of the cuttings go, but it looks like it's going to be a shorter than normal hay crop."
Fred Hall, an Iowa State University Extension dairy specialist based in Orange City, said first cutting is complete in his area.
"Some had a pretty much normal first cutting and others had a train wreck getting it up with quality and tonnage issues," Hall said.
Quantity issues
In northeast Iowa, Fort Atkinson dairy producer Carl Schmitt started his first cutting of alfalfa on May 28. He chopped two-thirds of the alfalfa into haylage and made the other third into big square bales because he was out of both. Quality on first cutting was good, but quantity was down.
He started mowing his second cutting on July 5. The weather has been a challenge.
"The weather delayed things, and it was hard to get everything dry," Schmitt said.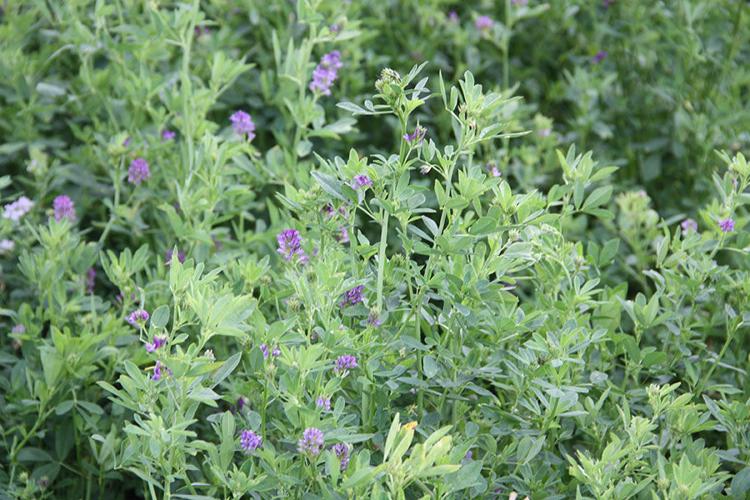 Brian Lang, Iowa State University Extension field agronomist in Decorah in northeast Iowa, said the
July 8 Iowa NASS Crop Progress and Condition Report reported second crop hay harvest was 27% behind normal.
"But this recent change in weather with less rain and more sunny warm days will allow that to change rather quickly," Lang said.
There was some winterkill not only across Iowa, but in Minnesota, Wisconsin and Illinois.
Every year about 20% of the alfalfa crop is rotated regardless of winter injury, Lang said. Along the Mississippi River, he estimates there was at least 30% winterkill, adding up to about 50% new seedings for 2019.
This affects production, Lang said. New seedings only provide about half the yield of an established stand.
Quality issues
Denise Schwab, an Iowa State University Extension beef specialist based in Vinton in east central Iowa, said most of the hay looks pretty good now but was about two weeks behind normal earlier this summer.
"I saw a lot of hay mowed down this weekend, hoping for enough drying days to get it baled," Schwab said. "We saw a lot of first cutting hay put up as haylage or baleage in order to harvest it sooner."
For some, quality will be lower if first cutting was late or rained on.
"This winter it will be really important to test each cutting of hay for nutrient analysis and balance it accordingly," Schwab said.
Those weather challenges started last fall, with rain delaying grain harvest and cover crop seeding, reducing fall growth of cover crops for feed, and increasing damage to pastures from over grazing and hoof damage, she said.
"The winter was very tough, cold and snowy, increasing nutrient requirements on cattle and forcing producers to feed more feed/hay to meet that need," Schwab said. "This cold, wet weather continued into spring, forcing more feed usage from the cold and mud stress."
Many producers used up all supplies of forage and were forced to turn out on pastures before they were growing well, Schwab said.
Looking ahead
Patrick Wall, ISU Extension beef specialist in Knoxville, said tonnage for first cutting was pretty good in south central Iowa because most of the forage was mature at the time it was cut. The extremely wet spring certainly made forages grow.
"However, when that occurs, hay is often over-mature, and thus, lower quality forage," Wall said. "Much of the rye cover crop in the area destined for hay or baleage was simply too mature by the time the weather window presented itself. Some decisions were made to use those acres as bedding, or take the rye crop to maturity and harvest it for seed."
Winterkill was a problem in many areas of southeast Iowa, Wall said. Where there was little to no snow cover during really cold temperatures this winter, most of the alfalfa didn't survive.
Joe Sellers, a retired ISU Extension beef specialist and Lucas County cow calf producer, said the hay crop mostly was harvested late along with the delay in row crop work, but now growth has hit a wall.
"We actually still have some first cutting that is just getting finished," Sellers said. "I'm sure some second cutting has been harvested but not a lot. We have not had any rain here in my neighborhood in July so the regrowth may really be slowed."
Several hay fields had thin stands in some areas where the grass and or alfalfa suffered from winter damage and wet spots from excessive rainfall this spring, said Erika Lundy, ISU Extension beef specialist in Greenfield in southwest Iowa.
"Because of the heavy moisture, we were behind a couple of weeks on getting the first cutting of hay put up," said Lundy.
But weather patterns have been more favorable since then, so Lundy suspects second cutting will be more timely.
"I think the quality of second cutting (specifically the alfalfa) will be really good due to the timing of harvest and the looks of the stands in the field right now," she said.