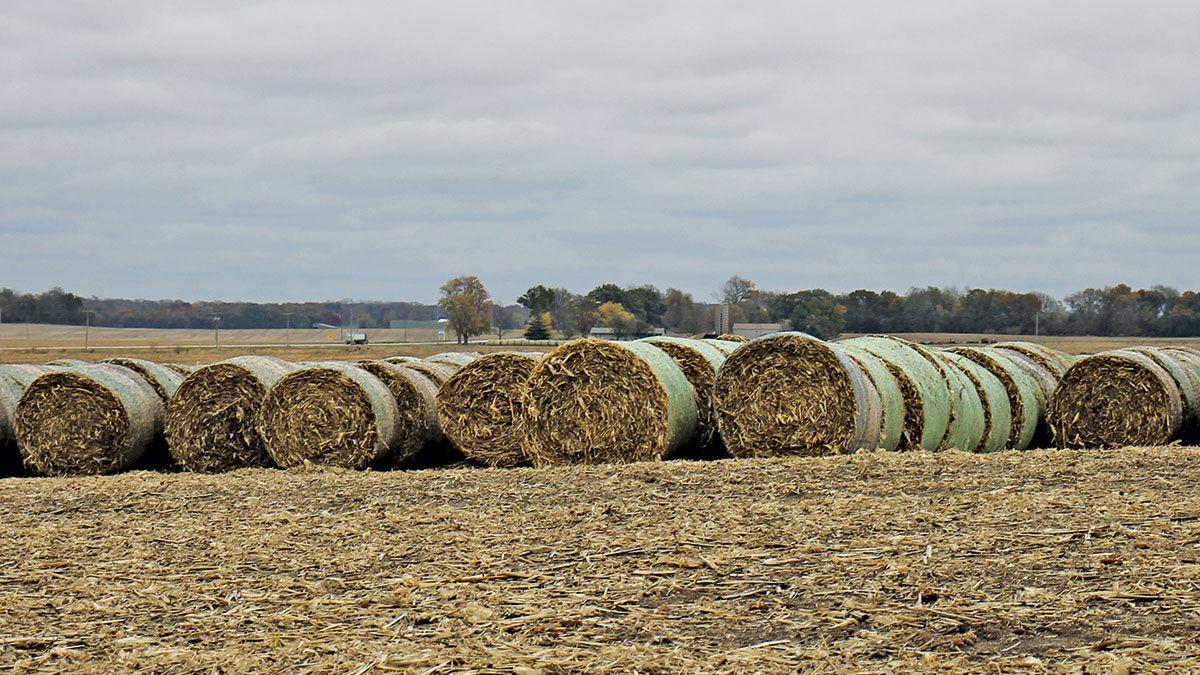 Finding ways to reduce waste and get the most out of every part of a product is not a new concept, especially to farmers.
As harvest season wraps up, there are corn stalks and dropped ears in fields that could go to waste if nothing is done. Corn stover can be called multiple names, such as stubble or residue, but David Dyson says just don't call it trash.
"I always said it's not trash, it's money out there that's banked," said Dyson, an agronomist with The Andersons. "If we can get that money back out, get that fertilizer out of your residue while reducing the host of some diseases, that's money in your back pocket."
In a year that brought a significant amount of damaged or lodged corn, he said removing stover could reduce the amount of disease that is going to be prevalent in fields. Removing those disease hosts should make for a possible boost in yields next year.
"We fight disease every year," Dyson said. "If we can reduce that disease inoculation, we are going to increase yield — I've seen up to a 30-bushel difference. Also, the release of more fertilizer out there through the residue in a corn-to-corn rotation hurries up the process."
University of Illinois crop sciences professor Emerson Nafziger said some producers bale stover for feed or simply remove it for a cleaner field. He said there are definitely effects of leaving the residue.
"Corn stalk residue keeps the soil cooler in the spring and keeps it wetter," Nafziger said. "Corn is considered better than soybeans at holding soil and building organic material in the soil."
Cellulosic ethanol made from corn stover was another possibility explored within the past 10-15 years, Nafziger said. With multiple plants opening, that outlet appeared to be taking off, but it has run into challenges.
In 2018, a Dupont-owned plant dedicated to cellulosic ethanol in Nevada, Iowa, was sold. In November 2019, a POET-owned plant, Project LIBERTY, in Emmetsburg,
Iowa, announced it halted the production of cellulosic biofuel to focus on improving operational efficiency, also citing the Renewable Fuel Standard.
"Due to inconsistent management of the Renewable Fuel Standard, we paused production of cellulosic biofuel at Project LIBERTY," POET President and COO Jeff Lautt said. "Since then, the COVID-19 pandemic has created further challenges for the biofuel industry.
"Over the last six years, we have successfully produced cellulosic biofuel at scale, and we remain committed to paving the way for new advancements in renewable fuels."
The process of turning stover around into energy turned out to be more difficult than anticipated, Nafziger said.
"We still don't have very cost-effective ways to turn corn stalks into ethanol," Nafziger said. "Some entrepreneurs tried harvesting cornstalks to burn and convert to electricity in Illinois, but as I understand it they couldn't sell enough electricity at a high enough price to make it work."
While there are still smaller efforts to utilize corn residue to create products, until a worthwhile cash product comes up, Dyson said it might be more beneficial to farmers to keep that crop on the ground and break down the nutrients.
"There's a lot of nutrients, including carbon, getting pulled into the air in that stover," Dyson said.
"If we can minimize that stover and residue into a usable form into the soil, it will help the soil. It's a nice greenhouse effect where it's pulling carbon out of the air and putting it into the soil."