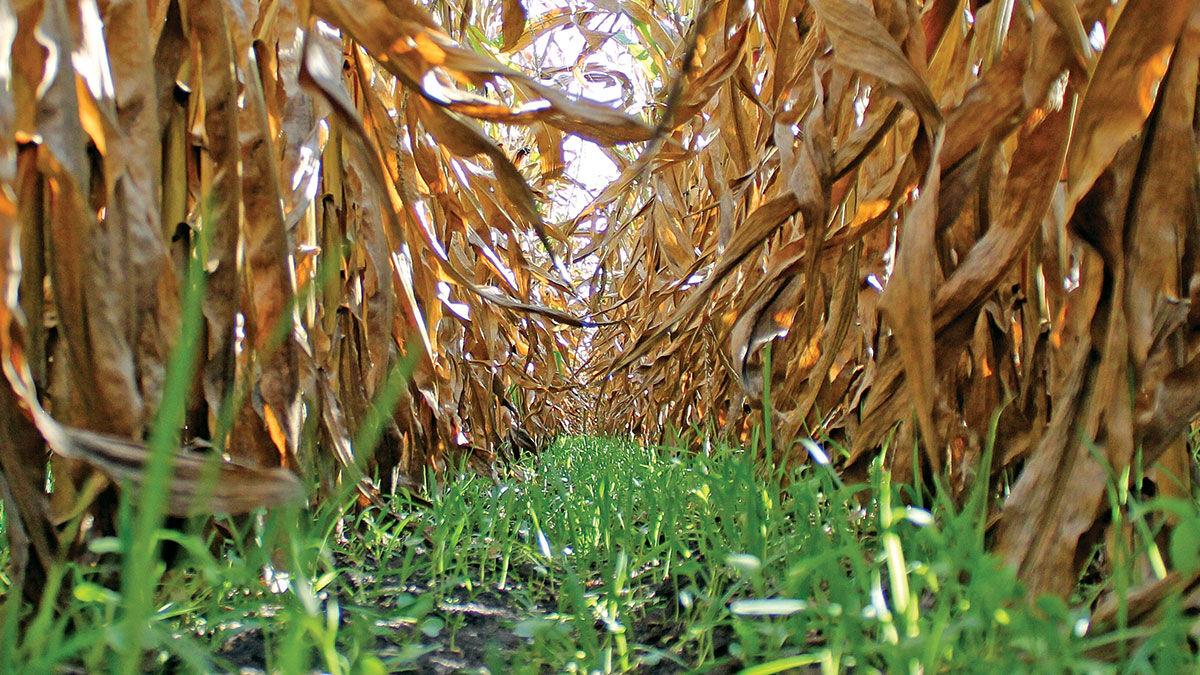 As farmers look to make the most out of their land, simply taking a step back might provide some added value.
Conservation practices are widely promoted, from no-till to cover crops, but what effect do these have on the bottom line of farmers looking to make a living off each growing season?
Vincent Gauthier, research analyst with the Environmental Defense Fund, during a recent Commodity Classic webinar discussed a research project the organization conducted with farmers who used various conservation practices. The project was a partnership with the Soil Health Partnership and the National Corn Growers Association.
The groups compared the cost and revenue differences of the practices, from various types of tillage practice to cover crop options.
SHP lead scientist Maria Bowman said they came up with a couple key economic impacts — conservation tillage reduces operating costs, and cover crops can be a part of a profitable system.
The project showed the per-acre costs of conservation tillage without cover crops were $44 per acre less, on average, than conventional tillage in corn, while conservation tillage with cover crops was $13 per acre less than conventional tillage.
"The biggest savings included equipment cost savings, repair and fuel costs," Gauthier said. "There were some additional costs found in the fields using conservation tillage due to burndown, as you might expect, but it overall really reduced the costs."
In soybean fields, Gauthier's research showed the cost difference at $94 between conservation tillage with no cover crops and conventional tillage, and nearly equal for conservation tillage with cover crops and conventional tillage.
The addition of cover crops limited the cost savings found in switching to conservation tillage, but Bowman said time and experience will make them more profitable.
"Especially for soybeans, experienced cover croppers had some of the highest net returns in our studies, and that was driven primarily by lower input costs," she said.
Areas where experienced users of cover crops saved money were in seed and total fertilizer costs, Bowman said.
"Farmers are dialing in their cover crop system over time and finding efficiencies in that system," she said. "Once they do, they are more profitable. Some are able to cut costs on seed as they get the right mix or dial back their seeding rate."
One unique option for farmers looking at ground cover throughout the season is perennial bluegrass, according to Sara Lira with Corteva.
"When I saw this, I didn't think we should be planting lawn grass in a corn field — that seems like a terrible idea," Lira said. "But if you step back and think about it, it's a good idea."
Lira said bluegrass likes to grow in the spring and summer and is "shallow-rooted," compared to corn which has deep roots and loves the heat of the summer. She said there is slight overlap in their major growing seasons, but there are advantages of the grass.
Seeding it will be a one-time planting system, as it will pop back up annually and will provide quick and easy cover in spring and fall.
"You plant it once and that's it," Lira said. "Some farmers don't have the time in the fall to do this, so you effectively have a cover crop forever and it's always there. It's in place and can just grow right away and do its job."
Lira said this kind of cover crop does need to be managed early on in the corn lifecycle to prevent the overlap of growing seasons. She said gramoxone or gramoxone combined with gluphosinate is effective to control the grass, noting it should be treated like a weed in the early growing season. She said the goal is to turn it brown from corn emergence to the V-4 stage.