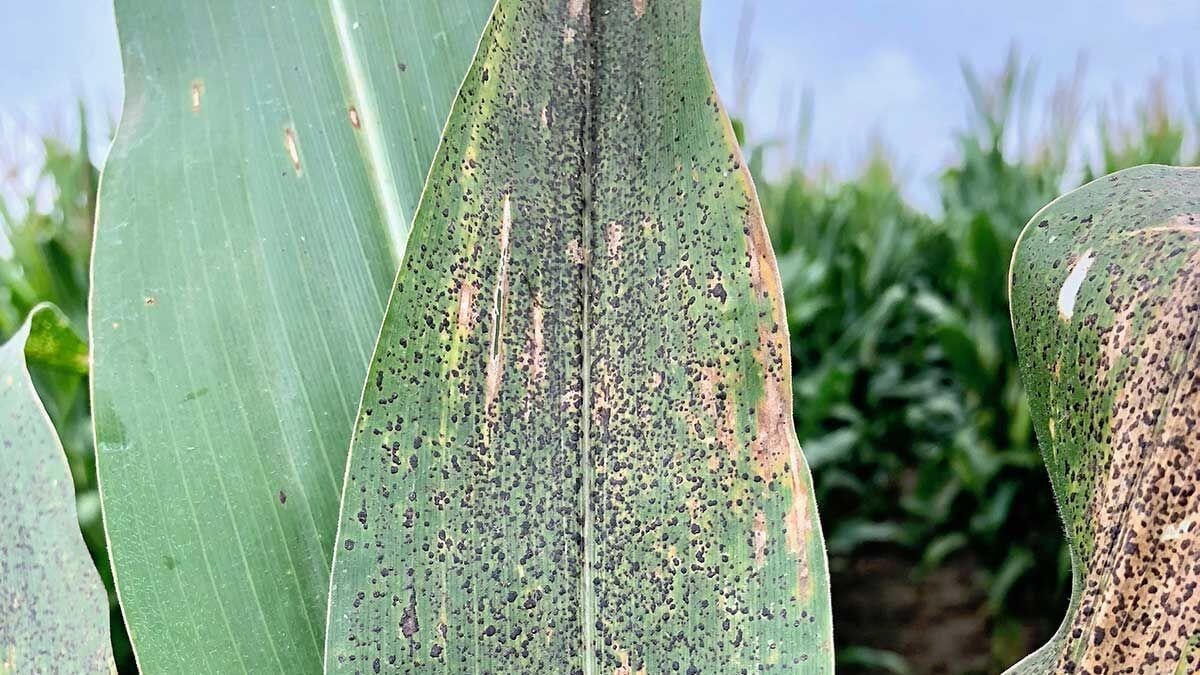 Steve Goodwin has seen many crop diseases show up that caused concern among U.S. agronomists, but often they die off before spreading widely. But one disease has spread "dramatically" — much quicker than he ever anticipated.
Tar spot has rapidly become a major issue for producers across the Midwest. The foliar corn disease has spread throughout Illinois and Missouri and was reported in each of the 99 Iowa counties in 2021, after remaining fairly limited in the Great Lakes region only a few years ago.
"I don't think anyone was really expecting it to take off like it has," said Goodwin, who works with the USDA-ARS Crop Production and Pest Control Research Unit. "It was confined in a narrow area around the Great Lakes when it showed up in 2016, and it has been spreading dramatically in every year after that."
Tar spot was originally seen in South and Central America, typically in cooler climates and more highland areas, Goodwin said. He said tar spot in those regions is caused by two fungus species, but only one of those species, Phyllachora maydis, is present in the United States.
That led to the idea tar spot would not be a significant concern initially, but Goodwin said those assumptions have been proven incorrect.
Goodwin said in the two years he has been researching the disease with the USDA, it has shown an ability to overwinter well. While experts aren't sure what gives it that ability, that makes it a longer- lasting concern for growers who have seen these issues in their fields.
"Once it shows up, it seems to stay," Goodwin said. "In the places it shows up, it seems to show up every year. We don't really know how or why or the best way to minimize that. Tilling it might be a good way to do that or burning it, but we aren't sure."
He said a major factor surrounding tar spot is a lack of identification for many who are scouting their fields for issues.
"It's different from other diseases, so it's very distinct," he said. "It's aptly named, so look for little spots of tar when it shows up. When it gets going, it can get bigger and show fisheye symptom. Otherwise, it's slightly raised, so if you run your finger over it you will feel it, and there are little small black lesions."
While tar spot is the new disease, Beck's field agronomist Luke Schulte said next year's weed challenge will be timely herbicide applications.
He said herbicides, such as Roundup, were able to be reactionary in the mid-2000s, even if the weeds grew to what seemed to be unmanageable sizes. But with additional resistances, that is becoming more limited. If farmers wait to apply herbicide, a higher volume of weeds will steal the sunlight from a growing crop and make additional competition for moisture and nutrients in the soil.
"It depends on the volume of weeds, but when it comes to delayed applications on soybeans, it can be about a 2.5% yield loss and about 2% in corn," Schulte said. "I'd encourage you that three and half to four weeks after you plant, just spray regardless of crop canopy."
Schulte said the increased costs of inputs this year may have producers looking to lower their budget, but the yield drag from early weeds is too much to ignore.
"I would caution on making the cuts to your weed control program," Schulte said. "A grower might save some cost on the pre, but they might have to make two post trips. Will we have enough supply to make both of those trips? Some people will, but many won't."