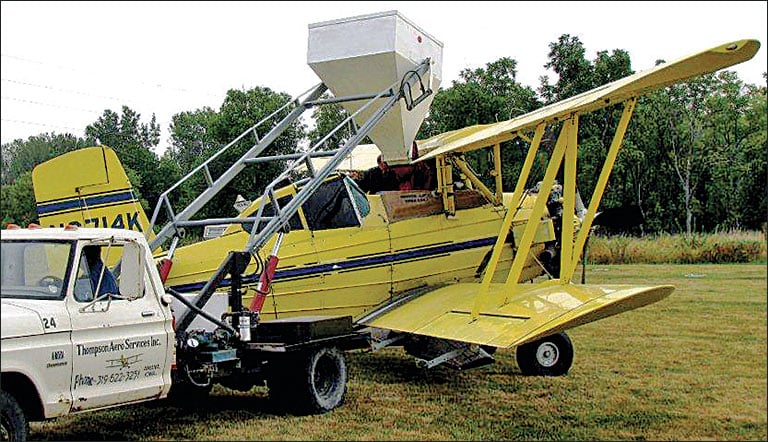 Drought conditions and high feed costs have sent interest in cover crops soaring over the past three years, but producers should know there are some risks involved.
Rob Kallenbach, Extension agronomist with the University of Missouri, says there can be considerable costs when it comes to seeding cover crops. He says timing is critical when it comes to seeding.
"If you are seeding into an existing soybean field, you want to do that about a week before the leaves drop, so generally sometime in August," Kallenbach says.
"If you are seeding into corn, mid-August is generally a good time to do that, although there could be some germination issues due to a lack of sunlight."
Much of cover crop seeding is done from the air, he says. Wind conditions need to be suitable for spray seeding, Kallenbach adds.
"You are seeing some elevators that are starting to look at 'high-boy' equipment for seeding cover crops, but the bulk of it is done through the air," he says.
"You want to be careful that it's not too windy or you are going to lose seed or have it where you don't want it."
Kallenbach says most cover crops are harvested by cattle after the combine rolls through the field.
While some producers may elect to just let cattle wander, he adds using technology such as strip grazing could be more effective.
"Plants such as turnips are 90 to 95 percent water, so when cows walk on the plants they are going to break leaves," Kallenbach says. "If you use strip grazing, you can better manage the crop, and you aren't going to waste nearly as much."
Producers who plant crops such as oats, wheat or cereal rye should be careful that those crops are not overgrazed.
"If you want some re-growth in the spring, you don't want to graze those any shorter than probably 3 inches in the fall," Kallenbach says.
"With any cover crop, you are going to be more successful if you carefully manage the grazing."
Cover crops seeded after harvest may not have enough time to provide any type of forage prior to spring.
"You do have some clever farmers who are seeding as they harvest," Kallenbach says.
"But, for the most part, if you want something to forage in the fall, you need to make good use of September and early October. It's still somewhat warm and we generally get some rain, so there is going to be adequate moisture for growth."
Soil moisture demand is going to intensify with cover crops, he says.
"Cover crops can use a lot of water, and if there is a dry spring, you will see a subsequent loss of crop yield because of the water used by the cover crops," Kallenbach says.
"That is a risk you take when you plant crops in the summer or fall. If it gets dry, there may not be as much moisture available to corn or soybeans come spring."
He adds while most crops are perfectly safe for gestation cows, feeding too much of a crop, such as turnips or radishes, could cause some metabolic issues for cows.
"I would recommend that those crops only provide about 50 percent of total feed," Kallenbach says.
"I would make sure I had other feed available, perhaps some dry hay to balance out the diet."
Weaned calves, he says, should thrive on cover crops.
"Cover crops provide very high-quality feed, so it may be better suited to growing stock," Kallenbach says. "Put those calves on cover crops after weaning, and they are really going to do well."