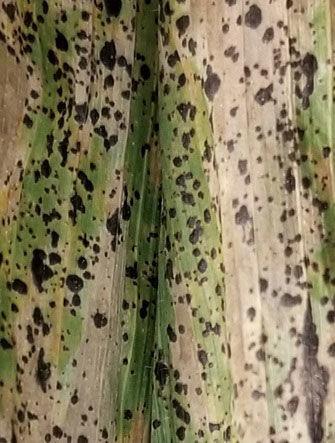 There are still many unknowns about a new disease that has been spreading across the Corn Belt. Each season, researchers are trying to figure out how to get a handle on tar spot.
First identified in 2015, cases of the disease have spread throughout Indiana and Illinois over the past five years, said Darcy Telenko, a field crop pathologist with Purdue University. The latest data shows multiple counties in Iowa, Missouri, Wisconsin and Michigan affected in 2018 and 2019.
In initial research, Telenko said they've learned how the disease is affecting corn. As the disease spreads, it consumes the green leaves, causing leaf blight and, if unchecked, can cause the entire corn canopy to blight.
However, there are still more questions than answers on the disease
"We still have lots of questions," she said. "What triggers that first infection? It's a little slower until we get that first one, and the secondary seems to be faster. We are trying to get out as much information as we can as we learn it."
University of Illinois plant pathology specialist Nathan Kleczewski said it's hard to determine how quickly the disease pathogens are spreading from field to field. He noted that some estimate dispersal at 250 feet, but observations are showing it's potentially much farther than that.
He also said typical crop rotations might not help prevent the disease, as some corn fields experienced issues despite being in soybeans for three or more years.
"This means that cultural practices such as rotation and tillage are not likely to have a major impact on the disease," he said. "Particularly so in an epidemic year, as spores could spread into fields from nearby corn residue from other fields. Tillage and rotation may reduce disease onset and therefore have marginal impacts, but if onset is before R3 and conditions are favorable, then you may still see losses."
Telenko said the more heavily hit regions recently were around Lake Michigan, which affected parts of Michigan, Wisconsin, Indiana and Illinois. The high humidity due to lake-effect weather may have had an impact, she said. A 20- to 60-bushel yield loss was coming out of those affected sites.
When the disease takes hold is a potential factor for how the plant will be affected, Kleczewski said. Tar spot has not been observed yet before canopy closure (V10-12), but if late-planted corn is near an early-planted variety, it can spread to that crop earlier.
He said if the infections occur after the R3 stage, it is not as likely to impact the crop.
"We still have a lot of work to do on this disease, but it is looking like the VT-R3 window likely will be what to target for fungicides," Kleczewski said. "However, we know that revenge sprays, or spraying too late, are not effective at slowing the disease down. Therefore ensuring that the fungicide is timed at the onset of disease is important. This means people need to be scouting fields."
He said anyone seeing an infection prior to the V10 stage should be cautious. He said last year bug excrement was the top cause of incorrect diagnoses for tar spot.
"It washes off with water and spit, so check for this before you do anything," he said. "You don't want to be the person who calls in the plane to spray bug poop."
But when an accurate identification is made, the jury is still out on how to properly treat the disease.
Telenko said in a trial in Indiana with wide tar spot severity, researchers found many of the common fungicides will reduce tar spot. However, she said producers should have a mixed approach when combating tar spot because researchers don't know enough about it yet.
She said one of the focuses for her lab during the 2020 growing season will be to get a better idea of when tar spot is active in the crop. She said this could result in a suggestion of later applications of fungicide.
"The biggest key is timing," she said. "The VT, R1 timing, which is our standard timing for fungicide application on corn, worked great in our plots. It could have gone a little bit later, so maybe R1 would have worked just as well. The early timings that were vegetative stages, the problem is the fungicides ran out of steam before the disease kicked up."