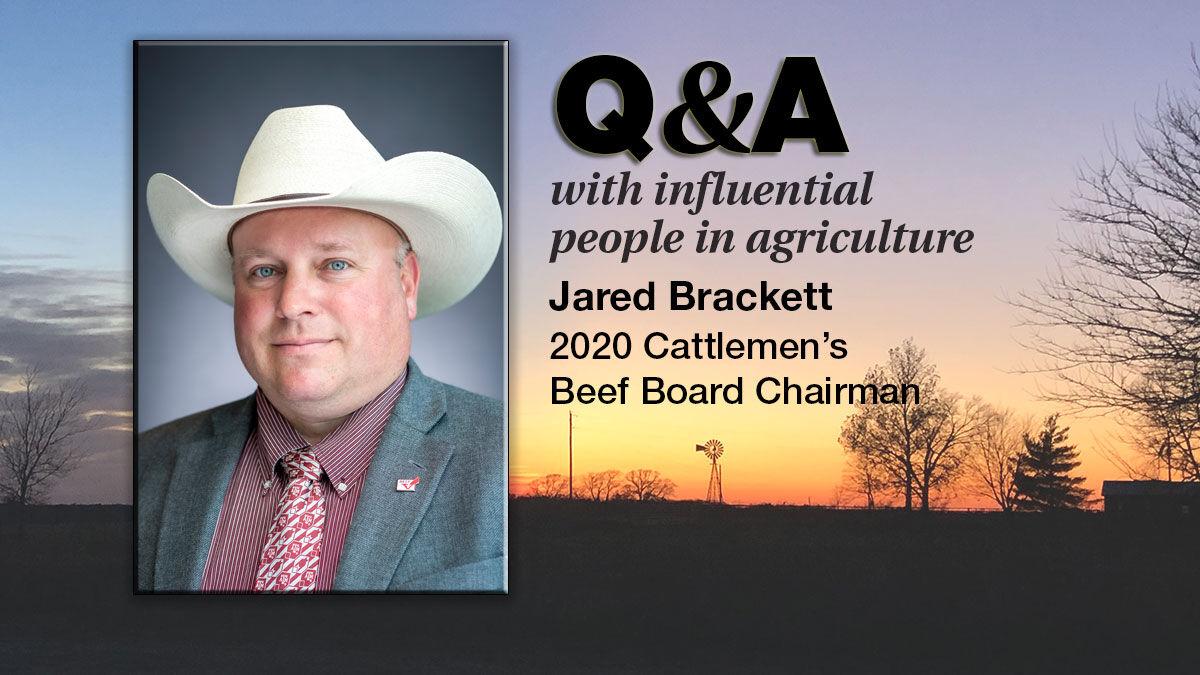 Jared Brackett was named 2020 Cattlemen's Beef Board Chairman. He is a fifth-generation cow/calf producer from Filer, Idaho.
Brackett is a Texas A & M University graduate with a degree in agriculture economics. A past president of the Idaho Cattlemen's Association, Brackett continues to serve on a number of other livestock committees and boards in addition to his responsibilities with the Beef Checkoff.
IFT: As you talk to beef producers, how are they handling the pandemic?
BRACKETT: The COVID-19 pandemic certainly has added to an already frustrating situation for cattlemen and women throughout the U.S. who've experienced tough times in recent years. I'm a beef producer myself, and I can say that the pandemic has certainly created a number of challenges for my operation. I know other producers are in the same boat. We've seen a tremendous impact on our economy, including the stock market and cattle markets. That said, beef producers are a resilient group. We've experienced tough times before, and we will do our best to overcome this one as well.
In times like these, producers certainly ask what their Beef Checkoff is doing to help. As the chair of the Cattlemen's Beef Board, I've personally been impressed by how the Beef Checkoff and its contractors have pivoted their marketing plans to better fit what has become the "new normal."
IFT: What are the CBB's priorities for 2021?
BRACKETT: We want to make informed decisions and encourage Checkoff contractors to execute programs and initiatives that increase demand for beef. That's our primary goal, and it's what we're tasked with every year.
We also look to the Beef Industry Long Range Plan for guidance. In 2020, an industry task force developed the latest five-year version of this plan, and the Beef Checkoff, its committees and contracting organizations use this plan as their guidebook. This new plan focuses on six core strategies:
Drive growth in beef exports.
Grow consumer trust in beef production.
Develop and implement better business models to improve price discovery and value distribution across all segments.
Promote and capitalize on the multiple advantages of beef. 
Improve the business and political climate for beef. 
Safeguard and cultivate investment in beef industry research, marketing and innovation. 
All of our funding decisions and focus areas of Checkoff projects and programs must follow the key areas outlined in the plan that align with Checkoff budget categories: promotion, research, consumer information, industry information, producer communication and foreign marketing. To ensure this focus, each year Checkoff committees continue to renew their alignment by identifying key plan initiatives as their priorities. Checkoff contractors take this direction and develop Checkoff-funded programs in support of those priorities.
IFT: How is consumer demand for beef?
BRACKETT: It's incredibly strong. As of late last year, even throughout the COVID-19 pandemic, beef had actually increased its protein market share by 4 percentage points since March 2020, from 53 to 57%. That's far ahead of the second most popular protein, chicken, at 25%.
While we've seen many shifts in consumer food behaviors, beef is in a good position and consumer perceptions of beef are positive. From January to September 2020, the percentage of consumers claiming to eat beef at least weekly increased from 67 to 72% compared to 2019. In addition, the number of people with a positive perception of beef also increased, resulting in positive perceptions reaching 70% for the first time. 
Consumers are eating more take-out meals, ordering more groceries online, stocking up on food and dining out much less than before the pandemic. However, they're also choosing more beef than ever before, and that's due in no small part to the many ways our Checkoff contractors pivoted their promotional and educational efforts in light of the pandemic.
IFT: Are beef producers optimistic about 2021 and beyond?
BRACKETT: I can't speak for all beef producers, but I do feel that anyone who farms or ranches has to be an optimist at heart. Every year, we face so much uncertainty — the economy, cattle markets, fickle consumers, weather issues and much more. Yet, we stay in this business because we love it, and because it's not just a job, but also our way of life.
It would be easy to look at the situations in which many producers have found themselves recently and be pessimistic. However, I do feel optimistic, and I believe there are many reasons for other beef producers to be optimistic as well. Every year comes with its opportunities and challenges, and 2021 and the years after it will be no different. Still, when I look at all that the CBB and the Beef Checkoff have done and continue to do to drive beef demand — and the positive gains beef has made over the past year — I can't help but feel that there are good things coming just around the corner.
IFT: What has it been like to serve as CBB chairman?
BRACKETT: As a member of the CBB's officer team for the past three years, I thought I knew what to expect in my term as chair. However, no one expected the COVID-19 pandemic and all the disruptions that came along with it. It's been a challenging year, and one I won't forget anytime soon.
That said, I'm extremely proud to have been chosen by my peers to lead this organization throughout 2020, and I truly believe in the Beef Checkoff and all the cattlemen and women who give their own time and resources to help grow beef demand and advance the beef industry. 
Perhaps my most important takeaway from my term as the CBB chair is that beef producers everywhere need to be positive, enthusiastic spokespeople for beef. There's no one group or individual who can shoulder that responsibility alone. We must speak up when we hear misconceptions about beef or the Checkoff or other factors that affect the beef industry as a whole. We can't just silently sit on the sidelines. We need to be vocal advocates. That's the best way to combat these tough times — by putting our voices out there and making the case for beef, each and every day.