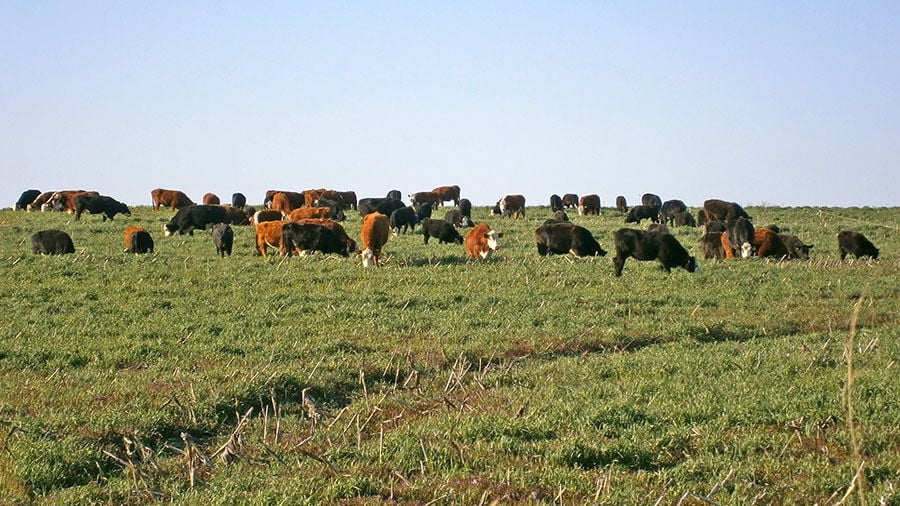 Farmers across the Midwest have in many cases accepted that cover crops are beneficial, helping to keep soil from eroding and reducing nutrient runoff. What isn't as clear is the financial benefit or loss.
"When you get into the economics it gets more challenging," says Mark Licht, an Extension crop specialist at Iowa State University.
There are environmental benefits from cover cropping, Licht says, but those are difficult to measure.
University of Illinois agricultural economist Gary Schnitkey helped author a paper in 2016 estimating the cost of drilling cereal rye into cornstalks. At about $13.10 per acre for drilling and $7.50 per acre in seed, it totaled approximately $20.60. In a no-till system that cost may rise to about $25.60 per acre due to additional herbicide expenses.
More recent estimates are a bit higher in many cases. Licht says $25 to $30 per acre is not out of line, but he says the figures vary dramatically according to the farm and the method used. For example, an aerial application will cost more.
If those costs of seeding a cover crop are difficult to estimate, setting numbers to the financial benefits is even tougher. One place where it may be possible to quantify the benefit is when the farmer uses the cover crop for grazing.
"Right now there's a hay shortage in a lot of locations and there is even a shortage of corn stalks," says Dan Loy, director of the Iowa Beef Center at Iowa State University. As a result, cover crop acreage may be increasing in value at the moment.
Erika Lundy, an ISU Extension beef field specialist, is working with other researchers on a study about the grazing of cover crop acres. As part of the five-year study funded by the Iowa Nutrient Research Center, researchers are looking at several grazing options. They grazed 50 cow-calf pairs on 40 acres of a cereal rye and oat mix for seven days at the beginning of November at the ISU McNay Research Farm in southern Iowa. The cover crop mix yielded 1,675 pounds of dry matter per acre when drilled behind corn silage.
"I hear from a lot of producers that grazing cover crops for one week isn't worth the hassle and cost of establishing the cover crop for a forage source," she says. "However, I disagree."
She says that if a 1,400 lb. cow is eating 2.5 percent of her bodyweight in hay, that's 35 lbs. of dry hay. Those cows are easily going to waste about 15 percent of the hay in a feeder, so that means the equivalent would be 40 lbs. of hay per cow per day. In a week's time, that's 280 lbs. of hay.
In the situation studied last fall, 12.75 bales of hay were saved by grazing. Current hay prices are high, and fair quality hay is bringing about $170 per ton.
And a lactating cow needs more than just fair quality hay. That translates to about $4 per cow-calf pair per day for a week of grazing. That figure may sound high, Lundy says, but with current hay prices it is fair.
Loy says grazing cattle for very long in the spring or fall has a big economic benefit for the cattle producer. If, for example, a farmer ends up grazing a field for as much as 30 or 40 days "that is very significant."
For the farmer who uses cover crops but does not have livestock to graze them, the figures are more difficult to assess.
Most agronomists say that there are environmental benefits. Some also say the cover crops help boost organic matter levels over time, which could trim input costs.