CRESCO, Iowa — There's no denying it's been challenging to be a dairy farmer the last five years.
"2014 was one of the best years a farmer could have asked for," said Cresco dairy farmer Tim Huhe. "No matter what you did, there was money to be made. That changed in an ugly form the last five years."
To keep going through years of low milk prices, the Huhes fine-tuned their operation.
"We milk a lot more cows than we used to with the same number of employees," Tim said. "That leads to not keeping things as clean as you once did and that can be disappointing, but it's what you have to give up to make sure the bills get paid. Hopefully the good years come back. You think about the moves you make and trust that the people you are working with are giving you good solid advice."
The Huhes milk 360 Holsteins and Brown Swiss on their farm north of Cresco.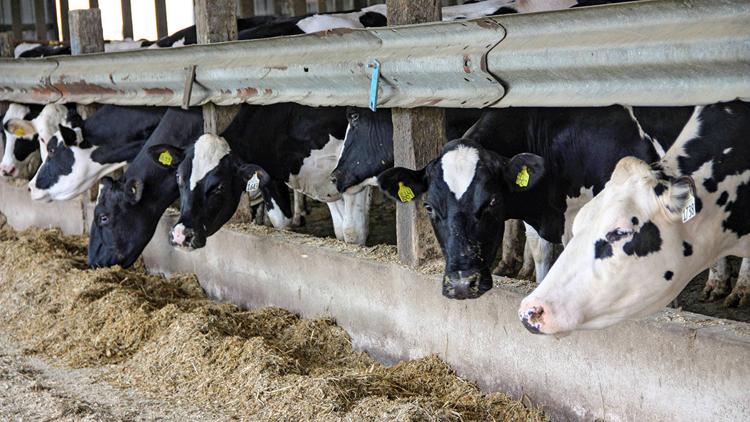 Tim's wife, Diana, is an RN at St. Mary's Hospital in Rochester, Minn. They have three daughters. Abby is a teacher, and Katie is a college student. Jennifer graduated from Iowa State University with degrees in dairy science and agricultural business in 2017. She works for Minnesota Select Sires and on the farm with her father.
In her day job, Jennifer mates cows and helps farmers come up with the right genetic strategies for their farms.
She has been making genetic decisions for her family's farm the past three years.
"Our philosophy we work toward is long-lasting healthy cows that breed back with high components," Jennifer said.
They are using more sexed semen on the heifers, and use beef semen on cows that do not produce replacement heifers. They AI all the cows and heifers, and if they don't settle after three tries, they go to a beef bull.
The Huhes built a calf barn in 2014. It holds 84 calves ranging in age from birth to 2.5 months.
"After we built the calf barn, we started feeding baby calves three times a day instead of two and that's made a big difference in how quickly they grow," Tim said. "We're breeding heifers sooner than we used to. They're calving back in at just under two years."
Tim and Jennifer start mixing feed early in the morning together. She goes to her day job, and when she comes back, they mix feed and finish up whatever needs to be done.
Cows are milked three times a day at 5 a.m., 1 p.m. and 9 p.m.. Most of their employees have been with them for 14-15 years.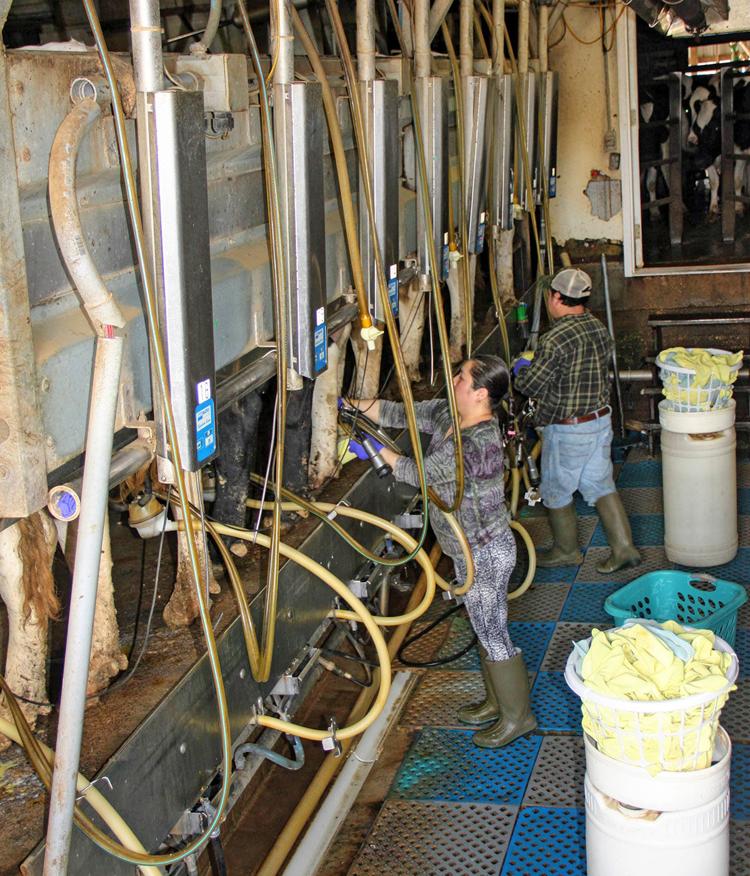 Tim and his parents, Galen and Linda, formed a partnership in 1996. Galen and Linda were milking on the home farm and Tim at another site, and they joined together as H & H Farms. Eight years ago, Galen and Linda retired.
Tim has experienced all stages in dairy. When he was at home, his parents milked with buckets. They put in a pipeline when he went to college. After he joined his parents, they milked in the stall barn for three years before converting the barn to a double-8 parallel parlor in 1999. They put up their first free stall barn in two stages in the 1990s and added the second barn in stages in the 2000s.
"We've slowly expanded over time," Tim said. "We originally milked 40 to 60 cows and slowly progressed to 350 to 360."
The free stalls have sand bedding for the cows.
"We love sand," Tim said. "The cows are so clean and comfortable."
They sell their milk to Wapsie Valley Creamery in Independence Iowa.
The Huhes enjoy showing cattle. A highlight was when Jennifer showed the grand champion Red and White cow at the Minnesota State Fair five years ago. She has also shown at World Dairy Expo, earning medals both times she showed.
"This is a lot of work, but you have to find some fun along the way," Tim said. "We work hard, but we like to find a little time to play too."
The Huhes feed their bull calves to 800 pounds and sell them to a finisher. They also raise sheep and hogs. They farm just over 1,000 acres, growing corn, soybeans, oats and alfalfa. About 70 percent of their ground is no-till and they grow a rye cover crop on all corn silage ground. Liquid manure is injected.
COVID-19 added a layer of uncertainty this spring. The first 30 days were the most difficult, not knowing how it would hit them. There were worries about what would happen if Tim, Jennifer or their employees were unable to work and they wouldn't be able to get the cows milked.
"As we've gone through this thing, I think we've learned more about how we protect our workforce," Tim said. "Everyone is mindful that what they do can jeopardize everyone else."
With her job, Jennifer spends more time on the phone and in Zoom meetings with farmers. When she gets to a farm, she has everything set up so that she can mate cows without face-to-face contact with farmers.
Tim is president of the Northeast Iowa Dairy Foundation and serves on the Howard County Farm Bureau Board and the Howard County Fair Board. His serving on boards means someone else is picking up the slack when he's gone.
"This place never stops," Tim said. "It takes a good workforce and family to make it happen."
The family was honored as a Gary Wergin Good Farm Neighbor in 2018.
In looking to the future, Jennifer's advice is "be prepared for change and work with your team."
"The big thing is that if you don't work with the younger generation, there is no future," Tim said.