DONAHUE, Iowa — Five generations of John Maxwell's family have milked Jersey cows near this Scott County community.
And for the past 20 years, Maxwell has been sharing that story with the world.
"I love talking to people about our farm, and especially about the dairy industry," he says. "It means a lot to be able to do that."
Maxwell is part of a diversified family farming operation consisting of his wife, Joan, and their daughter, Amy, along with his brother Edwin.
In addition to the dairy, Cinnamon Ridge Farms features chickens, an Angus herd and a cattle-feeding operation. They sell bulls and heifers. They also own a wean-to-finish hog building, and use the manure on their row crop and hay ground.
Maxwell's family settled in eastern Iowa in 1855, and he continues to farm the original homestead. He graduated from the University of Iowa in 1984 with a psychology degree, with plans to attend med school, but instead made the decision to return to the farm. Maxwell purchased his first farm in 1988.
"I went to seven banks and they all turned me down, and finally the eighth bank said 'yes' so I was able to buy a small farm at $800 an acre," he says.
In 1997, Maxwell was named the national winner of the Outstanding Young Farmer award by the Jaycees.
"That was my big break," he says. "John Deere asked if I would do farm tours, and that's how we got started with the tour."
Last year, roughly 7,000 people toured Cinnamon Ridge Farms. John and Joan handle most of the tours, while Amy runs the robotically operated dairy, and Edwin makes the farm's cheese part-time. He works full time as an anesthesiologist.
The dairy ranks in the top five nationally in protein, butterfat and milk production.
The robotics system was installed in 2012. Maxwell says cows are milked an average of 3.3 times per day.
"The robotics allow us to milk the cows that need milked," he says.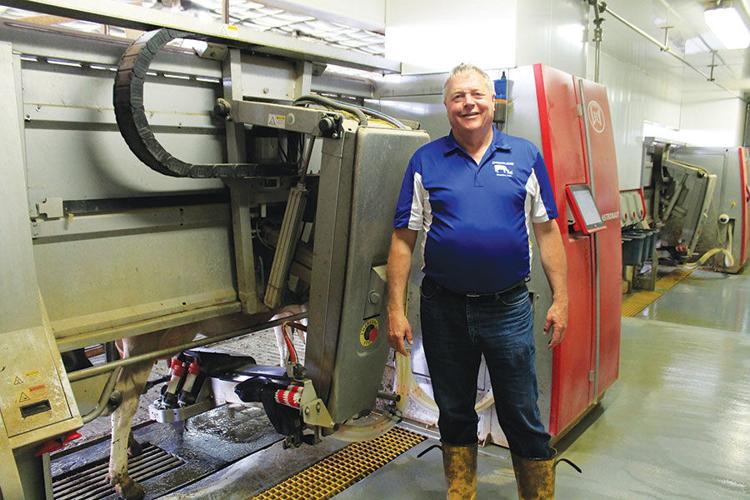 Maxwell says he likes everything about Jerseys.
"They weren't popular in the 1970s because it was a fluid milk market, but consumption has changed," he says. "Cheese and ice cream have gained significant popularity, and Jerseys are best for that.
"It's all about the bottom line, and we receive $5 to $7 over the base price consistently."
Maxwell says the past few years have been challenging for the dairy industry.
"We all spent months making below break-even on milk, so it's been rough," he says. "You have to look at your farm and see what's making money and what is not. We used to sell cheese and beef sticks at farmer's markets, but we weren't making money and stopped. You need to figure it out, or someone else will be farming your farm."
Maxwell says promoting agriculture today may be more important than it has ever been.
"We have to be out there telling our stories," he says. "We also need to be as efficient as we possibly can. When times are tough, we have to be able to hang on and wait for times to get better."