WASHINGTON, Iowa — Raising pigs is a way of life for many in Rob Stout's neighborhood, and it is a lifestyle he embraces.
"My intention was to come back and farm and raise hogs when I graduated from Iowa State," he says. "When I came home for Christmas my senior year, a neighbor told me he was retiring and wondered if I wanted to rent his farm. That pretty much clinched the deal."
Stout graduated in 1978 and returned home to eastern Iowa to farm, raising hogs and cattle and growing corn and beans in Washington County. In 1993, his family bought into a sow cooperative and eventually stopped raising cattle to focus on pork production.
Today, Stout is part of a family farming operation that includes his wife, Jean, and stepson, Alex Zimmerman. They farm about 1,100 acres and feed 9,000 pigs annually, with the feeder pigs provided by the sow cooperative located near Wellman, Iowa.
Pigs weigh 35 to 45 pounds when they arrive on Stout's southeast Iowa farm, and are marketed between 280 and 300 pounds to area packers.
Roughly 1,225 pigs arrive on the farm seven to eight times a year.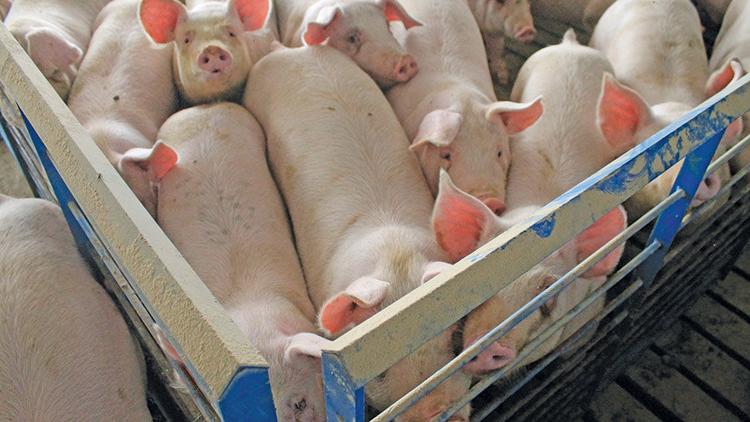 "We are required to buy the pigs, so we own them and can market how we see fit," Stout says, adding he sells to packers in both Iowa and Illinois.
He says the sow cooperative, which has dropped to six members today, has changed genetics since starting more than 25 years ago.
"At first we were using PIC genetics for both our boars and females," Stout says. "Now, we still use PIC for our females, but we use boars from DNA Genetics from (Columbus) Nebraska. Our pigs are still lean, but the meat quality is better, and there is less chance of having to deal with the stress genes you see with really lean pigs."
Artificial insemination is used on all sows, he says. Boars are kept at the cooperative for heat detection purposes.
Stout has four 600-head finishers and one 1,200-head finisher on his farm, and has some pigs custom fed at an off-site finisher.
Manure from the finishers is used on the family's crop ground, he says.
"We like the fact that we don't have to haul it very far," Stout says.
He has been an active member of the Washington County Pork Producers for many years, and now he enjoys watching younger members take on the group's many projects.
"We were very active for a long time, but the younger producers are starting to take things on, and I like that," Stout says. "They have a lot of energy and do a great job with everything."
Stout is also a longtime member of the Iowa Soybean Association, Iowa Corn Growers Association and the Iowa Farm Bureau.
Through his row crop operation, he has participated in research projects with the soybean association, Practical Farmers of Iowa and Iowa Learning Farms. Stout uses cover crops on his farm as part of a research project.
He also says he believes that farmers must keep up on the latest trends in agriculture.
"We believe in continuing education, because if you don't keep learning, you are going to fall behind," Stout says. "We need to do all we can to keep up with new technology and equipment."
The 62-year-old says he is not thinking of retirement, but is thankful the next generation is ready.
"My stepson works with me, so we're happy that he's here and can take on the farm when we decide to retire," Stout says. "My wife and I would like to travel more, and it's nice to have someone here we trust to take care of things when we're gone."