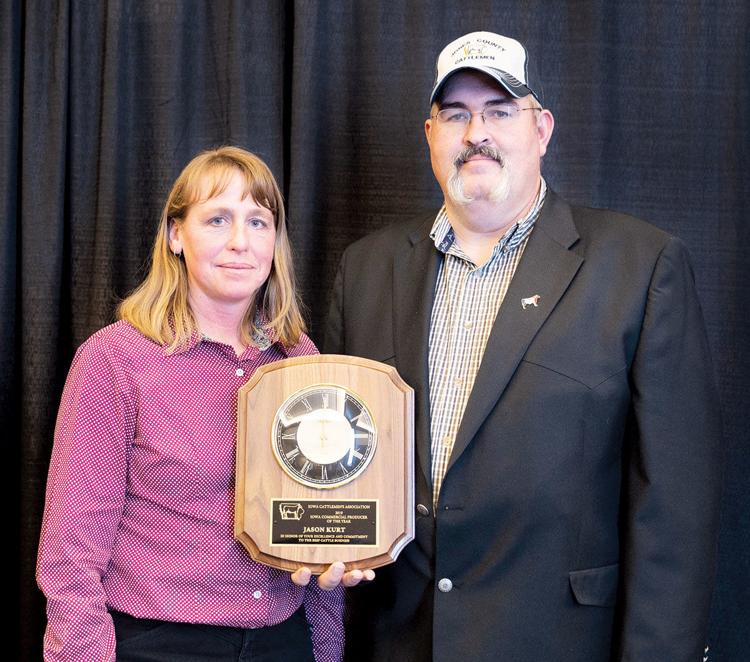 CASCADE, Iowa — Farming is definitely a family affair for Jason and Lisa Kurt.
The couple farms near Cascade in Jones County. Their operation includes 230 commercial cows, grain and hay production, along with finishing about 1,000 head of cattle annually.
"Everyone works and helps when needed," Jason says.
The Kurts were honored recently as Commercial Producers of the Year by the Iowa Cattlemen's Association.
Their oldest son, Ray, came home to farm after graduating from the University of Wisconsin-Platteville and works full-time in the operation. Their daughter, Ashley, is a freshman at Platteville, while younger children Eldon and Katelyn are in 8th and 3rd grades, respectively.
Jason did not grow up in the cattle business, but says his grandfather farmed and he enjoyed helping. What started as a few 4-H and FFA cows in high school has grown into a 230-head commercial herd.
He went to work for a local farmer after graduating from high school, and over time the Kurts, continued to add numbers to the operation.
They have expanded the operation over the last few years, constructing a monoslope barn next to the open feedlots.
"We feed out our own calves, and we buy cattle from Virginia and some western states," Jason says. "We get back carcass data and have used that to improve our genetics."
The Kurts use Angus and Gelbvieh genetics in their herd. They have always used artificial insemination for their heifers, but recently have been using A.I. on some of their better cows.
"We A.I. our heifers to purebred Angus bulls with calving ease in mind," Jason says. "We also develop some of our own bulls. We have very small pastures, and you can't afford to buy a $3,500 bull and put him out with 10 cows."
He says the Angus-Gelbvieh combination produces docile cattle that grade well. The Kurts also emphasize maternal traits with their genetics, and sell roughly 30 bred heifers each year.
Three of their children own cattle. Ray has close to 50 head, while Ashley owns 11 and Eldon owns three.
Jason and Lisa both work off the farm as well. Jason sells chemical and fertilizer for White Front Feed & Seed in Cascade, and Lisa is a feed and fertilizer inspector for the Iowa Department of Agriculture.
Ray has been working full-time on the family operation since May. His father says it is good to have him home.
"We've expanded enough over the past few years, so it should work out," Jason says. "With both of us working off the farm, we need someone there full-time."
The Kurts have also worked on conservation strategies, using EQIP funding to develop paddocks and a rotational grazing system. They also graze cover crops.
Both Jason and Lisa are active in the community. Lisa serves on the county Extension council, while Jason is active in the Jones County Cattlemen, recently serving seven years as president.
"I've really enjoyed being a part of our county group," he says. "We work about 25 grillings per year, and I've grilled a lot of steaks. We really have a good group here in Jones County."