HARLAN, Iowa — Rick Chipman has tried just about everything when it comes to managing risk for his grain and hog operation.
With recent volatility in those markets, he says managing risk may be more important and challenging than it has been in recent years.
"The markets are incredibly volatile, with the weather issues and trade uncertainty," Chipman says. "That volatility has really made buying options more expensive."
Chipman grows corn and beans near Harlan in Shelby County. He farrows 1,000 sows and finishes those pigs, representing one-third of his production. The rest of the operation consists of finishing pigs on contract for other producers.
He also has his own feed mill and generally uses 100% of his own corn.
"We sell all our soybeans and buy bean meal," Chipman says. "We also buy a lot of corn from our neighbors."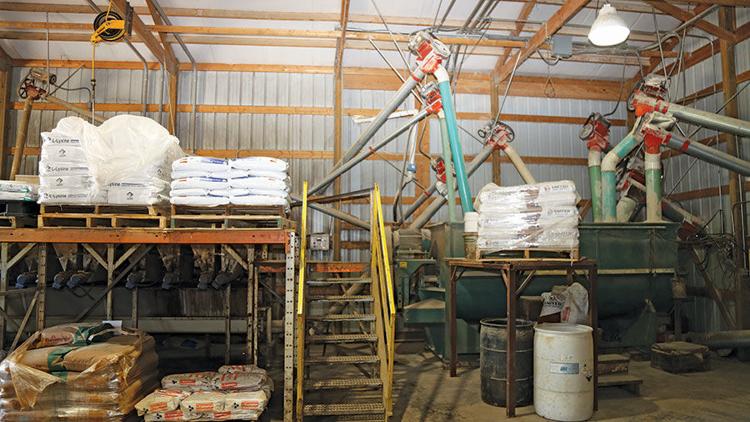 The western Iowa farmer uses a combination of marketing tools, along with advice from a number of marketing services, to make decisions when it comes to locking in feed prices.
Chipman receives alerts on his phone so he can make decisions quickly. He works with four different brokers when it comes to buying grain.
His corn needs are locked up through February.
"We need to do what we can to be prepared for high prices," Chipman says.
Some of the corn is also purchased on the cash market, and he also uses the futures market. Chipman forward contracts with some neighbors, and he lifts the hedge on the board when they are ready to sell.
He says he has been buying calls and options for added protection if grain prices continue to rise.
What happens with corn prices is the million dollar question, says Lee Schulz, Iowa State University Extension livestock marketing economist. He says a recent heat wave during pollination in some fields could cut into yields further.
"There really is quite a bit of uncertainty," Schulz says.
He says higher grain prices impact production costs when it comes to livestock. The difference with hogs is about $2 per head this year.
Schulz expects break-evens for hogs to be near $63 on a carcass basis, with about a $15 per head profit.
"It should be a pretty good rest of the year," he says.
Higher corn prices generally bring feeder cattle prices down, Schulz says.
"That's where we are really seeing the impact with the cattle industry," he says.
Because of the volatility, buying some cost protection is probably a good idea.
"I don't think it's ever a bad idea to get a handle on your production costs," Schulz says.
With forage supplies better than a year ago, he says some cattle producers could choose to background calves and sell at heavier weights. But he says continued hot weather could cut into quality and quantity.
Covering even a part of feed needs will likely be beneficial, says Derrell Peel, Extension livestock marketing economist at Oklahoma State University.
"We have seen corn prices go up nine of the last 10 weeks," he says, adding a recent downward push in prices could help with production costs.
Peel says cost of gain should be in the low $80s, but says that number could creep up to near $90 if corn prices continue to increase.
Chipman says staying on top of marketing can be time consuming. He could spend up to seven hours a week on marketing, especially when the market is volatile.
He also sits in on a meeting every Thursday afternoon with one of his advisers, looking at historical trends and what may be coming down the road.
He is comfortable with the protection he has locked in for his feed needs, he says.
"I think we are pretty well protected with both bean meal and corn," he says. "We have it priced at what we believe are very good levels, and what we have done fits well with our system. What we do might not work for everyone, but for our system, it works pretty well."