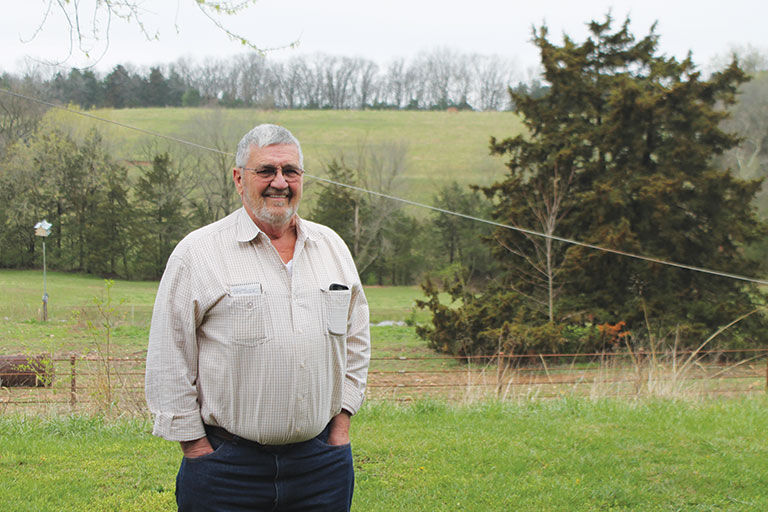 CALIFORNIA, Mo. — On an overcast early spring day, the fresh green grass was growing on Chuck Massengill's Moniteau County farm. Rowdy the farm dog lay on the floor, and "The Wreck of the Old 97" played on the radio.
Massengill looked out over the panoramic view behind his house and thought about the coming weeks and months.
Bull turnout for spring calving would be coming later. Massengill, a beef cattle producer and veterinarian, says a few management practices can go a long way in making sure cattle are in peak condition for breeding.
"For the bull turnout, it's really important that they get out healthy and strong because they're really active when they're first turned out," he says.
Massengill says producers should keep their bulls' vaccinations up to date and test for BVD and trichomoniasis before turnout.
"It's just one of the facts of life that we have to deal with," he says of those diseases.
He also recommends conducting a breeding soundness exam. In particular, it's crucial that bulls don't have bad eyes or issues with their back legs.
For heifers, the exam can help determine calving ease.
"Bad eyes and bad rear limbs are probably the main condemnations for bulls," he says. "…With the heifers especially, making sure they have a good, roomy pelvis."
Massengill says it's good to make sure cattle are well fed and cared for before breeding time.
"Put them on a good nutrition plan," he says.
Supplementing the diet with minerals is a good idea, he says.
Shawn Deering, a University of Missouri Extension livestock specialist, says producers should try to get cattle to a body condition score of 5 or 6 before calving and then breeding again for the next year.
"Those cows need to be in good condition before calving," he says.
Nutritional requirements go way up after calving, Deering says, so if cows aren't already in good condition before calving, it's too late to get them in good shape for breeding.
"If you've got a cow that calves in thin condition, it's just hard to get them to put much back on," he says. "… Putting a little conditioning on them in second stage pregnancy, it's a lot easier."
Deering, based in Gentry County in northwest Missouri, says a lot of hay in his area is mixed grass hay and sometimes "is not of extremely high quality."
He says corn is fairly cheap right now and can be a good energy source, and then mineral can also supplement the diet leading up to breeding time.
Deering says for many people the goal was just to get bulls as fat as possible before turnout, but now the approach has been more nuanced.
"The purebred guys now, they're getting better at pushing the bulls enough to see the difference in genetics, but not so much they're just rolly fat," he says.
Like Massengill, Deering says a breeding soundness exam is a good idea.
"Bulls can go bad over the winter," Deering says.
Jim Humphrey, an MU Extension livestock specialist, says a high magnesium mineral supplement can be helpful and aid in preventing grass tetanus.
Humphrey says veterinarians are a good resource in making sure cattle are ready for breeding.
"Hopefully these producers are working with their vet and getting a breeding soundness exam, making sure the legs and feet are okay," he says.
"With heifers, they can get a pelvic exam. Vets can do a reproductive tract score and check their cycles."
Humphrey says producers can use genomic testing and expected progeny differences (EPDs) to "make sure they're matching their genetics."
He says they can work with artificial insemination reps, MU Extension staff and breed associations to best utilize genetic information ahead of breeding.