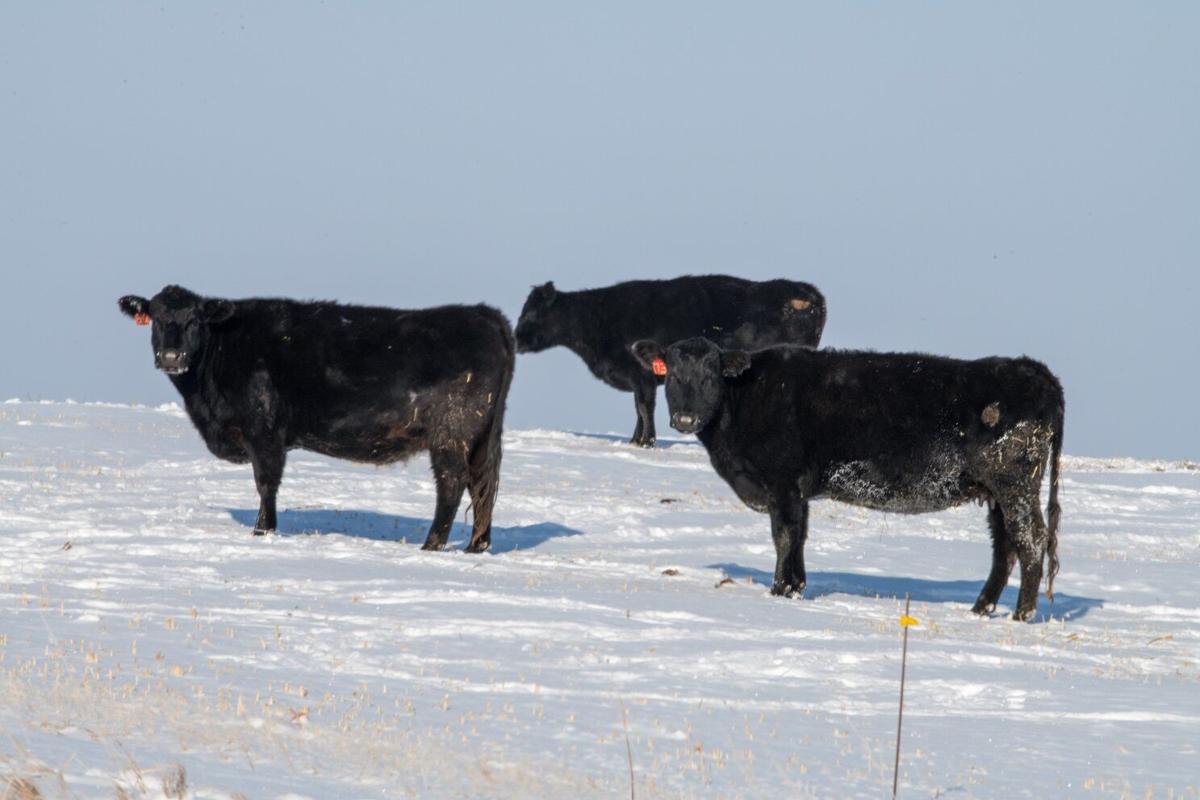 Combine bitter cold with carrying a calf, and those mama cows are going to need extra groceries when winter winds start to swirl.
Mid-autumn is a good time to assess not only body condition, but also feed needs.
"Here in southeast Iowa, we had a dry September, so our fall grass isn't there," says Patrick Wall, Iowa State University Extension beef specialist. "So cows are probably a little thinner than we are used to, and that makes it tough to determine body score."
He says thin cows are likely going to need some sort of energy supplement.
"Most will use distillers or gluten, which has more energy than hay or corn silage," Wall says.
For producers with ample pastures, cows will stay in decent condition while on grass. Wall says tall fescue is an example of grass that will keep weight on cows in November and December.
He says hay should be tested before it's fed.
"You'll need a nutrient analysis before you start any kind of supplementing," Wall says.
Thin cows could also be separated from the rest of the herd, says Justin Waggoner, Extension beef specialist with Kansas State University. This also applies to heifers.
Doing this will give them access to not only more grass, but they can be supplemented without competing with cows in better condition.
"If they are thin and you don't address it now, they are going to likely calve as a thin cow," Waggoner says. "That can cause issues with reproduction."
He says putting on weight may require additional protein be supplemented. Most gestating cows need one to two pounds per day, Waggoner says.
Extending the grazing season is also beneficial. He says keeping cows on wheat pastures, corn stalks or even cover crops can help them maintain weight in late fall and into winter.
Fall is also a great time to assess feed inventory. Waggoner says most farms produce hay that varies in quality, so they will need to separate high-quality hay from the lower-quality forage.
"Cows need different crude protein levels from the dry stage through calving," he says.
For example, Waggoner says producers should target 9% crude protein for cows in late gestation. He says producers could blend high-quality hay with poorer-quality bales to help reach those percentages.
Waggoner says it may be tempting to feed extra protein during severe cold snaps, but he says that is wasting feed.
"What those cows really need is extra energy," he says. "That's the point where they are definitely going to need extra calories to keep on weight."
Wall says it's also a good idea to keep an eye on fall-calving cows and their calves. He says creep feeding in the fall can give calves a needed boost, as long as it's economically practical.
Walls adds producers may also want to begin stockpiling bedding now, rather than trying to do it when the temperatures are colder.