Editor's note: This article is part of a series on the behind-the-scenes work of agriculture organizations that aren't often in the spotlight.
---
Dan Halstrom believes the U.S. Meat Export Federation can fulfill its mission without a good deal of fanfare.
"These exports support a wide range of jobs that go well beyond livestock production and make important contributions to the U.S. economy," said Halstrom, USMEF president and CEO. "So our goal is not so much to make USMEF more visible, but rather to inform as many stakeholders as possible about the outstanding returns delivered by red meat exports."
The organization keeps it headquarters in Denver but has offices throughout the world.
"USMEF was founded in 1976 by U.S. livestock producers who traveled to markets such as Japan and Europe and saw firsthand the opportunity to get a premium for their product in overseas markets," Halstrom said. "Their foresight and vision laid the groundwork for an industry that exported more than $14 billion in red meat products last year."
Halstrom said the USMEF focuses on increasing the profitability of beef, pork and lamb producers "by enhancing demand for their products in export markets through a dynamic partnership of all stakeholders."
That mission, he said, has changed very little.
"I wouldn't say that USMEF's mission has changed over the years, but the manner in which we fulfill that mission is always evolving," Halstrom said.
One of the most important evolutions, he said, has been the expansion of support from industry partners to promote U.S. red meat — including from the soybean and corn industries and third parties in international markets.
"We are also focused on a much wider range of international markets and continue to research and identify potential new markets," he said.
Flexibility and a willingness to move into uncharted territory has helped advance USMEF's mission.
"USMEF is always looking to deploy resources where they are most needed and where they will deliver the best returns for the industry," Halstrom said. "Sometimes this means opening new offices, which we have done fairly recently in rapidly growing markets such as Colombia, Vietnam and the Philippines.
"In other cases USMEF has shifted resources in order to expand the territory we are able to cover. For example, we have a representative based in Europe who now spends a significant amount of time in Africa."
Halstrom said continued growth in the African market could result in an enhanced presence on that continent.
And "tremendous growth" in Central America and the Caribbean means the USMEF office in Mexico City has expanded the time and attention it devotes to those areas, he said.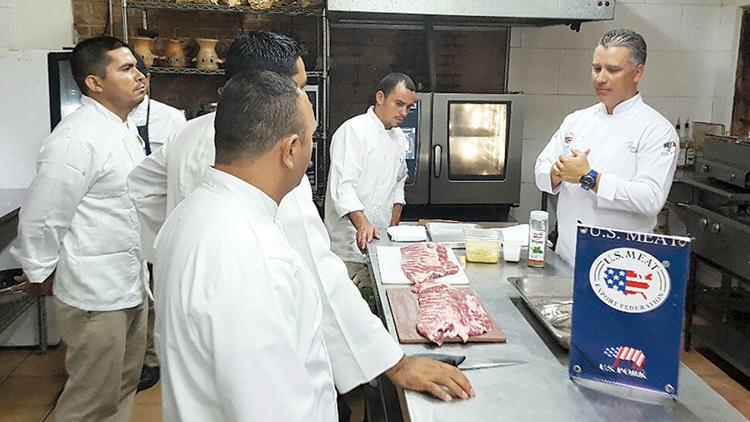 Recent trade disputes are an area of concern for the livestock industry, and Halstrom said the USMEF is doing what it can to ease those worries.
"Our role and mission remain the same, but we have placed a greater emphasis on reassuring customers about the reliability of the U.S. as a red meat supplier and reinforcing key customer relationships," he said. "In some instances — such as the Mexican pork market — trade uncertainty has energized our competition and put U.S. market share at risk.
"But USMEF's approach is not to dwell on the negative, but rather to meet these challenges head-on and do everything possible to retain customers and further expand exports."
Halstrom said USMEF works behind the scenes to help government officials better understand the meat industry.
"For negotiation of formal trade agreements or other negotiations on market access, USMEF does not engage directly with foreign governments," he said. "However, we provide detailed information to our own trade officials on the competitive landscape of each market and help identify the barriers that restrict U.S. exports.
"Our goal is to help our U.S. officials gain the most favorable terms possible, then capitalize on these opportunities by fostering relationships with importers, distributors and other key buyers."
Halstrom added while USMEF's mission remains much the same, being able to adapt is the key to keeping that mission effective.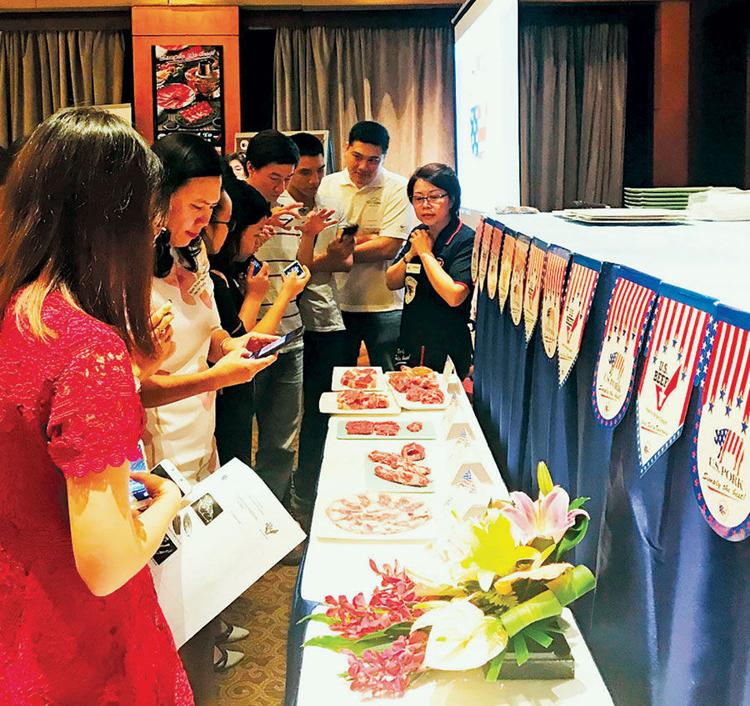 "I feel that one of the reasons USMEF has been successful over the years is our ability to adapt." he said. "In this increasingly complex world of trade, we regularly adjust our strategies and underlying activities in various markets as needed to continue maximizing the international value opportunity for U.S. beef, pork and lamb."