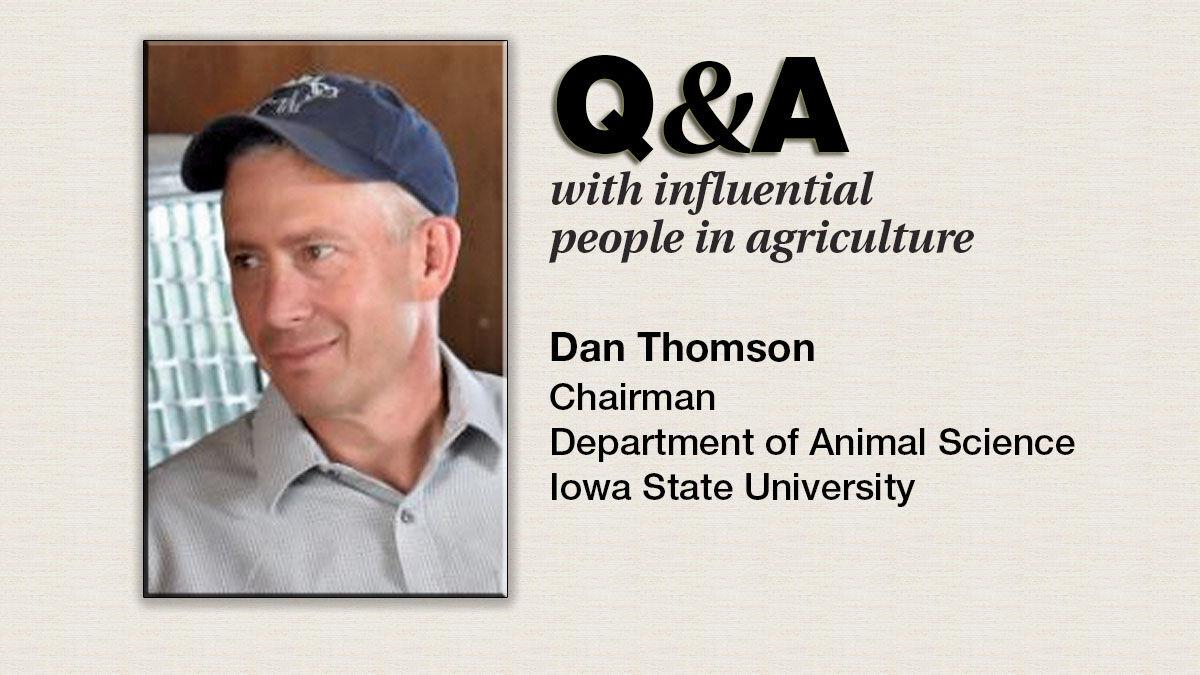 Dan Thomson is a third-generation bovine veterinarian from Clearfield, Iowa, and serves as chairman of the Department of Animal Science at Iowa State University. He began his duties in January 2020.
Thomson received his B.S. in animal science and DVM from Iowa State University. He completed his master's degree in ruminant nutrition from South Dakota State University, and a PhD in ruminant nutrition from Texas Tech University.
Thomson previously held the title of Jones Professor of Production Medicine and Epidemiology at Kansas State University's College of Veterinary Medicine. He created, founded and directed the Beef Cattle Institute at Kansas State University, and has served as the global co-leader for McDonald's Beef Health and Welfare Committee, sits on the YUM! Animal Welfare Council, chairs the Animal Welfare Committee of the National Cattlemen's Beef Association and serves on the Animal Welfare Advisory Board of Tyson Fresh Meats.
Thomson was an associate veterinarian with Veterinary Research and Consulting Services in Greeley, Colorado. He then served as the director of animal health and well-being for Cactus Feeders in Amarillo, Texas. Thomson still practices feedlot medicine in Nebraska, Kansas, Iowa and Texas, and is an owner/partner in PAC veterinary and research services, which oversees the veterinary care, health and well-being for 20% of the U.S. cattle on feed.
He is recognized internationally as a leader in animal welfare, beef cattle production and cattle health management. Thomson's research program has been granted over $35.3 million, with $16 million of those funds coming with him as the primary investigator.
Thomson and his wife Cindy have four daughters, Kelly, Katelyn, Tory and Sarah.
IFT: You come from a long line of veterinarians, and your father was dean of the College of Veterinary Medicine before retiring in 2011. Was becoming a veterinarian always your plan? 
THOMSON: I was raised in a time at our veterinary clinic in southwest Iowa before we had calving ease bulls. We were pulling so many calves and C-sections that I decided to be a nutritionist. After completing my nutrition degree, I saw the opportunity to tie health and production management together and decided to attend veterinary school at Iowa State.
IFT: You've worked in many sectors of the livestock industry. How did those experiences prepare you to head up ISU's animal science department? 
THOMSON: I have worked with small commercial cow herds to large feedlot companies to consulting major beef packers to advising our beef retail globally. Most people in the areas I work with from pasture to the plate were animal science majors. We as a department have to focus on serving stakeholders and teaching students modern production with a safe, wholesome, nutritious, affordable product in mind for our consumer.
We also need to be able to explain how we raise animals, understanding topics such as health, welfare, sustainability, food safety and food security. Understanding best management and production practices for raising animals is key to any area of agriculture or allied industry you choose to work.
IFT: Student recruitment is a priority for any department. What are some of the things ISU and other universities are doing to improve those efforts? 
THOMSON: You will not hear me say we need higher enrollment. We need the best programs for student learning and helping them be their best on day one of their job. If we develop the right programs that are in step with industry needs, enrollment takes care of itself. We are the one of largest animal science departments in the U.S. today because we have the best faculty. We have incredible facilities to support hands-on training in beef, dairy, pork, poultry, turkey and egg production, but it is all about having the best faculty, staff and students to have the best program.
IFT: What are some of the ways animal science departments are changing to meet changes in the industry? 
THOMSON: We are engaged every day with the industry. We listen. We adapt. We work together on research programs in the field, and we bring industry experts to our classrooms to engage with our faculty, staff and students. We are here to serve Iowa farmers and ranchers.
IFT: What is your end goal for each student that goes through the animal science program? 
THOMSON: We want them to grow as a person and as a professional. Our department has core values that are shared with our students on the culture we want in our department every day. We have the best teaching program and they will learn a lot in the classroom.
But, one thing about Iowa State that you cannot replicate anywhere else is the business network our students develop. Iowa State students are integrated in a global animal agriculture network every day, and they build a network that will help them grow their farm, business or enterprise throughout their life. It is the amazing ISU ag network that has helped me open so many doors my entire career.
IFT: What do you see as the biggest challenges facing animal science programs around the Midwest? 
THOMSON: The biggest challenge is ourselves. You will hear talk about budget, resources, enrollment, research dollars and more. That is not new. We are responsible for our programs and for doing our job. If you are doing what is needed to train tomorrow's workforce, research for solutions to on-farm or ranch problems and getting relevant information out to the stakeholders to use, we will not have a lot of problems with budget, interest or recruitment. We must be servant leaders to Iowans.
IFT: If you look a few years down the road, how do you see the animal science curriculum evolving?
THOMSON: I see us developing two tracks in our curriculum. One will be a science track that will help with students interested in veterinary medicine or graduate school in animal science or other disciplines. The second track will be production and management focused, with less science and more business. We recently added beef, swine, poultry and equine production management certificates. They are very popular with our students and our industry partners. I see us developing the same concept with a major that integrates well with food animal supply chains.