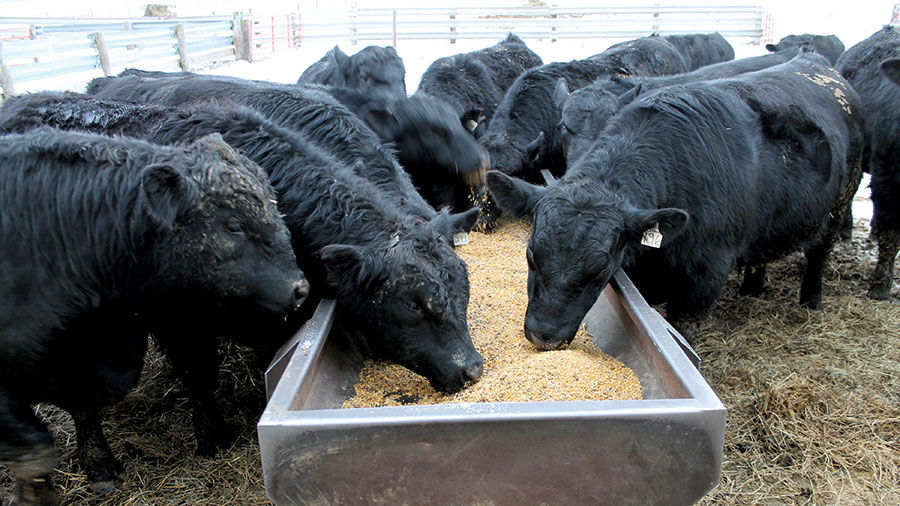 It takes more than a few added calories to keep cattle eating in the feedlot.
Steve Hansen, owner of Customized Cattle Solutions in Fort Calhoun, Neb., says slight adjustments to the ration are often necessary. Those could include a drier ration or increased roughage content in forage.
"We can have some pretty adverse weather in the winter, so maintenance requirements are going to go up," Hansen says. "When the weather is bad, you are going to see some inconsistent eating patterns because the cattle won't travel to the bunk as frequently."
He says dry matter roughage amounts could be increased anywhere from 1 to 1.5 percent. Producers may look to increase energy levels in the ration as colder weather approaches.
"You may be adding calories to keep them gaining, but you still need rumen motility," Hansen says. "Rumen movement creates a lot of heat because that's a huge muscle, and that can be suppressed if cattle don't have enough roughage."
Minor ration adjustments are generally all that is needed when winter arrives, says Dan Loy, Iowa State University Extension beef specialist.
"You might want a little more roughage, but I prefer the diets stay much the same," he says. "Managing intake becomes very important in the winter."
Loy says cattle tend to eat more during cold weather, although that intake can become erratic during major weather events. He says the cattle will adjust and settle in, eventually resuming their normal eating pattern.
Producers need to be prepared for the worst when it comes to weather, Loy adds.
"If you have a blizzard, are you going to continue to be able to get feed to the cattle?" he says. "Do you have access to small square bales, and can you remove the snow?"
Cold weather could also make cattle more susceptible to illness, Loy says. Newly arrived cattle can face additional risks due to the stress of a new environment.
"A lot of cattle are placed in the fall, so visit with your veterinarian to make sure your health program is going to keep them healthy," he says.
Windbreaks play a key role when it comes to weight gain and comfort in the feedlot, Hansen says.
"I really prefer them around the perimeter of the feedyard," he says. "When you have them in the pen, cattle tend to stand in that spot, and eventually they are going to get messy."
Dry bedding is also a necessity, Hansen says.
"When cattle lay on a cold surface, they tend to not dress as well if they are close to being finished," he says, adding keeping cattle dry is going to help them maintain body heat.
Hansen says some studies suggest cattle be fed late in the afternoon, so peak digestion is occurring during the colder stretches of the night.
He says water supplies also need to be closely monitored. Hansen says cattle typically won't drink as much if water temperature drops below 50 degrees.