ANITA, Iowa — When Mariah Murphy started 4-H several years ago, she asked her father if she could get a horse to show.
"Dad said we should try something smaller first, so we got a heifer and some Spotted pigs," she says. "Four or five years later, I asked him if we could get a horse now, and he says 'you are going off to school in a year or two.' So that's how we got into the pig business. I never did get that horse."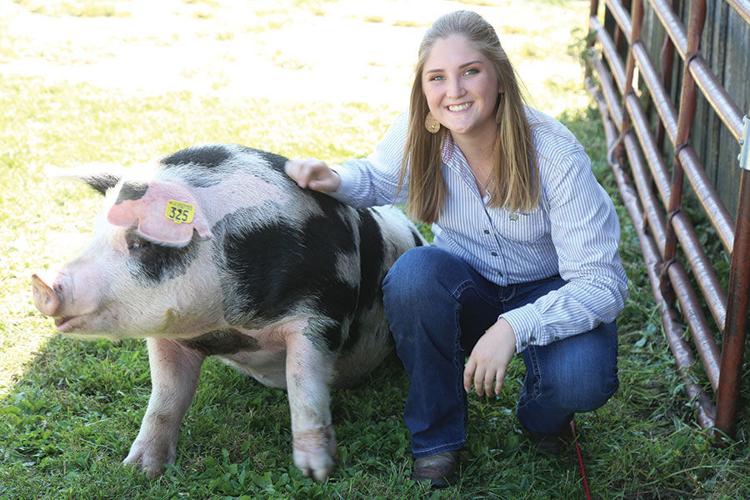 Murphy, 19, is in her second year at Southwestern Community College in Creston. She will graduate with her associate degree in applied science and livestock production.
Murphy's parents are Doug and Kristi Murphy. The buildings she uses are on the farm near here that is owned by her grandmother, Judy Murphy.
The family traces its history with the Spotted breed over several decades. Mariah's great-grandfather was well-known in the breed, and her grandfather showed Spotted pigs around the Midwest.
"Dad found it was harder to work with them as he got older, so we switched to cows," Doug said. "When he got sick, we sold everything."
"My cousin and I would come out here and shell corn to feed the bottle calves," Murphy says. "I think there's where I found out how much I love working with animals."
She showed Spotted pigs numerous times at the Iowa State Fair, and realized it was a breed and an industry she loved.
"I just enjoyed it so much," Murphy says.
Eventually, she and her father brought in a boar. They learned how to use artificial insemination to breed the gilt they had on the farm.
"We've had to restart a few times," Murphy says. "If you are raising show pigs, you have about a one month window to farrow.
"My goal was to raise show pigs that didn't cost a lot of money. I want to make sure that if a 4-H'er in Cass County wants to show pigs, they'll be able to do that."
At the moment, Murphy has two gilts and the boar. She is hoping to add to the sow herd over time. The first step, however, is finding a job after college.
"I'd love to work in the livestock industry if I can," Murphy says. "I think I'd be happy with anything ag-related."
She also looked to get involved with the local pork producers organization.
"I went to a meeting in April because I told Dad that if I was going to raise pigs, I wanted to be involved," Murphy says. "I was listening to people talk about how the organization used to be very active, and I shared some ideas that I had about the need to get youth involved.
"They decided to elect officers and someone says, 'I think this young lady should be our president.' Dad and I walked out and I said, 'What the heck just happened?'"
Murphy says she looks forward to working with the county group to help gain membership and become more active.
She has big plans for her little operation.
"Spotted is a great breed for kids wanting to show pigs," Mariah says. "I can't wait to be able to be more active when I get out of school."