When the derecho swept through central Iowa and northern Illinois a year ago, the wind and rain only lasted for an hour. The damage, however, is still being addressed.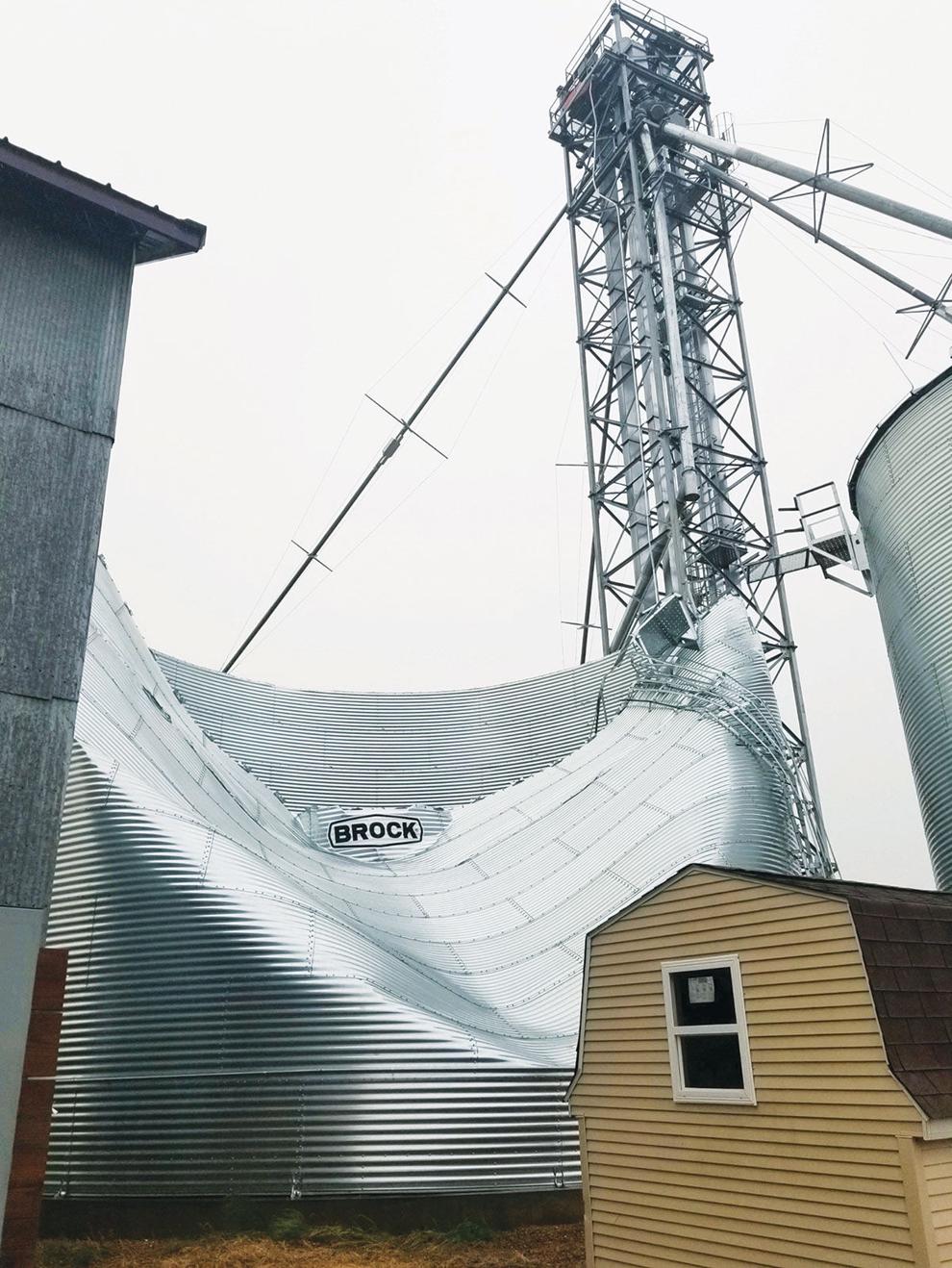 The storm caused an estimated $11 billion in damages, ranging from houses, grain bins and crops, along with creating power outages that would last weeks in some locations.
Nearly a full year later, buildings are still being rebuilt, and the effort has been made more difficult with the ongoing pandemic. Slowdowns and supply shortages were already affecting those who were looking to add
to their operation, but wind- damaged houses and bins added more demand to the docket.
Matt Brown, location manager for Key Cooperative near Marshalltown, Iowa, said they lost nearly 1.8 million bushels of storage due to the storm. With expectations of a good crop in central Iowa, he said it was important to get rebuilt as quickly as possible.
"It was a once-in-a-lifetime storm," Brown said. "I'm looking at our rebuild that's still in progress, and we will be operational this fall. To say we'll be complete when the combines run would be a stretch, but we will be operational."
He said much of the storage is back up, but there are still details, such as conveyance, that need to be wrapped up to feel fully complete. However, getting to this point was not easy and took a lot of leg work and a little bit of luck. Brown said they were able to partner with Mid-States Millwright and Builders in Nevada, Iowa, just after the storm hit, allowing them to get on the list right away for any supplies needed.
"I'm talking within hours," Brown said. "Last summer, on Aug. 10, they had just completed a new 400,000 bushel bin that morning. They were on site when the storm hit, so we were able to start with them right away. We had to be ready and operational for last fall too."
Millions of acres of crops were downed, causing a significant cash impact for those farmers, particularly in a season that saw a massive price spike. However, while 2021 offered the promise of a new crop, the agronomic impacts from the storm have been significant as well this season.
"Other than picking up debris, volunteer corn has been the biggest carryover effect from last year," said Rebecca Vittetoe, Iowa State University Extension field agronomist in east-central Iowa.
Volunteer corn has been prominent in many soybean fields this season, and Brown said it has taken a few passes to knock it down.
Vittetoe also noted that if the volunteer corn is bad enough, it could have lasting impacts to the 2022 season and corn rootworm. Normally, a soybean rotation from corn will limit the effects of the pest, but if enough volunteer corn persists, it could play host for the next season.
"Technically they are soybean fields this year, so we might not think about it too much, but if there's volunteer corn out there, we might see more pressure next year," Vittetoe said. "We are going to have to wait and see, as we don't have an answer on that, but it's on my mind for next year."
Vittetoe also mentioned the mental stresses that have affected some farmers. With a pandemic, losing a crop, grain bins and in some cases homes, it can be tough for many to deal with on their own. She encourages those who need help to not be afraid to seek it out.
"It's not something many people will come out and tell you, but you can get a sense of it from talking to someone," she said. "This is a lot for someone to go through. There are resources out there, so don't be afraid to reach out for help."
Although it would be impossible to prepare for the 120 mile-per-hour wind storm properly, Brown said going through this experience helped reassure him that safety was their utmost priority. He said they were lucky to not have any injuries from the storm, and it helped them solidify the safety protocols they have in place.
"To have bins withstand that wind for 45 minutes, it's hard to prepare for that," Brown said. "If they said another derecho was coming and we had time to prepare, my priority is sending employees home or to a safe spot.
"We learned we can rebuild, and that's gut wrenching, but there are things you can replace and things you can't."