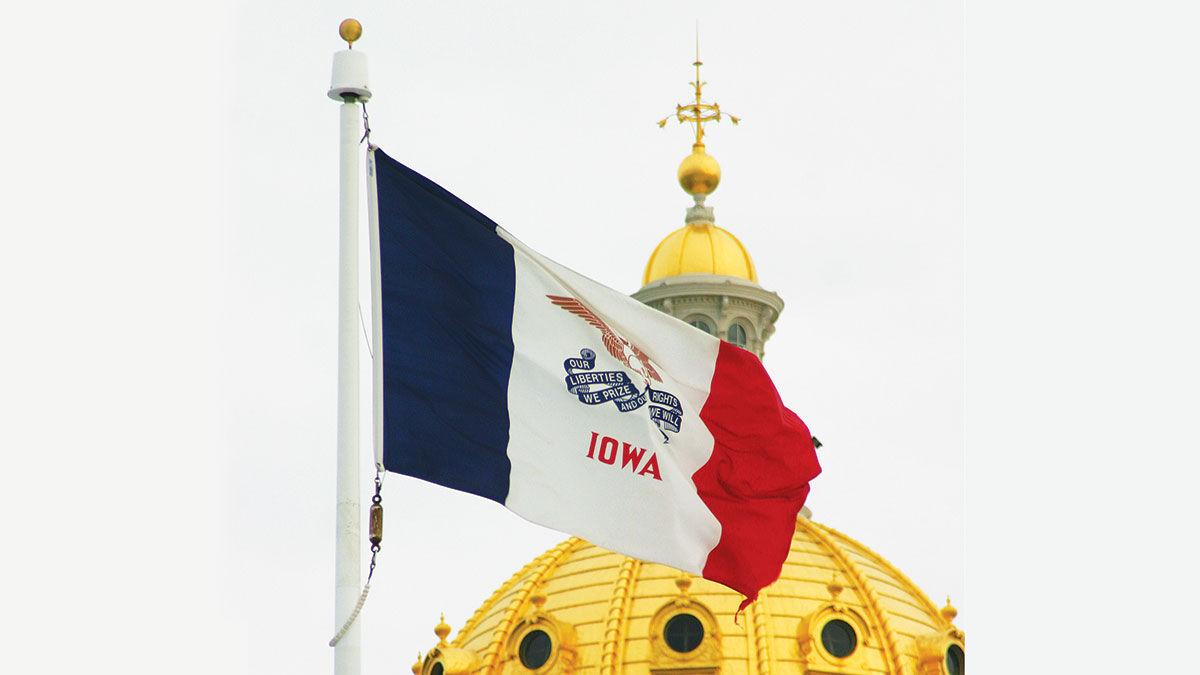 Water quality, taxes and budget questions are likely to be major issues facing the Iowa legislature when it convenes Jan. 11, but the COVID-19 pandemic will still be a big factor as well.
As of late December, lawmakers had not yet decided how much of the 2021 session would be in person and how much would be virtual as the state continues to grapple with the COVID-19 crisis, which forced last year's session to suddenly recess for over two months and then reconvene for a brief but busy two-week period in June.
Most lawmakers hope to meet in person, either at the start of the session or at some point.
"I've always tried to get to the capitol two hours before the session starts for the day so I can talk to people there," says Sen. Dan Zumbach, a farmer who heads the Senate Agriculture Committee.
That interaction is helpful.
"For me it is important," Zumbach says.
Last year's long interruption during the session effectively ended any discussion of the big idea proposed by Gov. Kim Reynolds last year to raise the state's sales tax to fund water quality efforts and perhaps mental health treatment as well. That tax hike was to be offset by reductions in the state's income tax.
It was a big idea that had been discussed for years, stemming from the 2010 Iowa's Water and Land Legacy (IWILL) referendum in which voters decided that if the sales tax were to be increased the first 3/8 of a cent would go toward a formula aimed at improving water quality and natural resources.
As of late December, the governor had not said whether she will again offer that tax proposal.
Republicans did well in the fall election in Iowa, solidifying their control of the legislature. With her party in firm control, Reynolds could be free to push through a number of items, some of them deeply partisan in nature, such as issues related to abortion, religion or guns. But on the agricultural front, the discussion may be a little less controversial. The IWILL idea, for example, has some support on both sides of the aisle.
"We're planning it as we go," says Craig Hill, president of the Iowa Farm Bureau Federation.
COVID-19 has made any advance planning difficult, Hill says. Priorities for the organization haven't really changed from last year. Keeping property taxes low, finding a way to fund mental health programs and continuing to work on conservation and water quality are all on the list.
Iowa Secretary of Agriculture Mike Naig, a Republican, says his office is concerned with foreign animal disease, and funding for staffers to combat those diseases will be a priority for him. Looking for ways to support renewable fuels (such as an infrastructure program) are also on the list, and water quality remains there as well.
"I suspect it (water quality) will be a perennial issue," Naig says.
He says he may also be asking for money to support value-added agriculture.
And lawmakers will be looking closely at the budget.
Sen. Kevin Kinney is the top-ranking Democrat on the Senate Agriculture Committee. As one of the few Democratic farmers in the legislature, he sits in an unusual place. But he says agricultural issues are generally not partisan.
He says COVID-19 will continue to be an issue in the legislature in 2021. It is possible that lawmakers will try to find a way to help small meat lockers or to help food banks and other organizations that have been dealing with COVID-related shortage issues.
"That's one of the things I think we should be looking at," Kinney says of the food insecurity issue. "Maybe that would be a good use for some money from the rainy day fund."
The pandemic has been "harder than heck" on small businesses, Kinney says. And he adds that it has also put the focus on a lack of competition in the meatpacking industry and on the difficulties faced by workers in packing plants, many of whom put their lives on the line to keep plants open and farmers in business.
Kinney also says finding options to expand rural broadband would be a bipartisan idea, and one that is especially timely considering how many people are trying to work from home during the pandemic.
Finally, he says it is possible lawmakers will look at other items such as better methods to electronically file complaints for something such as spray drift.