Editor's note: The following was written by David B. Oppedahl, Federal Reserve Bank of Chicago senior business economist, for the bank's quarterly AgLetter.
---
For 2018, annual farmland values in the Seventh Federal Reserve District were steady overall. Yet, values for "good" agricultural land in the fourth quarter of 2018 were up 1 percent from the third quarter, according to 183 survey respondents representing agricultural banks across the district.
Although 75 percent of the responding agricultural bankers expected farmland values to be stable during the January through March period of 2019, nearly all of the rest expected farmland values to move down.
Deteriorating agricultural credit conditions continued to affect the district in the fourth quarter of 2018. Repayment rates on non-real-estate farm loans decreased in the October through December period of 2018 relative to the same period of 2017, and rates of loan renewals and extensions increased.
For 2018, the district saw no annual change in "good" farmland values, on balance. That is, the district's agricultural land values in the fourth quarter of 2018 were largely the same as a year ago. For the fourth quarter of 2018, there were no year-over-year changes in agricultural land values in Illinois, Indiana, and Wisconsin; Iowa's farmland values moved down from a year earlier.
After accounting for inflation, the district experienced a yearly decrease of 2 percent in farmland values for 2018. This was the fifth straight annual real decline in district farmland values — the longest downturn since the 1980s.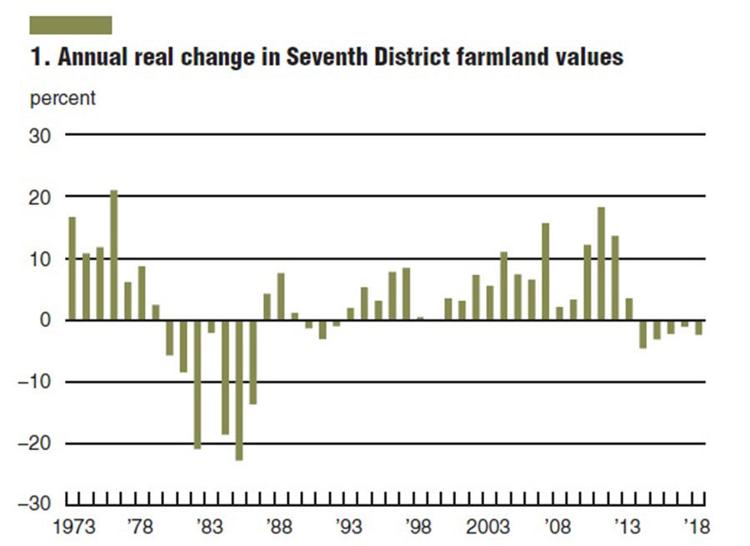 The district's farmland values fell 13 percent in real terms from their peak in 2013 to the end of 2018.
Stellar yields for district cropland supported farmland values in 2018. Based on calculations using USDA data, the district states' corn yield set a record (195 bushels per acre in 2018, up 0.6 percent from 2017) for the third consecutive year. Moreover, the district states' soybean yield bounced back to set a record 58.8 bushels per acre in 2018, up 7 percent from 2017.
Given plentiful crop supplies and ongoing trade disputes, the USDA projected the following ranges of prices for the 2018-19 crop year: $3.35 to $3.85 per bushel for corn and $8.10 to $9.10 per bushel for soybeans. When calculated with the midpoints of these price intervals, the estimated revenues from the 2018 district harvest would be up 9.6 percent for corn relative to 2017, but down 1.7 percent for soybeans.
With a growing percentage of borrowing encountering repayment problems, non-real-estate farm loan renewals and extensions in the fourth quarter of 2018 were higher than in the fourth quarter of 2017, as 40 percent of survey respondents reported more of them and just 2 percent reported fewer.
Some bankers linked financial difficulties to pressures from higher agricultural interest rates. An Iowa banker said, "The rising interest rate environment is beginning to cause repayment problems."