WAVERLY, Iowa — Like a math test in high school, Brent Jones had to take out his calculator to run a few numbers.
Jones, who runs a trucking company, was among students at the Bremer County Ag School making tough decisions about how to run a farm.
The students are bank loan officers and other people like Jones who run businesses involved in the ag industry, but they were learning how farm operations work from a new perspective — from the farmers themselves.
During a recent session, Jones was calculating what kind of crop insurance he wanted on his 1,000-acre simulated farm. He ended up taking the 80% coverage.
"I've never had to make decisions on crop insurance before," Jones said. "It was definitely an eye opener. It's your livelihood. You are making decisions and you can't control Mother Nature. You are trying to keep the family farm, and the wrong decisions under the right circumstances could lead to disastrous results."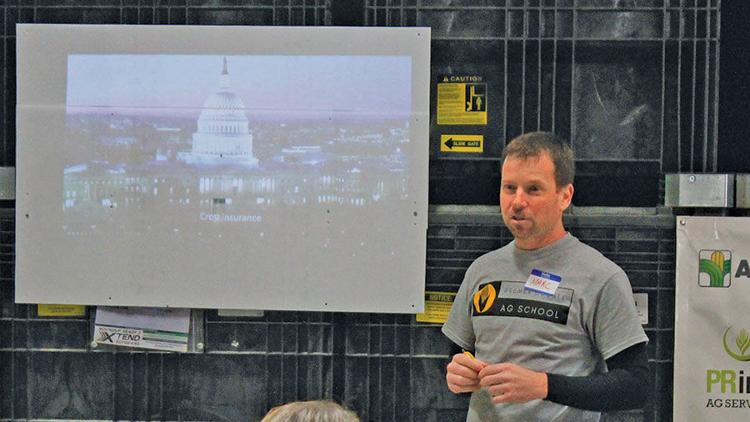 These revealing decisions are one of the things Bremer County farmer Marc Mummelthei said he hopes people learn from when taking this class.
"We want to share our story that the vast majority of farmers are good stewards of the ground, are doing their best to raise a crop, and we are putting cheap food on the table for America. It benefits all when we can do that," he said.
The idea for the ag school, now in its second year, came from a similar class held by the Waverly Police Department.
"Six to eight years ago I took the Citizen's Academy in Waverly which the police department put on," Mummelthei said. "They took us through about eight or nine sessions of what they do on a day-to-day basis to give their perspective on what happens. I was intrigued by it and I thought 'I need to copy them.'"
The group has class roughly once a month for two hours. Next month, all the students are paired with an area farmer, and they will ride along during the planting process for an hour or two, asking questions. Mummelthei said he hopes seeing the hands-on process will open people's eyes to the many different ways it can be done.
"All 15 of them have different philosophies for farming, different practices of farming and they are all successful," he said. "But we are all going to the same goal and that is to be sustainable, to be profitable and to feed the world."
Andy Hauber, an employee at Farmer's State Bank in Independence and Jesup, said he hopes to learn more about what details go through farmers' minds when they are making decisions.
"The biggest thing I'm excited for is actually going through the cash-flow side of things," Hauber said. "Making those marketing decisions as we go. As a lender, I'm talking to my borrower throughout the process, but most of the time I'm hearing how it went at the end as opposed to working through it."
Mummelthei said he hopes the class can continue to grow each year. In year two, he said they were already having to turn people away. He hopes there will be enough sustained interest to form two or three different groups each season.
This class also caught the eyes of some state ag leaders, who hope they can use this idea across many Iowa counties.
"It's an excellent project to help share that knowledge. The only negative is you can't do it to 5,000 people," said John Finley, district field manager for Iowa Corn. " We would like to see this spread through all the counties in Iowa."
Mummelthei said that the education people receive could help knock down some myths. He alluded to a recent Bud Light advertisement that caused an uproar in the corn grower community.
"It's really just a lack of education," Mummelthei said. "It's a great job of advertising by the beer companies to distinguish some things, saying high fructose corn syrup is bad for you, whereas science has shown it's the same as sugar.
"What we are hoping will happen is in the conversation when this gets brought up around someone who has been to ag school, they'll be able to say they've learned about this, and explain that it is a myth."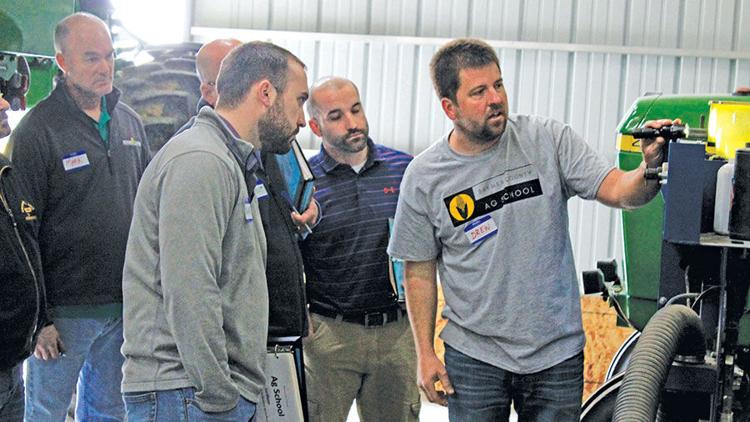 The students will have homework as they decide whether or not to forward contract their grain and learn about fertilizer applications and running a planter.
Mummelthei said this will give them an idea what it's like for farmers who do this every year.
"A few of the class members told me they are already stressed," he said. "I reminded them it's just paper for them."