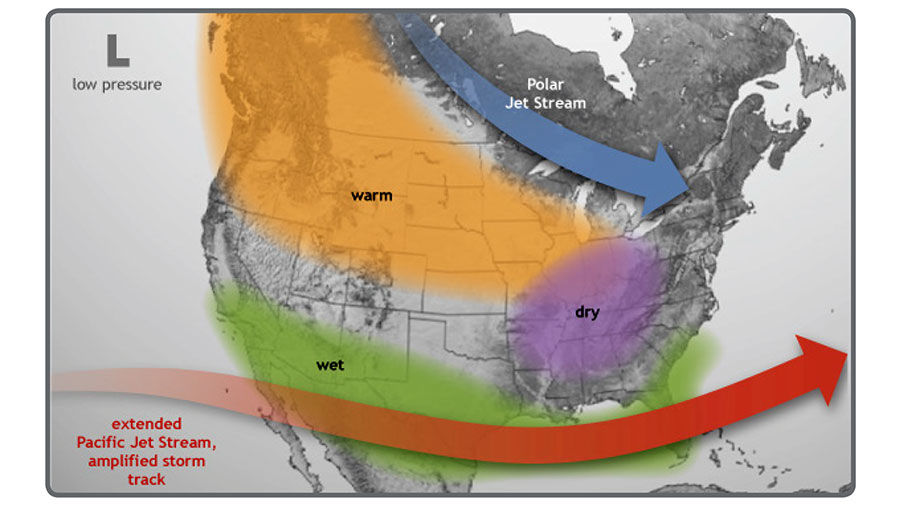 The weather outlook for the Midwest may become clearer in the coming weeks.
Iowa state climatologist Justin Glisan said a weakening El Niño pattern will eventually disappear, but when that will happen remains a mystery.
He said most of northern Iowa remains saturated heading into 2019.
"Twenty-seven counties in northern Iowa have received record precipitation totals since Jan. 1," Glisan said, adding fall moisture over the southern two tiers of Iowa helped ease drought conditions.
"Over the water year (from Oct. 1 to Sept. 30), most of the state is above average when it comes to moisture," he said. "We do need dry and warm conditions over northern Iowa this winter to help dry up."
Glisan defines a water year as the period where the soil starts to store surplus moisture for the upcoming growing season.
He said as El Niño weakens, the Midwest should not see heavy precipitation in late March and early April, creating favorable planting conditions.
There is a possibility El Niño could hang around a bit longer, said Al Dutcher, Nebraska state climatologist. But he said small pockets of colder-than-normal water are starting to form in the Pacific Ocean, which generally signals the beginning of the end for El Niño.
"There is still some uncertainty regarding El Niño," Dutcher said. "If it lingers, then we are into a multi-year event. If everything goes as we think it should, then we would be looking at a La Niña pattern coming in this fall."
He said the surplus moisture in much of the Midwest elevates the risk for spring flooding, which could affect planting conditions.
"We should know more pretty soon about what is happening with El Niño," Dutcher said. "If it holds on into late April and moves into fall, we could see some heavy moisture."
He said there are some drought concerns as summer begins, particularly in the western Dakotas. Dutcher said even if the summer turns dry, those areas with surplus moisture could be set up for very good crop yields.
"If we go into a second year for El Niño, that favors wet and cooler weather," he said. "If we have La Niña come in, then we are going to be more dry and warm."
Glisan said weather forecasters continue to monitor the Pacific, searching for clues regarding the lifespan of El Niño.
"I would say we should know much more in the next few weeks," he said. "We're hoping for a strong signal sometime soon."
With the information he had available to him in December, Illinois State Climatologist Jim Angel said January to March will be a little drier than average, and April to June will be a little warmer. At this point, the growing season from July to September may be warmer and wetter than average in the Champaign area of Illinois.
He said that summers in Illinois in recent years have been cooler in the daytime but warmer at night, which has an impact on the growing season. The variability of weather was notable in 2018, with April being one of the coldest in Illinois history and May being one of the warmest.
"2018 is on track to be the fourth warmest on record," he said.
In recent years, intense rain has often been a challenge for farmers, said Angel. Many single rain events are bigger than they used to be. The amount of an average rainfall has almost doubled from 1.4 inches to 2 inches in the last 30 to 40 years, he said.
"It is 10 percent wetter in Illinois in the last century," he said.
There is about an extra month's worth of rainfall every year, comparatively, and more heavy rain episodes, he said.
But predicting spring weather is "a tough nut to crack. If I knew what the next growing season would be, I'd be a retired millionaire," Angel said.
With additional reporting by IFT's Phyllis Coulter.