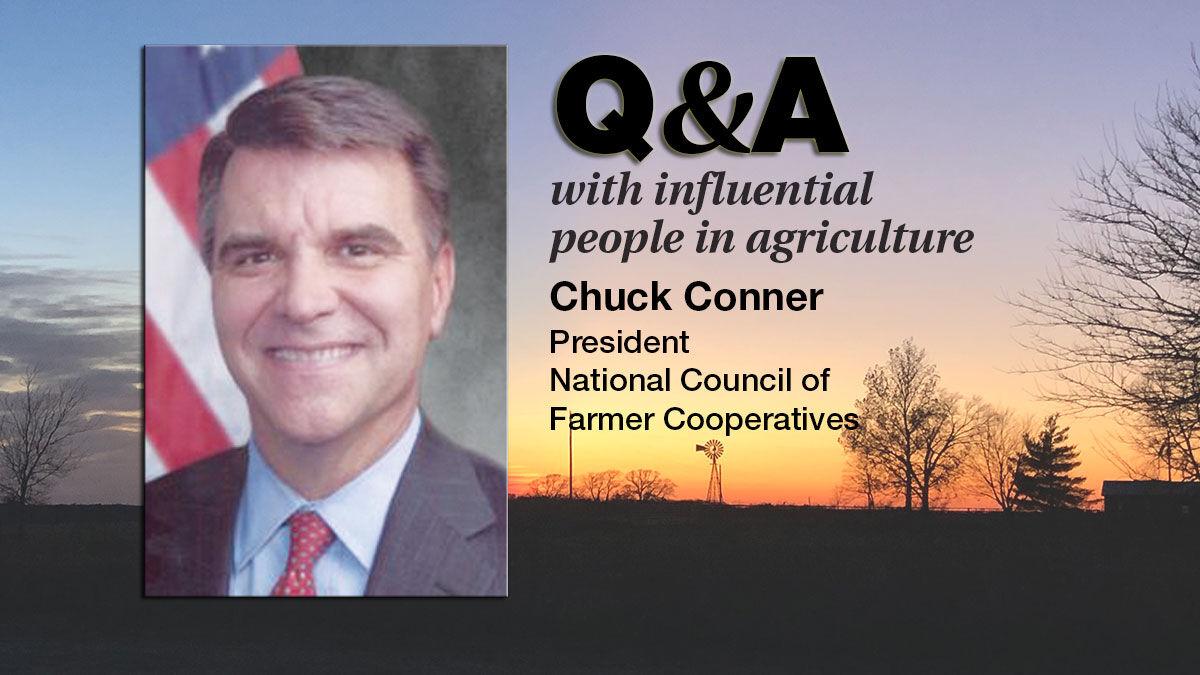 As the president of the National Council of Farmer Cooperatives since 2009, Chuck Conner has kept his voice in the ring for agriculture.
Conner has made his career in prominent public positions, as USDA secretary and deputy secretary in 2007-08 and working as a special assistant to the president for George W. Bush from 2001-05, where he worked on the 2001-02 Farm Bill. Before that, Connor was the president of the Corn Refiners Association for four years.
He recently spoke with Illinois Farmer Today to discuss some of the major issues facing his organization today.
IFT: Our agricultural lives have been disrupted over the past year, particularly with COVID-19. How has that affected you as an organization?
CONNER: One of the most fundamental decisions that occurred earlier this year was the decision to designate really the entire food chain as sort of critical infrastructure as it relates to shutdowns and quarantines.
You've probably heard and read stories where some of those early drafts of exemptions were very narrow — so narrow in fact that they only applied to workers in grocery stores. It was a high priority for us getting that designation so the drivers of your fertilizer truck or the person delivering your propane, all the essentials that are necessary for food production in this country, were included in that.
Once that was done — I'm not saying it wasn't a tough year — but for Midwest agriculture it was the closest thing you can call to a normal year in a very abnormal year. There aren't very many sectors where you can even talk in those terms of normalcy.
IFT: Your organization was pleased with a few of the trade items that have been enacted, most recently USMCA going into effect. What other victories have we seen recently that you are particularly proud of in agriculture?
CONNER: It was another issue related to COVID-19. In the early parts of the spring, one of the first areas that were closed down were the regional offices from the U.S. Department of State. These were the offices that process guest workers that come across our borders and harvest our crops and help plant. This is a big, big percentage of our labor supply. If we aren't able to process those workers because those offices are closed, it would have been a disastrous year for many farmers.
We worked with the Secretary of Agriculture and he worked with other agencies to develop a social-distancing method to process these workers. We got what would be considered a normal supply of workers across the border, despite all the closures. That enabled us to plant and harvest, much like we would have had there not been COVID-19.
IFT: We've discussed COVID-19, but this year there were many issues that came from a derecho that passed through Iowa, affecting many farms and cooperatives. What was your role in helping your members with that?
CONNER: If you look at the path that storm took, you almost couldn't have planned for co-op facilities to be more in the path. I know Heartland co-op in particular had a tremendous amount of devastation. We had a limited ability to travel, or I would have been out to see it myself.
For those people in that path, it was really unfortunate. They'll be rebuilding grain bins for probably the next two to three years to overcome the damage that was done.
IFT: What have some of the challenges been in recent years for your organization?
CONNER: Coops are a unique business structure. We are not investor- owned, we are member-owned. That's very different. We face challenges because of that, because when members of Congress try to write legislation, it is geared toward investor-owned businesses and not to co-ops. We've struggled a lot with keeping up as there's been an attempt to stimulate the economy since 2008 and the crash that occurred then.
It's been a challenge for us to make sure every one of those efforts didn't just help investor-owned, but also helped member-owned companies as well. Particularly in the tax area, that's been a challenge for us. Everybody understands the investor-owned side, but not the member-owned side. We have a lot of education and work with them to make sure we are included for the programs out there.
IFT: How does a new presidential administration in 2021 affect your focuses?
CONNER: One of our challenges in the future, and will likely take a lot of our attention in 2021, is the area of climate. With the new Biden administration coming into power in January, President-Elect Biden has been very, very clear that climate and the passage of some kind of climate legislation is his No. 1 or No. 2 priority depending on the speech. It's a high priority.
We know agriculture can't be excluded from this and expect to come out with anything in a positive way. We foresaw this and started to work with Farm Bureau and forestry people and Farmer's Union and a lot of others to help develop our own set of climate recommendations. These were released a month ago and we feel poised to have a seat at the table when the debate does begin.
Our hope is climate legislation, which for a lot of farmers meant someone reaching into their pocket and taking out money, actually puts money back in the farmers' pockets. That's the goal for being involved for co-ops and for the farmers we represent.
IFT: As your organization looks to the future, what do you hope to see change moving forward?
CONNER: Farms are also changing dramatically. Not only in terms of consolidation and getting bigger, but with all the technology available to farmers. What kind of co-op does the farmer of the future need?
There's some interesting debate out there. We have to evolve very rapidly, and what form that takes is a discussion that takes place in boardrooms just about every week. We have to figure out what our members need going down the road given all the change that is occurring.
2021 will be challenging — hopefully not the way 2020 was, but we are going to see similar challenges prior to a widespread vaccine distribution. I don't think that's reason for alarm. Working through this process and making sure we get the workers we need and making sure they have access to all the tools they need is important.
This could be a strong year for American farmers and we need that.