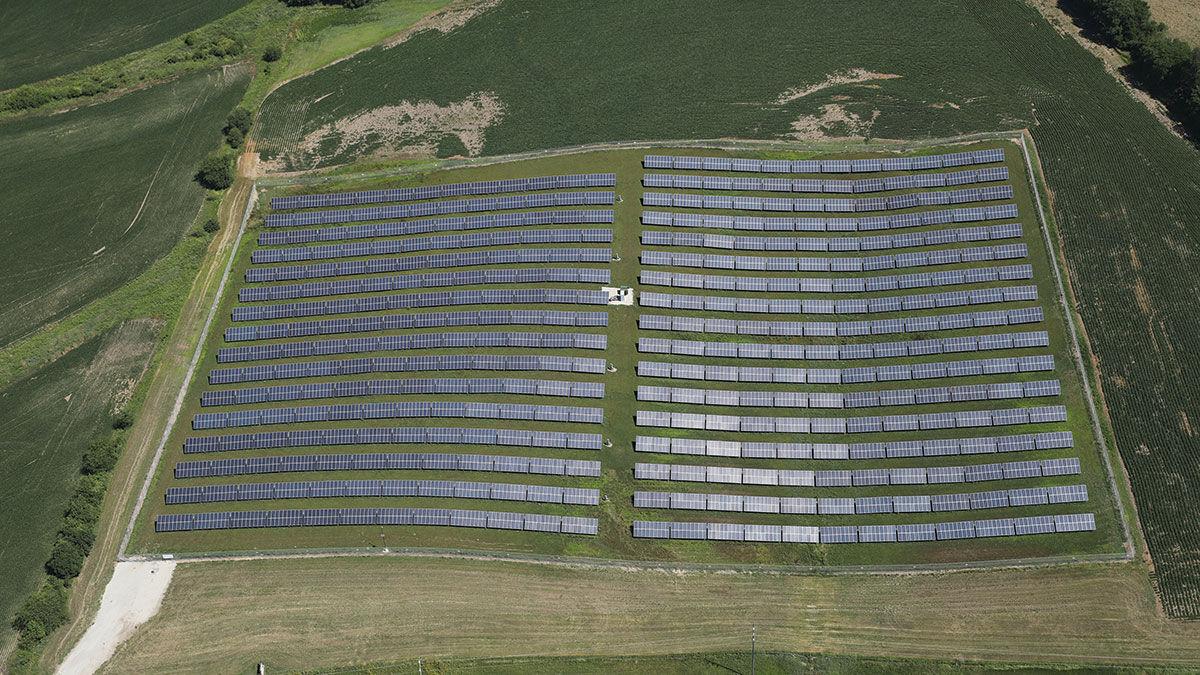 CORNING, Iowa — Rural electric cooperatives (RECs) will continue to make use of new technology to deliver power to rural Iowans.
Solar energy is becoming more and more popular as solar farms dot the countryside. This includes a large solar farm just east of this southwest Iowa community.
The Adams County solar farm is part of Southwest Iowa Rural Electric Cooperative, a utility that has 2,500 miles of power lines across 11 counties.
The cooperative is one of 13 members in its utility group, says CEO Phil Kinser. He says Central Iowa Power Cooperative (CIPCO) is the wholesale supplier of electricity.
"We use coal, wind, solar, along with some hydro-power," Kinser says, adding CIPCO has six solar farms that are used to generate power.
CIPCO is based in Cedar Rapids, Iowa, and transmits electricity to 13 member-owned cooperatives, including Southwest Iowa REC. There are nearly 300,000 member-owners located in 58 of Iowa's 99 counties.
"CIPCO purchases all of the output from the solar farm," Kinser says.
He says there are several drivers behind the increased use of newer systems. These include cost and environmental considerations, Kinser says.
"Many of our members have asked for things like this, and we want to make sure that it's affordable," he says.
CIPCO executive vice president and CEO Bill Cherrier says wind and solar remain relatively new technologies, and the industry is looking to the future.
"With any new technology, initial costs of the technology, including wind and solar, are more costly," he says. "As the technology advances and is adopted by the industry, we experience declining costs due to much greater production efficiencies of the technology (economies of scale). The cost per unit should decline if production increases from 1,000 to 100,000, for example. 
"As companies gain more experience installing wind and solar, the installation process and cost usually improves over time. There are dramatic cost savings for solar when the installations are done on a larger or 'utility' scale. It will certainly be more efficient to install 10,000 solar panels on the ground together than four panels together on 2,500 rooftops."
Cherrier says a technology still in its infancy is battery storage.
"The costs for battery storage is very high, not easily or cost effectively adopted and will take a long to time to commercially develop across the utility industry," he says. "We do expect technology gains will reduce costs, and changes in production and installation will contribute to reducing the costs."
Cherrier says the environment always plays a factor in determining which technology to use.
"Utilities developing new generation always have the environment in mind. However, to keep rates affordable, costs are paramount," he says. "The tax credits associated with wind and solar have really helped support their growth across the nation so far. They are still considered new technology and continuing to use tax credits provides a powerful incentive for utilities to find ways to continue to incorporate them into their generation sources.
"We have seen a significant shift across the country from fossil fuel generation to renewables. So, the short answer is they are being developed with the environment and cost in mind."
CIPCO recently announced Wapello Solar LLC in Louisa County, Iowa, has reached commercial operation and is delivering energy to the grid.
According to a news release, Wapello Solar LLC covers nearly 800 acres and features 318,000 bifacial solar panels. CIPCO is purchasing the demand and energy from the project developed and owned by Clenera LLC through an exclusive 25-year agreement.