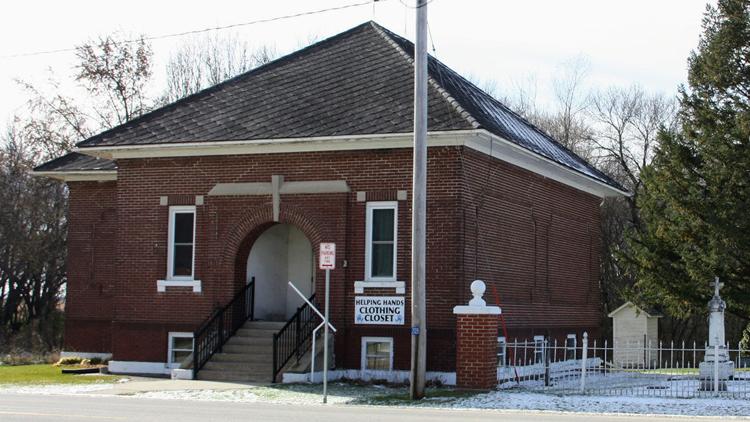 BUCK CREEK, Iowa — Housed in an old brick school, Helping Hands Clothing Closet does not charge for its clothing, which is neatly arranged throughout the main floor of the building and resembles a store.
Carolyn Mohlis, clothing closet coordinator and a member of St. John Lutheran church in Buck Creek, has volunteered at the Clothing Closet since it started. She took on the coordinator's job when she retired five years ago.
The look of a store is what Mohlis and other volunteers are aiming to create.
"We want clients to feel like they're shopping," she said. "When they've made their selections, volunteers fold and bag everything for them.
"We have clothing for newborns to adult size 5X. We provide gently-used clothing, shoes, hats, gloves, coats, blankets, sheets and towels."
There are no income guidelines and no questions.
"If people need clothing, they're welcome to come and get some," she said.
Donations, which come from all over the area, are sorted and displayed on hangers. Volunteers — there are about 25 regulars — come from Fairbank, Denver, Sumner, Oran and Readlyn.
"All over really," Mohlis said.
Students from Wapsie Valley High School and Sunday School classes from Readlyn often help. Employees from CUNA in Waverly have helped for their Martin Luther King service day and residents from Imagine the Possibilities volunteer once each month.
Churches and other organizations donate money for new socks and underwear. Some churches host "Undie Sunday" when parishioners bring donations, Mohlis said.
Confirmation classes at Faith Witness parishes do service projects for the clothing closet. They have made fleece blankets and hats, and one student organized "a socks for soup" supper. The St. John Lutheran congregation has done a lot to help, Mohlis said.
"We have great volunteers," Mohlis said. "We could not be here without them. We're always looking for more volunteers."
The Red Cross notifies the clothing closet when there is a fire or flood, and volunteers assist families in getting clothing. Veterans Affairs and a women's shelter bring clients in need of clothing.
"We try to be available to anybody who needs help," Mohlis said. "It's one of the best feelings when you have a little girl come in and she finds what she thinks is just the perfect dress. She's so happy and it makes you happy too. It's a real gratifying job."
In its first year, Helping Hands served 431 clients from August to December 2010. Last year they served over 1,900 and the need is growing. They served the most clients ever in October when there were 270 client visits.
"There is a need," Mohlis said. "We don't know when someone will get laid off or their job will end. We never know what someone else is going through. We're glad to have this here."
Helping Hands currently needs winter coats, boots, hats and gloves for children. They can also use men's blue jeans in sizes 34, 36 and 38 and men's winter coats.
Mohlis maintains a Facebook page and sends monthly notes to churches for their bulletins and newsletters summarizing what they are doing and needs they have.
"After I do that, I'll often find what I've asked for sitting on the steps," she said.