If Andy Johnson knows anything about Iowans, he knows they are conscious about taking care of land.
That is one of the reasons the director of the Winneshiek Energy District in Decorah, Iowa, said he sees an increasing trend of farmers buying into solar energy.
"There is certainly growing awareness and understanding of the economic benefits and much of our work focuses on the local economic benefits of communities or counties," Johnson said. "Of course, the stewardship benefits come along with it. Iowans are good at stewardship and Iowans are certainly good at local economic development."
Johnson said there are a few major factors that draw farmers to renewable energy, such as solar or wind power.
"The real focus of it from our work is the local ownership angle," Johnson said. "Part of what we bring to the conversation is to own it. The more of that clean energy transition that we own, the more energy dollars we keep local. That's what we call energy prosperity."
According to the Iowa Environmental Council, at least 98 megawatts of solar capacity had been installed as of November 2018, up from a total of 2 MW in 2012. Iowa was on track to have more than 100 MW by 2019.
Kamyar Enshayan, the director of the Center for Energy and Environmental Education at the University of Northern Iowa, said he doesn't see any drawbacks from adoption.
"Solar pays so rapidly that it's very attractive," Enshayan said. "It's very reliable because there are no moving parts. There are very few things that could break and they produce quite a bit of electricity. In a very short period it will be all paid for."
While both wind power and solar power may help a farm operation's efficiency or reduce costs in the long run, both Enshayan and Johnson noted solar power may be a better option for people who operate on a smaller scale.
"Turbines need to be way high in the air to be highly efficient, and those turbines cost a lot of money," Johnson said. "It makes sense for the big utilities to put those up. The reason solar is so much more widespread … it's applicable at small scale."
John Patterson, who produces corn and soybeans on a farm in Galatia, Illinois, put in a solar-power system on the farm two years ago. He is optimistic about getting his investment back but is not sure how long it will take.
"I'm hoping for the best," he said. "I don't know how long it's going to take to pay off. There are so many unknowns out there, like what kind of maintenance we're going to encounter."
Johnson said the primary financial incentives comes from tax credits. At this point, they can cover as much as 60 percent of the cost, and benefits can be spread out over "a number of years."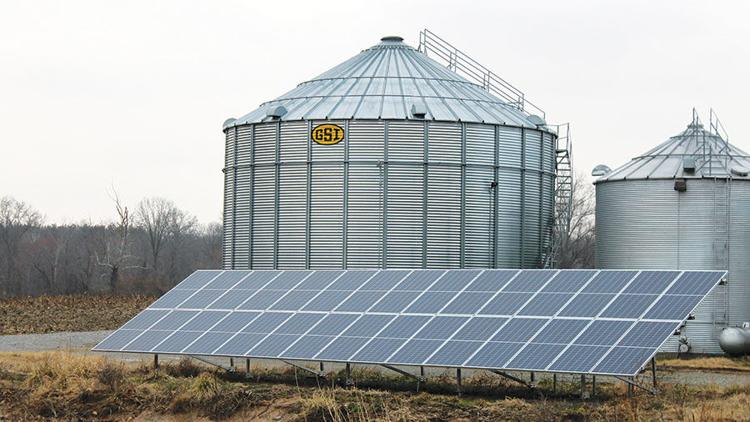 The federal government has a 30 percent overall tax credit for the cost of installing solar, although it is dropping to 26 percent after this year. The
USDA also has the Rural Energy for America Program (REAP), in which qualified producers are eligible for a payment equal to 25 percent of their loan for installing a solar energy system, and the USDA also backs 75 percent of their loan, helping them get lower interest rates.
Dave Steward, who farms near Kenney, Illinois, in DeWitt County, had solar panels installed in January. His system will power everything on the farm, including his home.
"The credits were the main reason I did it," said Steward, who had panels installed by Effingham-based Tick Tock Energy.
He said that, on average, the system pays for itself in about six years for residential customers and just three or four years for farms. In addition to his home, his system will provide electricity for machines in his shop and five grains bins.
"I've been known to have a $600 electric bill in October," Steward said. "I'm hoping we can kick into that a notch."
One of Enshayan's suggestions to farmers interested in solar is to simply check it out.
"There's no cost to get an estimate," Enshayan said. "Some people come and do a site assessment and you'll know what your options are in terms of how long it will take. If you want 100 percent of your energy to come from solar or half of it, you choose. It doesn't have to be the most expensive system."
Additional reporting by Nat Williams.