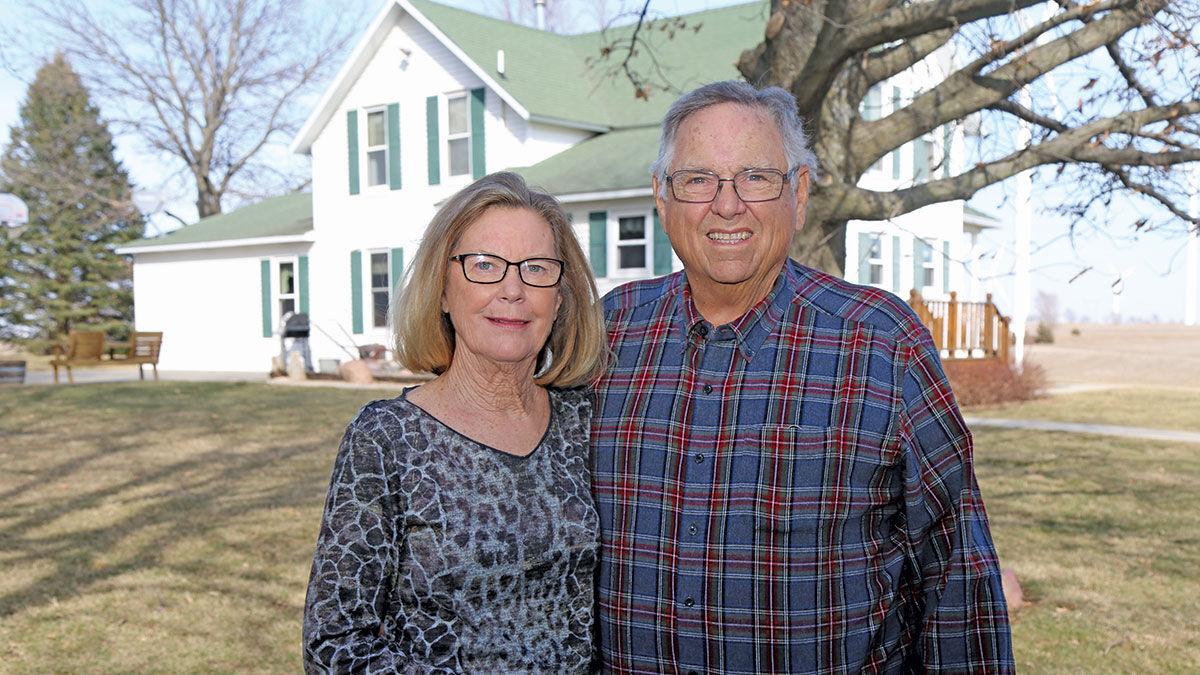 MASSENA, Iowa — Joe and Kathy Clinton raised six children on their Cass County farm. They are heartened by the love those children (and their grandchildren) have for the land nestled in the rolling hills of southwest Iowa.
And it's their hope that many more generations follow in their footsteps.
The couple, who have been married since 1967, have a plan in place to make sure that happens.
Their youngest son, Mark, returned to farm in 2010, and is the fifth generation to farm a parcel the family has owned since 1886.
All of the Clinton children are graduates of Iowa State University.
"We wanted all of our children to go to school, and if they wanted to come back after they graduated, that was fine," Joe says.
Joe and Kathy stopped raising livestock in 2009, choosing to just grow corn and soybeans.
"When Mark came back, we had more work than we could do," Joe says. "Within 18 months, he had an opportunity to rent a good-sized farm. So he has his own farm and we have ours, he helps us with labor and we share machinery."
Joe still farms full-time at the age of 73. He says his son has a good shop and does a great job with mechanical work on the farm.
"Mark keeps up really well with the equipment," Joe says.
"I learned pretty much everything I know from Dad," Mark adds. "It's something I enjoy doing."
There are many steps to follow when setting up a farm transition plan, says Jolene Brown, professional speaker and family business consultant.
Those steps should include guidance from an experienced attorney, a CPA, a certified financial planner, and a family business consultant. She says their insight can provide a process for transition and help maintain goodwill among the family and business team. 
Brown, who farms near West Branch, Iowa, says families often make several mistakes when they start the transition process, including the assumption that all genetic relationships equal good working relationships, a conversation is a contract, and that there is enough money available for anyone who decides to come back to the farm.
She says in many cases, at least one adult child is working on the farm and has substantial "sweat equity" in the operation.
"They are invested in the net worth of that farm," Brown says. "There may be a lot of non-farming heirs, 'non-sweaters,' who have a different opinion on asset transition."
She says while the process is difficult for many farmers, it does not have to be painful. Brown says the process needs to bring peace of mind, mitigate risk, assure the integrity of the business and build a foundation for the legacy to continue.
Treating the farm as a business is also important. Brown says the family members running the farm needs to have the skills, passion and work ethic to operate a business.
Documents such as a buy/sell agreement are also necessary.
"Deciding how to incrementally transition assets, to whom and with specific terms are decided when times are good, not when we're fighting with pitchforks in the dairy barn, using four letter words or not speaking at all. Once goodwill has been lost, it's hard to get it back," Brown says.
Mark says coming home to farm was not something he dreamed of doing, but says as he came home to help with harvest in the fall, the idea started growing.
"It's something I could see myself doing," he says. "I found some ground to rent, and figured this is what I wanted to do."
Mark says he can see expanding his 40-cow herd, but says he and his family have plenty of work to do with the operation's current size.
Joe and Kathy are pleased to have Mark farming with them, and they are happy their children love the farm as much as they do.
"We're trying to pass on the land, legacy and lifestyle," Kathy says. "The kids have an emotional tie to the farm, and we want to see the farm stay in the family."
The couple consulted with attorneys and an estate planner, among others, to ensure they have a sound transition plan in place.
With that done, they can enjoy life on the farm and time spent with family.
"I'm 73, but I still love to farm. I'm slowing down, but I still love it," Joe says.
"During the fall, I love working with my husband and my family, and the grandkids come over and try to help," Kathy adds. "There is nothing better."