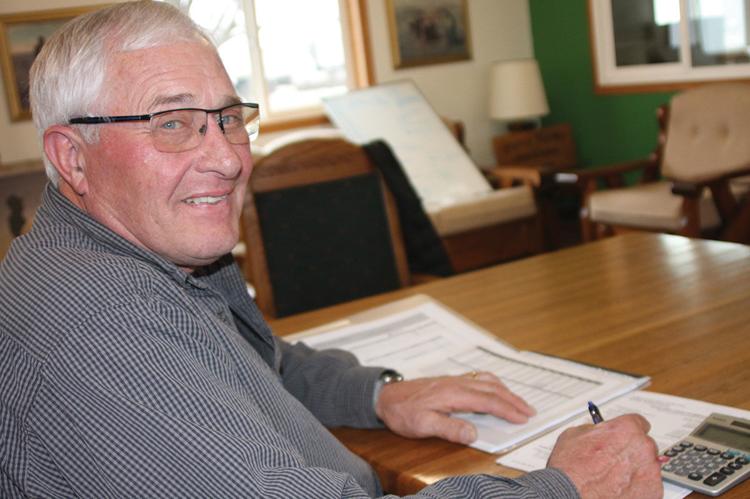 WOODWARD, Iowa — Rod Pierce is done with harvest. Now is the time to start putting pencil to paper, and that is especially important at a time when farmers are struggling to balance their books.
"You need to know where you are at," Pierce says of what he and countless other farmers do to budget. "That way you can make better decisions."
And now is a good time to start the process, Pierce says, before the year ends and while changes that impact the tax bill can still be made.
University of Illinois ag economist Gary Schnitkey says it is important for farmers to sit down at the end of a growing season and see what went right or wrong, but also to use that information to plan for the following year. For example, if a farmer usually pays for and applies anhydrous in the fall but was unable to do it, it will mean an extra expense in the spring.
"We generally come pretty close on the cost side," Schnitkey says.
The problem, he says, is often in trying to determine the income side of the ledger.
Pierce says that on his farm he considers several things key. One is that he understands he does not know everything. Because of that he is willing to hire experts to help. For example, he hires a data analysis company and a crop marketing consulting company. He works with Iowa State University Extension specialist Steve Johnson and is a member of Johnson's marketing club.
The specialists help him to devise a realistic marketing plan and to gather and analyze what is actually happening on his farm. His records tell him what he spent and made on every crop in every field. He knows his break-even for the past year.
Those experts help him to fine-tune his farm operation. For example, he markets about 70% of his crop early in the year, roughly between the start of April and Father's Day in June. Most years he can lock in some type of profit on that 70% of the crop, meaning he has a much better idea of where he is sitting financially.
He also looks carefully at cash flow, making sure he has cash on hand when specific payments, such as the twice-a-year rental payments, come due.
Pierce does not claim to be an expert. But he does look for people who can help him when he needs to make hard decisions.
"I like to farm," he says. "The other things that make so much difference I need to hire an advisor for."
One area where he says budgeting can be a challenge is in determining equipment expenses. For farmers who always buy new machinery that expense may be more, but it is also more predictable. Pierce tends to use older equipment. That saves money, but it also makes machinery expense numbers more difficult to predict because there may be fewer fixed machinery payments but more unpredictable machinery repairs.
Another area that is important is the simple idea of including family living expenses in a budget. Too many farmers either do not include that or they downplay it, says Brad Zwilling, vice president of data analysis with the Illinois Farm Business Management Association
He points to a study done by the IFBM and the University of Illinois Department of Agricultural and Consumer Economics. That study surveyed 1,306 Illinois farm families.
The study showed living expenses of about $78,000 for a family, which was 2.3% lower than the previous year. In 2009, the family living costs per acre averaged about $100. This increased to about $103 in 2018. The 10-year average was actually higher at $109 per acre. The 10-year average net farm income in the study was $162. That would mean about two-thirds of the net farm income went toward family living expenses.
Farmers in the past several years, facing lower farm incomes, leaned more heavily on off-farm income and often reduced the amount of farm income spent on the family.
For many farmers, Zwilling says, the answer has been off-farm income that may come from a spouse's job, from a full- or part-time job by the farmer, or by diversifying the farm operation in some way. The off-farm jobs are also not always an hourly job in town. In some cases they may involve trucking, for example.
For Pierce, there is one other important piece to the process. He believes in benchmarking, which means working with his advisors and others to see how he stacks up against other farmers.
There have been times, he says, where he thought he was doing something well, only to find that he apparently was not doing it as well as some of his neighbors. While that can be humbling, he says, it also helps him to become a better and more profitable farmer.