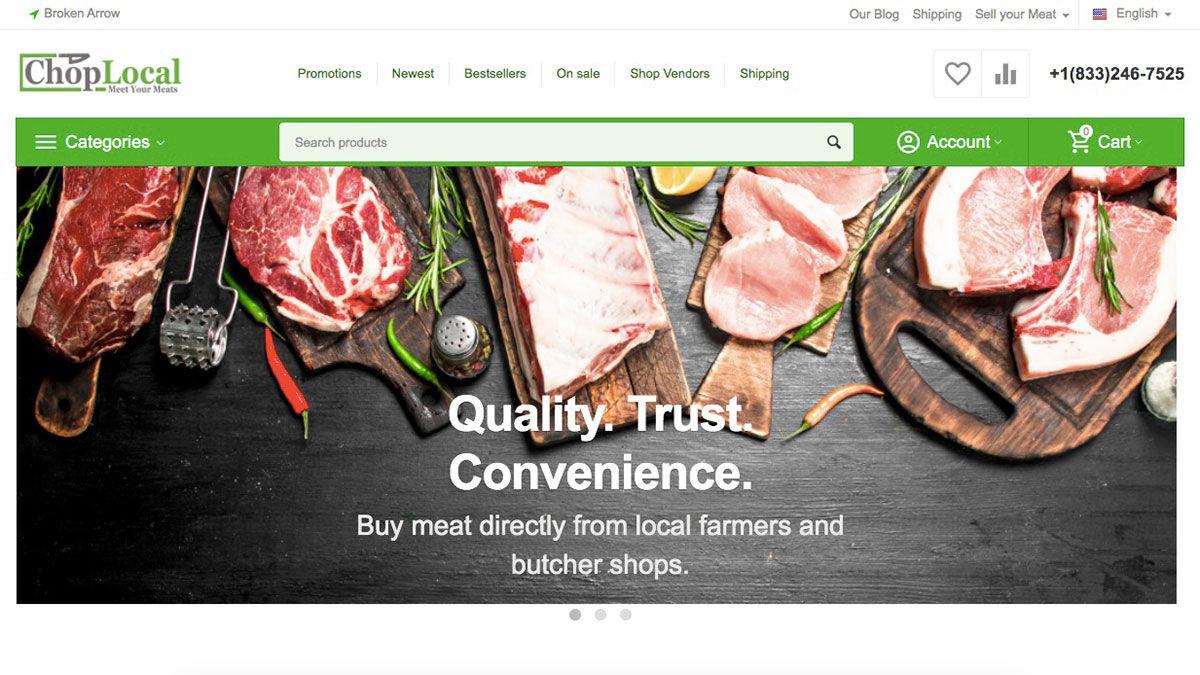 With some local sales avenues limited, a pair of turkey farmers started their own business in the middle of a pandemic.
Jared Achen, from Wayland, Iowa, and Katie Olthoff, from Stanhope, Iowa, founded ChopLocal, an online marketplace for vendors to post and sell meat products, allowing producers to virtually reach their customers.
"It's like an Etsy or Amazon with individual sellers," Olthoff said.
The site has been up since December.
Businesses in rural communities have been struggling, said Rand Fisher with the Iowa Area Development Group.
"The hotel industry and hospitality industry in our small towns has really been stung by COVID," Fisher said.
"Even when you move over to business and industry, ethanol is important to Iowa farmers, and as the nation was impacted, the utility utilization was curtailed and that had a negative impact."
Fisher said the changes for agriculture have been "striking," but he noted steady land values and spiking commodity prices may help farmers see an economic turnaround, which could underpin a revival in some smaller communities.
"The farmer has had an abrupt turnaround," Fisher said. "Some of the underlying strength in our rural communities that are based on manufacturing and agriculture could help them sustain through COVID."
Dealing with shutdowns, the process to get a new business off the ground has been difficult, Olthoff said.
Olthoff said just like starting any business, there were major financial considerations to take into account when starting ChopLocal. She noted they haven't used any stimulus or development grants as of yet, but are open to finding options.
The Iowa Area Development Group works with partners to find community and business development projects. There has been a shift over the past few years in where the support is going. Fisher said while there are still tools to get money directly to businesses, there is a lot more support for the nonprofit sector.
"It's a shift to allocations and participation in programs that I think are really enablers and catalysts to business development," he said. "That's helping health care and child care, rural housing and infrastructure like broadband. Also helping with a quality of life and recreation-oriented initiatives in communities."
Fisher said the key to maintaining rural businesses is rebuilding the workforce in small towns. He said as unemployment rates move lower after COVID's impact, finding ways to get people back into rural jobs is going to need to be a major focus.
That's why the Iowa Area Development group is focused on rebuilding some of that infrastructure, such as housing and broadband, Fisher said.
"Our partners are working with organizations that help provide services that will attract the workforce that we need to keep our rural businesses thriving and growing," he said.
While financing is a stressor for any business, Olthoff said the web development has been the biggest challenge for ChopLocal. Finding the platform for the website was one of the biggest challenges as there aren't many U.S.-based platforms that do what they need.
"We are realizing there's a reason nobody else has done this," she said. "It's not as easy as one would think. But we really feel there's value in having a bunch of different vendors with a variety of products on one website."
Olthoff said they are looking at themselves as an alternative supply chain to the one already set up with large packing companies.
"We've all sold our products into large packers, but the rural vitality small businesses (offer is important)," Olthoff said.
"I know what a blessing it is to have a locker in my small town. We want to help those businesses stay profitable too. Maybe eventually we can help those lockers increase their profits."