PERCIVAL, Iowa — David Lueth looks east to his farmstead, separated by a partially submerged road pounded into pieces by the raging floodwaters of the Missouri River.
The river broke through the federal levee system in several spots in mid-March, burying the fertile river bottom of Fremont County, Iowa, in several feet of murky water. Three months later, the water has subsided some, but for Lueth and his neighbors, the growing season ended before it even started.
"Thankfully, we did not have the input costs we had in 2011," he says, referring to devastating flood of June 2011. "For the first time in my life, I don't have to worry about my crops all summer."
Heavy rainfall combined with a rapid snow melt in southwest Iowa and eastern Nebraska provided a perfect storm of sorts, sending mind-boggling amounts of water cascading through tributaries and into the Missouri River. In some places, water over-topped the levee system. In other places, it bulldozed through it.
After the water receded some, increased releases from Gavins Point Dam near Yankton, S.D., contributed to more flooding down river. Residents who had returned to their homes were forced to evacuate again.
"I think the second round was the worse around here," says Sheri Bowen, administrator for the Mills County Public Health Office in Glenwood. "We thought it was over, but it came back. That has been hard on everyone."
Fremont and Pottawattamie counties took the brunt of the 2011 flood. This time, the Mills County levees that held back the river were no match for the Missouri.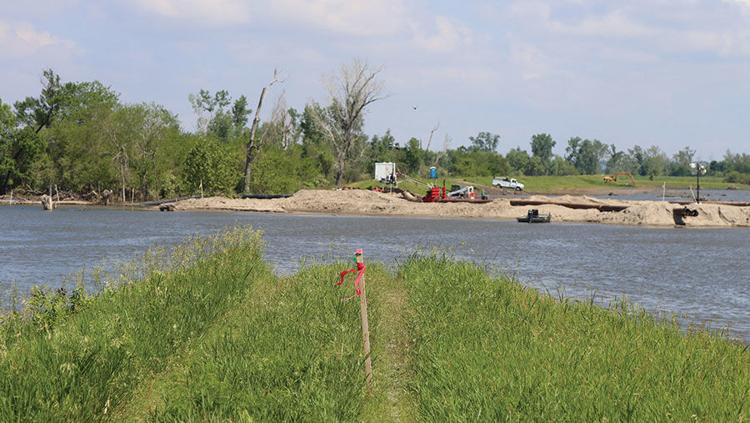 The water came so fast many residents had just a few hours to evacuate their homes. The communities of Pacific Junction, Bartlett and Percival were swamped by the rushing waters. Many of those homes will be demolished, while others have been stripped to the frames, allowing mold to dry after weeks of sitting in standing water.
In Lueth's case, he and his wife Beth had about 48 hours to relocate to his mother-in-law's home in nearby Nebraska City, Nebraska. Lueth was able to move about 1,000 bushels of soybeans before roads became impassable. He estimates he lost roughly 6,200 bushels of corn.
"When the snow started melting so quickly, we knew it was coming," Lueth says. "We had roughly the same amount of water in our shop this year as we did in 2011, but we were unable to move machinery. We had to ask ourselves what we should grab first on the way out the door."
People forced to deal with disaster may never completely recover, says Paul Lasley, Extension sociologist with Iowa State University. He says the changes in lifestyle and residency, combined with the loss of farm income, is devastating to families.
"Many disasters, like a tornado, are intense at first but then you start cleaning up," Lasley says. "This disaster has been dragging out over weeks and months. It affects people differently, not to mention the major expense involved in rebuilding, repairing and preparing the farm for next year."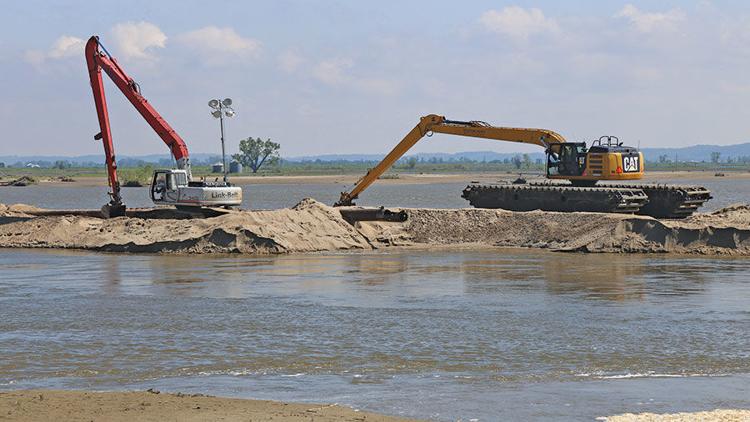 He says many flooding victims in southwest Iowa will be forced to relocate permanently.
"That's very hard on a small community, and it makes it very difficult for them to recover," Lasley says. "Some of the aspects of those communities have been eliminated as people have moved out."
Two major floods in less than eight years is uncommon along the Missouri, but changing weather patterns could be forecasting things to come. Iowa State Climatologist Justin Glisan said the last 12 months have been the wettest on record for Iowa.
The long-term increase in temperatures means higher water vapor-holding capacity in the air and more precipitation in this part of the Midwest, especially intense precipitation events, he said.
Lueth says he and his wife will slowly start returning to their home. At the moment, the only route is traveling the levee system, about a 30-minute one-way trip to go 5 miles.
"We've been gone long enough," he said June 12. "Even though the mandatory evacuation hasn't been lifted, we are going home."
Lueth has enrolled his 700 acres in the prevent plant program. Once it dries up, he will start preparing his land for the 2020 growing season.
"We have a lot of work to do, with the sand and the silt and the debris, not to mention grain bin repairs," he says. "But we owe it to the generations before us who built the farms for us to enjoy. It's our responsibility to keep the farm going."