ORAN, Iowa — His Hands Food Pantry and Helping Hands Clothing Closet are feeding and clothing the needy.
Faith Witness, the two-point parish of St. John Lutheran in Buck Creek and St. Peter Lutheran in Oran, started both endeavors in 2010.
"Our pastor at the time, Sandra Burroughs, was real mission oriented," said Barb Rich, a member of St. Peter. "She wrote a grant and we had a couple of fundraisers to get the food pantry started."
Rich and her husband, John, have been board members since the beginning. She is treasurer and he is president.
A member of St. Peter's congregation bought the former Oran bank building and donated it for the food pantry. The inside is set up like a grocery store. Clients select what they want from shelves of bread, produce, canned goods, cereal and toiletries. For refrigerated and frozen foods like milk, eggs, meat and frozen vegetables, volunteers fill orders from the seven freezers and two coolers in the back of the building.
On a recent morning, clients were lined up out the door. Several said they did not know what they would do without the food pantry.
Roger and Mary Burgart of Sumner manage the food pantry. There are about 15 volunteers who help.
"We're always looking for more volunteers," Roger said.
Mitch Grahlman volunteers nearly every time His Hands is open. Roger refers to him as "my right hand man."
"Roger and I belong to a couple of organizations together and he asked me if I wanted to help," Grahlman said with a grin. "It's something different. I enjoy it. I don't need to go to a gym because we do a lot of lifting here."
Raising the money
Each year, the board holds a fundraising auction and meal at the Sumner American Legion. People from throughout the area donate paintings, crafts and pottery and Wapsie Valley and Sumner-Fredericksburg FFA donate pies which can generate hefty sums when the bidding gets competitive.
Support also comes from many area churches and individuals who provide both funds and food. Area schools conduct food drives.
Kyle Voy, a member of St. Peter, organized a tractor ride fundraiser for the food pantry as his confirmation project five years ago. He has continued it each year, raising about $2,000 a year.
"This is a farming community and a lot of people like to drive tractors," Voy said. "I had helped at the food pantry and I decided to donate the money there."
Kyle's sisters, Elle and Kalle, and parents, Danielle and Kevin, have also gotten involved. Kalle is taking over the tractor ride in 2020 as her confirmation project.
"It's a great thing that Kyle does," Rich said. "Area churches and the community are real generous."
Growing need
The need for food has grown each year. The first year, His Hands served 600 families with 35,593 pounds of food. In 2018, the food pantry served 1,108 families with 84,823 lbs. of food. From January to October 2019, the food pantry has served 994 families with 92,831 lbs. of food.
"We've about doubled the number of families and pounds of food since 2010," Rich said. "The food insecure are here. We can tell by the way we've grown."
In October alone, His Hands served 127 families and distributed 12,600 lbs. of food, the most ever for one month, Roger said.
The pantry partners with the Northeast Iowa Food Bank, an arrangement that allows them to buy food for an average of 14 cents per pound plus trucking, Rich said. The bill to the food bank runs $1,000 to $1,500 per month.
Mary orders the food online and a truck delivers three to four pallets every Monday.
"The deliveries by the food bank are a life saver," Mary said.
Roger and Mary drive to the Waterloo food bank twice each month and fill their pickup with food.
"Usually it's between 500 and 800 pounds," Mary said.
Volunteers record the pounds of food that come into the food pantry and the pounds going out.
"There's a lot of bookkeeping," said volunteer Vicki Wilson, who was keeping records on a recent morning.
Partway through the morning, Karl Kramer, with Reicks View Farms in Lawler, arrived with a donation of 40 hams. He and Roger packed them into a waiting freezer. Each fall, the food pantry receives nearly 2,000 lbs. of venison from Oran and Frederika meat lockers through the Help Us Stop Hunger program. People bring excess garden produce in the summer and fall and several people give eggs.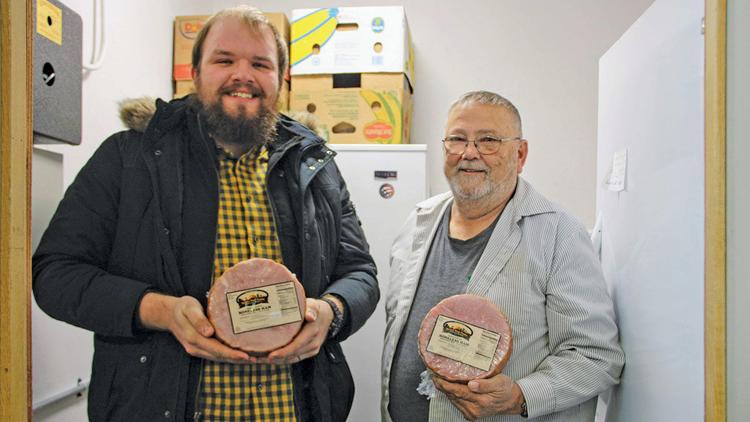 Roger and Mary are usually at the food pantry four to five times per week.
"We enjoy it," said Mary.
"We're here for people who need it," Roger said. "We're proud of what we've done here."