In just four seconds, an adult can be sucked knee-deep into a bin full of flowing grain. In only 20 seconds, an adult can be buried alive in flowing grain.
With record harvests, larger storage facilities and equipment that moves grain at faster rates than in the past, grain entrapments and engulfments have increased. From 2018 to 2019, instances of grain entrapment rose by 27%, according to the U.S. Department of Agriculture. Deaths soared by 53% over the same period.
In the Iowa Falls, Iowa, area, there have been three grain bin rescues or recoveries in the past few years, including a miraculous rescue in August 2022.
An adult buried up to the waist in grain needs a force the equivalent of his or her own body weight plus an additional 600 pounds in order to be set free. Iowa Falls Fire Chief Scott Eisentrager and his department obtained special equipment to help with grain bin rescues and have undergone extensive training to use the lifesaving rescue gear.
"In my 30 years, I've been on seven calls for grain bin rescues. Recently, two of the three rescues were successful," Eisentrager said.
Recently, the Iowa Falls Fire Department functioned as instant command on two grain bin rescues and assisted with a third. While they were fully trained, it's still unnerving to be on the scene for a grain bin rescue.
"You train to hopefully never have to use these skills and a lot of it is just ingenuity. You're calling in skid loaders to move grain and grain vacs," the chief said. "We have a policy in our county that if there's a grain bin rescue that gets called out, every fire department in the county is automatically toned."
Thanks to training and firsthand experience, Eisentrager discovered that milk crates are invaluable during a grain bin rescue.
"You're able to throw them in and stand on them. It's crazy to think walking on top of milk crates with all their holes, you'd think you'd fall through. But they keep your feet solid on top of the grain," Eisentrager said. "You also need ropes, harnesses, fans, dust masks, lighting, equipment you wouldn't think of unless you've been through one."
One thing the firefighters have learned from grain bin rescues in the past is to keep an updated list of equipment farmers in the area have who are willing to pitch in at a moment's notice.
"We did a big report after the first incident to set the precedent for any other grain bin rescues that happened thereafter. Everyone is willing to help out," said Mason Eisentrager, the chief's son who also is a firefighter.
On the ABC show "In An Instant," one of the grain bin rescues executed by the Iowa Falls Fire Department was featured. In that incident, a farmer from New Providence was buried alive with around 18 inches of corn above his head.
Arick Baker was buried alive in an 80,000-bushel grain bin. The incident happened in 2013 when he was trying to break loose a layer of moldy corn so the grain could be transported to the co-op.
Baker, who was 23 at the time, took a piece of PVC pipe into the bin with him to try and knock down the layer of rotten corn. His dad Rick climbed to the top of the grain bin to keep an eye on his son, who was tied to a ladder.
But when Rick left to turn off the auger and move a truck, his son took one more poke at the corn and finally got it to collapse. Except he fell through the corn.
When emergency responders arrived, they inserted a rescue tube into the grain surrounding Baker. He donned a special helmet with a full face mask and a cloth back. The helmet is battery powered with two ventilation systems that circulate oxygen to help him breathe.
"We were there over six hours and finally got him out through the bottom. We used our grain rescue tubes to encapsulate him. When we found him, he was under the grain. We emptied the bin and brought him down with the corn. We had 60 to 70 people there working to save him," Eisentrager said. "That's one thing we're very fortunate to have in this county is people willing and able to help."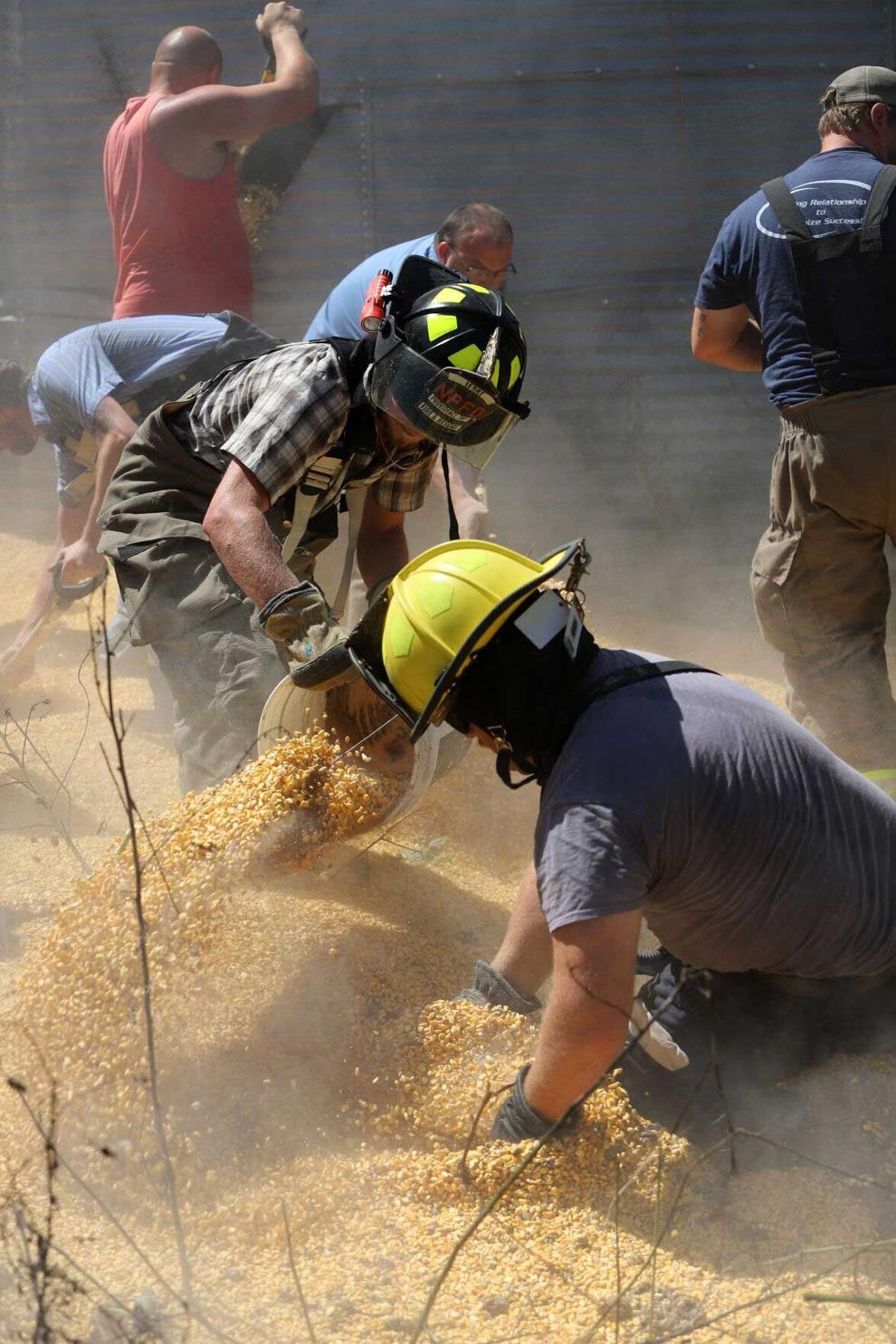 A few months ago, Iowa Falls firefighters found themselves facing the same scary scenario.
"A farmer had been trapped in the grain bin for 24 hours. A neighbor found him. He was up to his armpits in grain. We were able to put the rescue tubes around him and we have miniature grain augers that go on a cordless drill that we stick in the middle of the grain that augers the grain out slowly.
"Most of the time, though, we have to use buckets and manpower. If the grain level drops too quickly, that causes more problems," Eisentrager said. "You have to cut upside down triangles at the same time on the grain bin so it doesn't crush and roll over."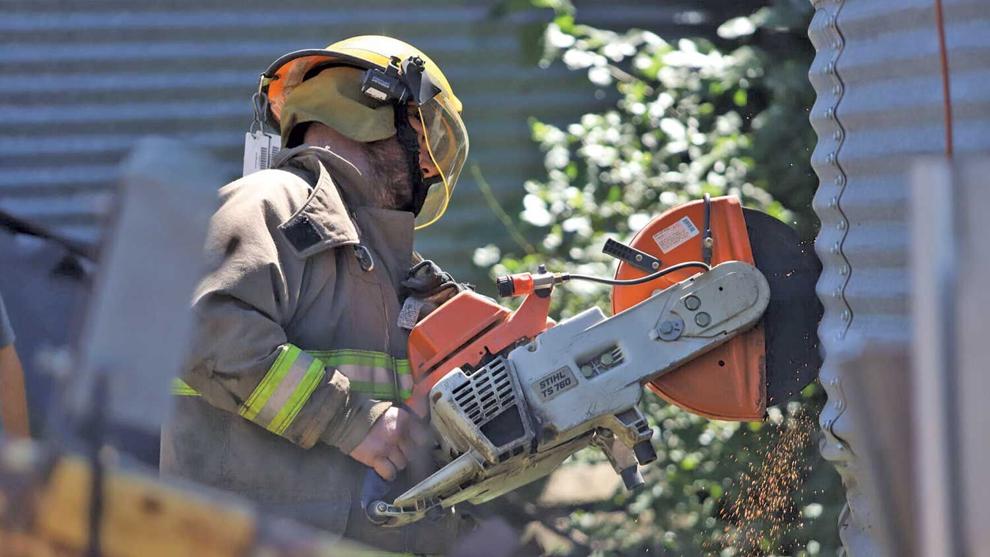 Unfortunately, the unsuccessful rescue involved a gentleman who was working outside the grain bin. The door opened and covered him in grain, Mason Eisentrager said.
"For a number of us younger firefighters, it was our first rescue of that type and we looked to the senior firefighters to guide us. We were told they typically don't end well," he said. "Your mind is set to recovery but it's wonderful when it's a successful rescue."
Five of the firefighters in the bin fighting to save Baker's life were nominated for the Sullivan Brothers' Award of Valor.
"Your mindset when you get the tones for a grain bin rescue are 'Here we go, it's a recovery,'" added Scott Eisentrager. "We have so many people who want to help, but you actually have to slow down, process information and make methodical decisions."
Both Eisentragers said it's important for rural fire departments to receive training in grain bin rescues and other hazards on the farm. Professional Rescue Engineering has a mobile rescue trailer to help with training and the Iowa Fire Service training bureau hosts trainings.
"We're in constant contact with them and will share what happened, what worked and what didn't," Mason Eisentrager said. "Our biggest problem is finding people to volunteer with the fire department, and it's going to get worse."