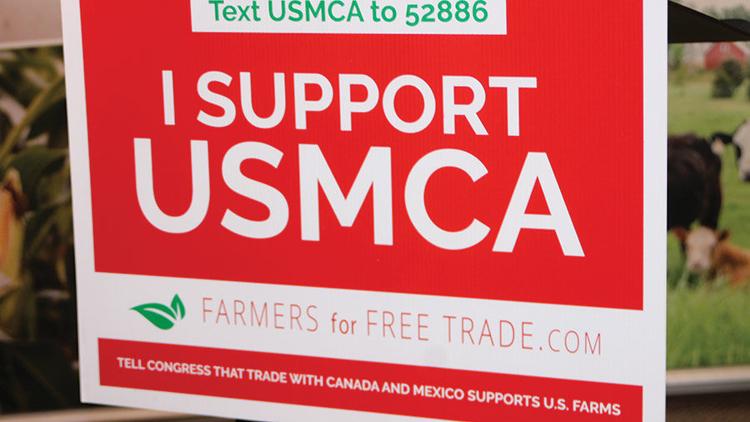 DES MOINES — Supporters of the United States-Mexico-Canada Agreement took advantage of the Iowa State Fair to hold a press conference promoting the agreement, encouraging farmers to contact their elected officials to express support.
"It's a very good thing. We just gotta get the ball over the goal line," said Sen. Charles Grassley, R-Iowa.
Grassley was joined at the Aug. 9 event at the Iowa Department of Agriculture's fair booth by former Democratic Senator Blanche Lincoln, D-Ark., and Iowa Secretary of Agriculture Mike Naig. The three expressed optimism the USMCA would get congressional approval in September, but added the result wasn't guaranteed.
"We do feel a sense of urgency," Naig said.
Grassley and Lincoln told the crowd they had both served in Congress when the North American Free Trade Agreement was passed, and both voted for it. Grassley said the USMCA is an improvement on NAFTA. He also expressed confidence it would be pass, but said that process takes time and negotiation.
He said Speaker of the House Nancy Pelosi, D-Calif., appears to want to get the USMCA in place, but she is working with a large freshman class in the House and that large group of newcomers must be educated and convinced.
Many of them have concerns over items involving labor laws, the environment and enforcement. It is likely such issues will be addressed by way of side letters that are annexed to the agreement so as to avoid reopening actual negotiations.
"She has a sincere desire to get to yes," Grassley said.
Lincoln said she is also optimistic, but added it would be unhelpful if President Donald Trump were to pull the U.S. out of NAFTA as a way of forcing action by Congress. Trump has at times threatened that action.
Iowa Farm Bureau President Craig Hill was not a part of the USMCA event, but he said that farmers are hopeful the agreement will be approved soon. He also said the trade war with China continues to be of great concern.
"We're far enough down the track on this," he said. "There are questions of whether you give up and accept a deal that has less enforcement … or do you maintain the course?"
Some farmers are beginning to be concerned that a China deal may not happen until after the 2020 election, or that it may not happen for years — even a decade. Meanwhile, he said, China is investing in South America and there is room for agriculture to expand in that part of the world.
It is possible this trade war could lead to a dramatic loss of market for the United States, Hill said.