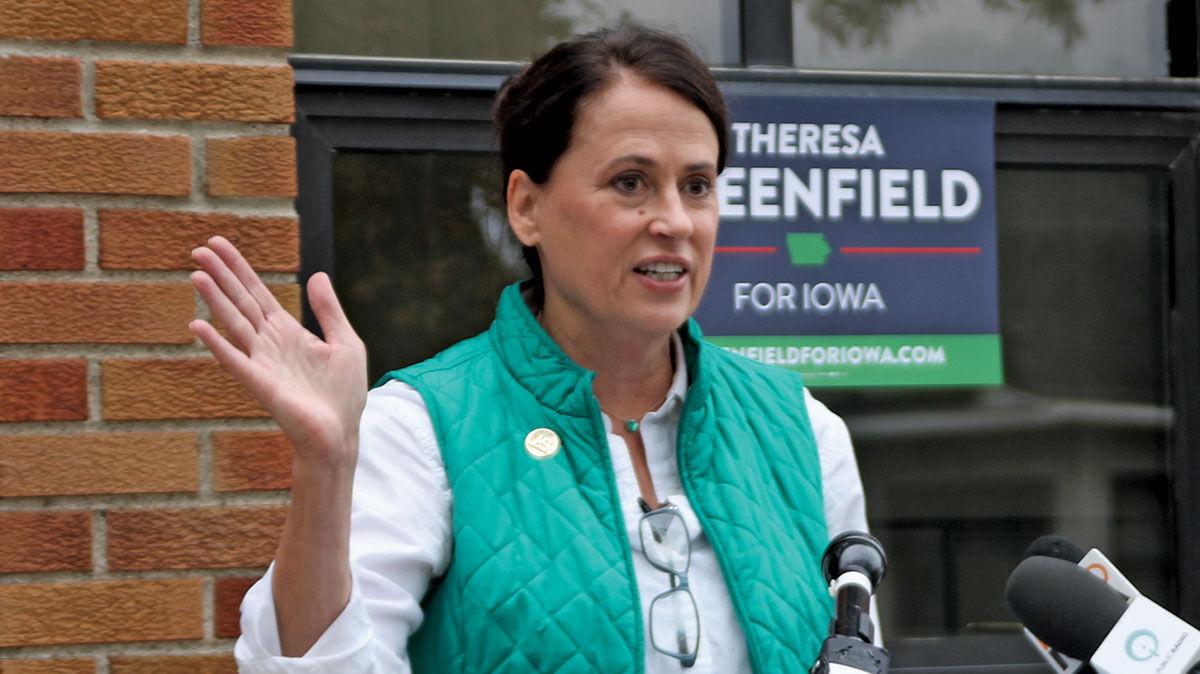 Much of being a candidate for elected office is about telling a personal story. For Iowa U.S. Senate candidate Theresa Greenfield, two stories come up often on the campaign trail.
One is of the fact that Greenfield, a Democrat who is running against Republican incumbent Joni Ernst, grew up on a farm in southern Minnesota. The other is that as a young wife and mother, she lost her husband to a workplace accident.
Both experiences taught her lessons about the role of government, she says.
Greenfield, who went on to earn a degree from the Minnesota State University in Mankato and carve a career first as an urban planner and then as a real estate executive, describes tough times on the farm.
"I grew up rural," she says. "I watched families go bankrupt in the farm crisis. … My family suffered."
The crisis forced her family out of business. She says she never forgot the lessons of growing up on the farm or the importance of the farm economy.
She was 24 when her husband, an electrician, died in a workplace accident. She was left with two young children and little means of support. Social Security helped to keep her family afloat, she says. She constantly reminds voters that Social Security is more than a retirement program and that ideas such as making it more of like a 401k ignore the way the program works and how it benefits the public.
Along with Social Security, Greenfield talks about issues such as health care, COVID-19 and the government's response, ethanol and trade on the trail.
COVID, she says, is "one of the most consequential events of our lifetime." The government should be looking at three things in regards to the pandemic, she adds: It should be working to ensure the health and safety of the public, but it should also focus on worker safety and the economic health of small businesses.
"I've worked in small business most of my life," she says.
The pandemic put a focus on health care in the United States, she says. She says the public needs protections such as language regarding pre-existing conditions that are included in the Affordable Care Act passed by Congress in 2010.
When it comes to trade, Greenfield says a corn price of $3.80 won't keep many farmers afloat, and she faults the Trump administration on its approach to trade.
"Our farmers want their markets back," she says. "We have the best farmers in the world. … China has been a bad actor and we need to hold China accountable, but we can't afford this go-it-alone approach."
Instead, she says, the U.S. should be working with trading partners, supporting "buy American" programs, closing tax loopholes for international corporations and investing in infrastructure.
Greenfield has also spoken often about ethanol. She faulted her opponent for supporting the nomination of Andrew Wheeler to head the Environmental Protection Agency. Wheeler is a former oil industry lobbyist, Greenfield says, and has supported that industry.
She says she also supports the Renewable Fuel Standard, as well as programs to push the use of E15 and to reduce trade barriers to ethanol exports.