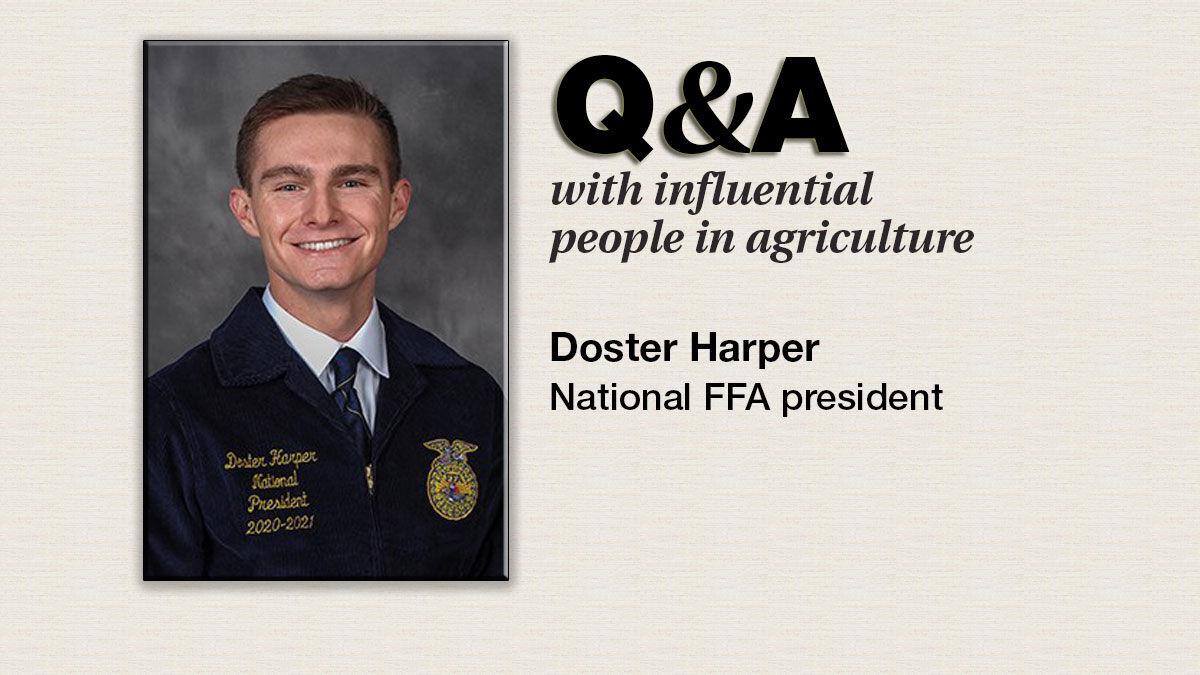 Doster Harper is president of the National FFA Organization.
Harper grew up in Covington, Georgia, about 30 miles east of Atlanta. He is the son of Lance and Debbie Harper and has two younger brothers at home. He is a junior at the University of Georgia, majoring in agriscience and environmental systems. He is also in the Army ROTC at the University of Georgia.
IFT: How did you discover FFA? Did you grow up on a farm?
HARPER: No, I did not. I was not raised on a farm. I always had a strong passion for science and I was introduced to FFA by my teacher, Dr. Marcus Pollard. I did a science project on honey bees and beekeeping. I was looking at colony collapse and other things. Dr. Pollard encouraged me to join FFA and I used the same project for FFA.
IFT: Describe your road to the national presidency.
HARPER: I joined the FFA at my high school, Newton College and Career Academy. On the way home from the state convention my first year, as a sophomore, two chapter officers encouraged me to try to become a chapter officer. The next year I was chapter treasurer, and as a senior I was chapter president. After that I tried for national office but was not selected as a candidate. The next year I was successful.
IFT: What has FFA meant for you?
HARPER: It has meant so much for me. It has given me a place where I could thrive. My favorite subject was science, and originally I wanted to go into health care, perhaps orthopedic sports medicine. FFA led me to consider agriculture. It gave me a place where I could find success by being a scientific person. It gave me an opportunity to be with smart people and to be challenged.
IFT: You are in the ROTC. How does that fit in with an agriculture major and with FFA?
HARPER: I had to do a bit of juggling this past year. I was able to take a year off from being in the ROTC program. The training I would have had this summer was delayed until next summer. I don't know yet what my position will be in the military. I would like to be in the field artillery or armor, but I don't know yet. I don't expect that it will be an agricultural position. I do feel like the FFA has helped me make progress in being a leader, and I think that will help me in the military.
IFT: You have been FFA president during the time of COVID-19. What has your schedule been like?
HARPER: It is more than a little hectic. Last year's national convention was virtual, so that was different. All of us on the officer team worked from home for the first two months, until January. We then moved to Indianapolis and sort of became our own little family unit, living in apartments there and working virtually with people around the country. Our first real road trip was the last week of April. Since then we have been on the road about half the time. Pretty much every day is either a workshop or a speech or a media interview or something else.
IFT: How has FFA weathered the pandemic?
HARPER: A lot of student organizations have been struggling, but FFA is resilient. Our members have still found ways to participate. I haven't seen the latest membership numbers, but the last one I saw was that we had 760,113 members. There may have been some drop since then, but nothing dramatic.
IFT: The national convention is coming up. What will it look like this year?
HARPER: We are planning to hold it in person on Oct. 27-30. I'm very excited for the national convention. Normally, we get about 69,000 or 70,000 members there. We are hoping for about 50% of that total this year. Those who decide not to go can tune in from home and watch on RFD TV.