Editor's note: A story in last week's paper looked at national trends found in the 2017 Census of Agriculture. This article dives deeper into Iowa's numbers.
---
The Census of Agriculture holds few surprises for Iowa farmers, but it confirms quite a few trends and it does offer a fascinating snapshot of the state.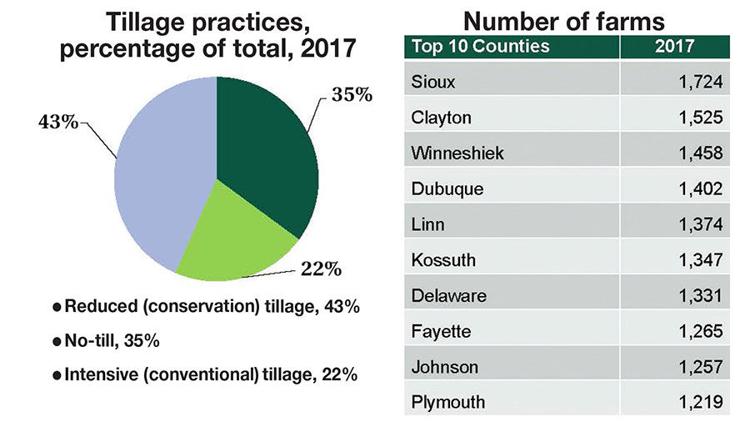 "We're still losing a couple thousand farms," says Iowa State University rural sociologist J. Patrick Arbuckle.
The 2017 census figures released this spring show 86,104 farms in Iowa, down about 3% from the last census in 2012.
But the census definition of a farm includes just about anything that markets over $1,000 worth of farm products a year. That pulls in a lot of hobby farms. A deeper look shows about 29% of those Iowa farmers market less than $2,500 worth of goods a year. About 39% market over $100,000 a year. The rest are somewhere between the extremes.
The list of farms by acres is a little more spread out. About 11% (9,120) are less than 10 acres. Another 21% are between 10 and 50 acres; 24% are between 50 and 179 acres; 22%, between 180 and 499 acres; 12%, between 500 and 999 acres; and 10%, 1,000 acres or more.
Only about 1% of Iowa farmers sell organic goods, and about 3% sell directly to consumers, according to the results gathered by the USDA National Agriculture Statistics Service (NASS). About 30% hire labor and about 95% are described as family farms.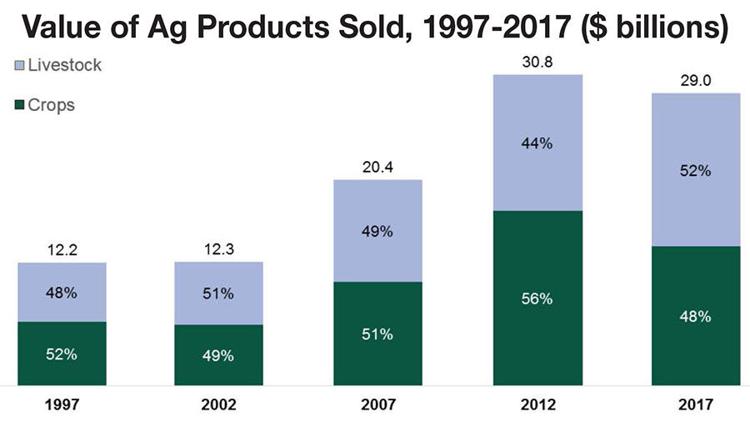 If there is a surprise in the Iowa numbers, Arbuckle says, it may be that they point toward more female farmers than in the past. It is an item Gary Thessen, regional director for NASS in Des Moines, also noticed.
"We had a large increase in female operators," Thessen says.
In Iowa, the latest census indicates 34% of farm operators are female.
It is possible the change is in part due to a difference in definition or in how the question was stated, but it is still something notable, Thessen says.
The average age of the Iowa farmer continues to rise. There are clearly more farmers over the age of 65 in the state. And the numbers appear to show there was drop in the number of farmers aged 45 to 54.
And the results indicate most Iowa farmers still grow corn and soybeans.
It is no secret that farm profitability was lower for most producers in 2017 than in 2012, but it is more difficult to tell what that has meant for the structure of agriculture in the state.
The lower farm income factor may also be a reason the census numbers show more a significant percentage of people working off the farm.
The number of dairies in the state dropped significantly, as well, falling by almost 50% over the last 10 years. Meanwhile the number of hogs raised in the state nearly doubled between 1987 and today, though most of that increase did not come in the past five years.