WILLIAMSBURG, Iowa — Bryon Helt was looking to get involved in the community, and a newspaper advertisement caught his eye: "EMTs wanted, will train."
"That's where I started," Helt said.
He went through the training and became a volunteer first responder with the Parnell, Iowa, First Responders. Twenty years later, Helt is still working as a first responder despite the Parnell group disbanding.
Helt, a former educator in Iowa City, works part time with the ambulance service in Williamsburg, Iowa, in Iowa County. There is not any one moment that sticks out to Helt that showed him he made the right decision to become a trained EMT. Rather, it is the recognition he receives in the communities.
"There's a lot of gratefulness from the citizens," he said.
He is part of a seven-person volunteer quick response team for Williamsburg, assisting with calls that might take some time for an ambulance to reach.
"We will get a call on the pager system, and that gives us information with an address and ambulance needed," Helt said. "Then we contact county dispatch and get more information on the call. It could be a medical call, it could be a trauma call."
He said many of the trauma calls are on the interstate after an accident, where a fire volunteer might put a truck between the accident and other traffic for safety purposes.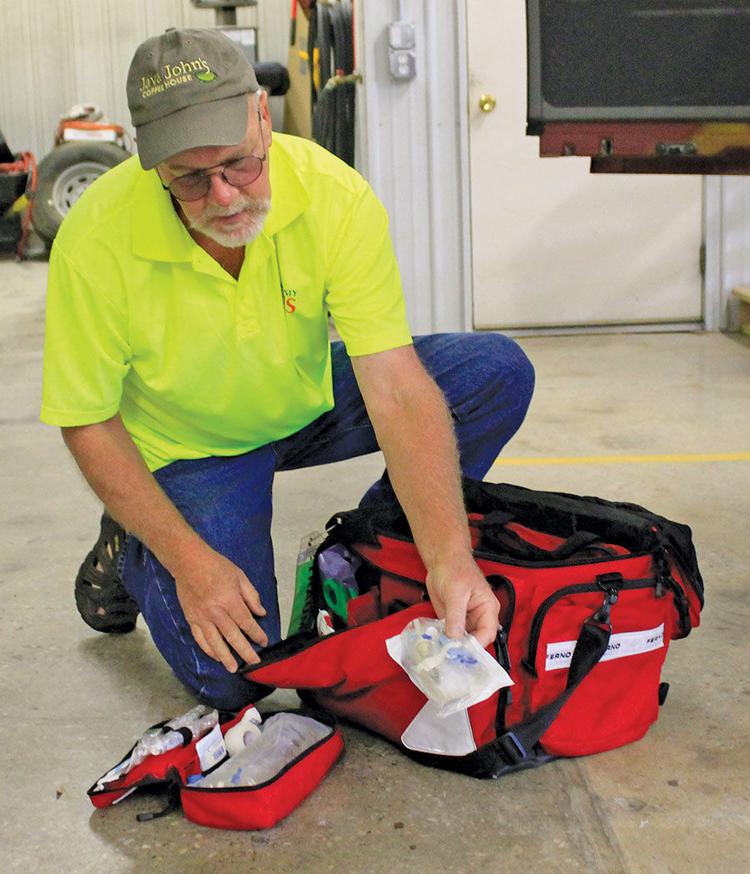 Helt lives in Holbrook, a 14-minute drive southeast of Williamsburg, so he needs to be prepared with equipment in case he needs to fulfill an urgent call. In his vehicle, he carries a defibrillator and a trauma medical kit.
"I'm out in the middle of nowhere, so the reason behind me carrying equipment — though a fairly limited supply — is that I'll be able to respond in that portion of the county that isn't covered very well at all," Helt said.
Quick response needed
There were 27 ambulance personnel employed by Iowa County in Fiscal Year 2019, according to Iowa County EMS director
Adam Rabe, with 13 full-time and 14 part-time staff members.
Rabe said the average ambulance response time is just under 11 minutes, so having volunteers on the quick response teams is important because they are able to assess the situation and possibly begin treatment more quickly.
However, the number of volunteers is starting to shrink. There are 40 for the county this year, down from 70 just five years ago.
"We are seeing a lot more times where (volunteers) can't respond to calls because they don't have enough people, during the day especially," Rabe said. "We do guarantee an ambulance response, it's just a matter of how quick it can get there."
Helt would like to see more people involved, especially in less populated areas.
"You may only get two, three or four calls per year if you only respond locally," Helt said. "But those couple of calls are extremely important."
One of more challenging times for emergency response personnel is coming up. In the winter, rural roads may not be taken care of as quickly as city roads, meaning any call may be increasingly dangerous.
"In the middle of the winter, some of these secondary roads are not maintained yet," Helt said. "That can be really tough because you may catch a road that normally drifts over and you might have to take the long way around. You've got to sit for a minute and think about 'where are my east-west roads.' You have to be familiar with the area."
He said there are instances where they might need to call and follow a snow plow to get through an area. Helt remembered a time where he was shoveling someone's driveway so they could maneuver the ambulance safely.
"I've bailed out the ambulance while my partner runs inside. I grab a snow shovel to make sure we have enough room to turn around and get back out," Helt said. "That's not ideal, but that's the way winter works."
Recruiting efforts
Helt said the biggest challenge in his eyes is finding young people who want to get involved.
"We have older people step out of it because it's not an older person's game," Helt said. "We need to replace those folks. I've made contact with two neighbors in the last month that are really interested in becoming involved. That makes me optimistic."
However, getting involved takes a large time commitment, depending on the level of training one wants to receive.
Most paramedic programs are now two-year degree programs. Paramedics have as much or more education as registered nurses, but the focus is more on emergency conditions and providing care in the field without the physician there to give direct orders, Rabe said. Paramedics have the ability to provide live-saving medications and interventions.
Advanced EMTs are one step below a paramedic, while EMT training is the minimum amount of training required to work in the back of an ambulance.
Emergency Medical Responders (EMRs) require less training, and can volunteer on quick response teams.
Iowa County's ambulance personnel consists of 22 paramedics, with one advanced EMT and four EMTs.
Of the 40 quick response volunteers, three are paramedics, two are advanced EMTs, 16 are EMTs, 10 are EMR trained and five are drivers.
An EMT certification class at Kirkwood Community College in Cedar Rapids costs $2,064 and spans 176 hours, while the EMR class, a level below EMT, is $874 and 88 hours. Once certified, members will continue to attend monthly trainings to keep up with equipment and practices.
In Iowa, the minimum required staffing for an ambulance is an EMT and a driver. In Iowa County, Rabe said they aim for having an EMT and paramedic in their two staffed ambulances.
To join the ambulance service, finding paramedics or EMTs who are already trained is a priority, but not necessarily a requirement. Rabe said they are sending one of their recent hires to EMT class part time due to a lack of applicants.
Rabe said generally they can find the money to help new hires go through the training, but the most difficult thing is to find people who want to join.
"It's easier to find the money," Rabe said. "Not that it's easy, but it's easier than finding the people."