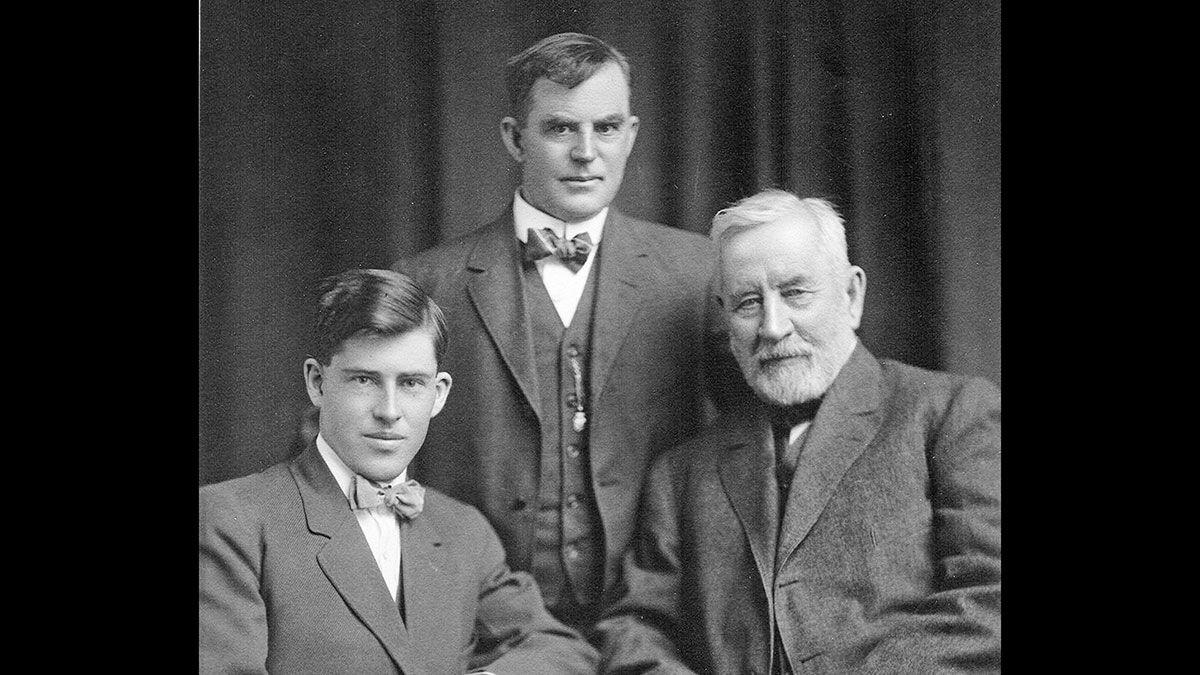 Editor's note: This is part of a series on U.S. Secretaries of Agriculture from the Midwest.
The Wallace family is well known to many in agriculture based on their leadership in publishing and government in the early 1900s.
Henry C. Wallace and his son Henry A. Wallace both served as United States secretaries of agriculture, with the latter going on to serve as U.S. vice president and secretary of commerce.
And Henry C.'s father Henry (also known as Uncle Henry) established the Wallace name in print.
He moved to Winterset, Iowa, in 1877 and started farming at the age of 40. He began writing newspaper columns shortly after, eventually becoming the editor of the Winterset Madisonian then editor of the Iowa Homestead in Des Moines before starting his own newspaper in Ames, Iowa, which became known as Wallaces' Farmer.
It was a family affair. He and his sons ran it together, and it was there his wife, Nancy, began establishing her voice as well.
"She had her own column for women called 'Hearts and Homes,'" said Ann Taylor, vice president at the Wallace Centers of Iowa. "She connected rural women to each other. They would write letters to her, asking advice or sharing perspectives, and she would publish the letters. It was sort of like a blog before there was such a thing."
"Uncle Henry's" voice in agriculture was so great he was asked to take the role of USDA secretary. He declined, however, and recommended another Iowan, James Wilson, who served in that role from 1897-1913.
"There could have been three generations of Henry Wallaces serving as the secretary of agriculture," Taylor said. "That speaks to the family and their knowledge of agriculture and agricultural issues. They were prominent, not just in Iowa, but in the whole Midwest."
Henry's eldest son, Henry C., went to Iowa Agricultural College (now Iowa State University), where he became a professor of dairy science. While at Iowa State, he befriended George Washington Carver, Taylor said.
Henry C. took over as editor at the newspaper when his father passed away in 1916, taking on more public endeavors, including working with the YMCA, Red Cross and helping establish the 4-H and Extension programs in Iowa. He also served as the president of the Cornbelt Meat Producers Association.
In 1921, President Warren G. Harding appointed Henry C. to be secretary of agriculture. While Wallace accepted, it wasn't an easy decision, Taylor said.
"They were not attention seekers," Taylor said. "It wasn't a way for self-promotion or anything like that. They really spent some time thinking it over before they accepted. It was the example that Uncle Henry had set. When he turned it down, it gave them permission to also think about that possibility unless they really felt compelled."
Henry C.'s time as USDA secretary was cut short. He passed away while serving on Oct. 25, 1924, when he was undergoing gall bladder surgery.
When Henry C. took on the national role in 1921, his son, Henry A., took on the Wallaces' Farmer editorial role and began treading his own path. Henry A. founded his own seed business in 1926 called Hi-Bred Corn Company, which would come to be known as Pioneer Hi-Bred.
"That is one of the biggest legacies of the Wallaces," Taylor said. "Corteva, formerly known as Pioneer, that was started in Henry Wallace's basement. He and a bunch of his buddies chipped in with a bit of money and started it."
He would also help establish the Iowa State Corn Yield Tests, which would be published annually in Wallaces' Farmer.
Eventually, he would dip his toes into the political pool when Franklin D. Roosevelt asked him to serve as his secretary of agriculture. Henry A. helped oversee the New Deal as Roosevelt looked to bring America out of the Great Depression.
"He was very instrumental in developing and implementing a lot of those policies," Taylor said. "Rural electrification, school lunch programs, soil conservation practices that we just accept as the right things to do — somebody had to put them all in place."
Roosevelt rewarded him with a spot as his running mate on the presidential ticket for 1941 when running for his third term. He would go on to win the election, but when the next presidential election came around in 1945, he was replaced on the ticket by Harry Truman. Henry A. didn't leave the administration, however, as he served as Roosevelt's secretary of commerce.
Shortly after Roosevelt's death, Henry A. delivered a couple of speeches that drew the ire of then-President Truman. The Wallace Center said some of Henry A.'s policies were seen as controversial at the time, which led to his resignation. He favored sending humanitarian aid and having diplomatic relations with the Soviet Union and China, and he did not agree with the Cold War and Truman's "military industrial complex."
Wallace would go on to join the Progressive Party and was a candidate for U.S. president in 1948, going up against Truman and Republican Thomas Dewey. He ran on a platform against the Jim Crow regime in the South, refusing to speak to a segregated audience, and he promoted the idea of national health insurance.
"Henry A. advocated for equal pay for equal work and would not stay in segregated hotels or eat at segregated restaurants," Taylor said. "Those were groundbreaking stances for the day."
Henry A. would go on to win 2.38% of the national popular vote, but failed to carry any state. His best state was New York, where he accumulated 8%. Despite the loss, Wallace would stay active in politics, mostly with speaking arrangements.
Taylor said the Wallaces all had scientific minds that stressed the importance of research, something that was promoted in their newspaper. The legacy she sees is largely in the way farmers go about their business today.
"They were huge proponents of the Extension services and using research to improve farming operations," she said. "They had a mindset of trying new things and putting it into practice. They were always looking to improve farming."