When the wind finally stopped blowing Aug. 10, the clean-up began. For too many farmers, it hasn't stopped yet.
A storm ripped a swath through a large section of Iowa and northern Illinois on that Monday, bringing with it straight-line winds of over 100 mph in some places and sustaining that wind for more than an hour. The type of storm is known as a derecho, and is relatively rare, although a somewhat similar storm hit some of the same areas in July of 2011.
"We drew the unlucky card," says Iowa State University Extension grain economist Chad Hart.
According to USDA's Risk Management Agency, 57 counties in Iowa were in the path of the storm. Within those 57 counties there are approximately 14 million acres of insured crops – 8.2 million acres of corn and 5.6 million acres of soybeans. Based on satellite imagery and Storm Prediction Center preliminary storm reports, the Iowa Department of Agriculture and Land Stewardship believes 36 counties in Iowa were hardest hit and within those 36 counties, the storm likely had the greatest impact on 3.57 million acres of corn and 2.5 million acres of soybeans.
For Ethan Crow, who farms near Marshalltown, Iowa, there have been a few too many storms in recent years. Crow and his family have seen damage from both of those derecho events, as well as the tornado that ripped through Marshalltown in 2018 and another serious weather event in 2015.
"It's insane. This is the fourth time in less than 10 years," he said.
Even for those who missed the previous disasters, the Aug. 10 event was bad enough.
"When it snaps trees off four feet above the ground, you know it's a serious wind," said Matt Yates, who farms with his parents near Cedar Rapids, Iowa. He said several grain bins were destroyed. The bin that had grain in it is standing, but has a damaged roof and the grain will need to be moved. A big shed came down on top of the combine and multiple tractors.
"We don't have a big tractor for fall at the moment," Yates said.
A livestock shed was also destroyed, and there was serious crop damage.
"I don't even know what to think about the crops yet," Yates said. "It looks like the worst hail storm you could imagine. It laid the corn flat. The leaves looks shredded … It even hurt the beans."
Luckily, he said, nobody was hurt and no livestock was lost.
Melea Licht and her husband, Mark, said they were fortunate to get by with a destroyed machine shed and other damage on their home near Roland in central Iowa.
"Parts of the shed are a half mile away, and we want to make sure we get that picked up before harvest," said Licht, who serves as interim director of college relations and director of college relations for Iowa State University's College of Agriculture and Life Sciences. Mark is an Extension agronomist for ISU.
She said crop conditions range from slightly lodged corn to completely flattened stalks.
"I feel so bad for those with much more damage," Licht said. "We can replace everything that we lost."
Ken Bernard, a farmer from LaSalle County in Illinois, was relieved the damage to his crops and buildings weren't as severe as he thought it might be when the winds were raging Monday afternoon. The Northeastern Illinois farmer heard the storm forecasts so he and his son, Jim, had been in the yard making preparations.
"We tried to get some things under roof," he said.
The father and son weathered the storm in the farm shop.
"The buildings took it pretty good," he said.
About five large trees were damaged in their yard and some corn was flattened.
"In some spots about a third is broke off," he said.
"We were pretty fortunate," said Bernard, who crop farms with his parents and brother. The family also operate a purebred Herford operation that fared well in the storm. The farm was without power for a little more than eight hours and they were able to mend the electric fences.
In Iowa, officials estimate that as much as a third of the crop acres in the state, or about 10 million acres, were damaged by the storm. Gov. Kim Reynolds issued disaster proclamations for 25 of the state's 99 counties. As many as 500,000 people were without electricity at one point, and a large number were still without power days after the storm, thanks to downed power lines. The Cedar Rapids area was especially hard hit.
The storm began in South Dakota and Nebraska and went all the way to Ohio, a distance of more than 770 miles over about 14 hours, but Iowa appeared to catch the brunt of it, according to Iowa Secretary of Agriculture Mike Naig.
"That's one thing that made this storm so unique," Naig said. "It was so big … I think it is important for folks to understand the scale."
That scale is one of both size and power. The storm covered a large swath of farmland and it did so with astonishing speed and power.
In the immediate aftermath of the storm, farmers have just been worried about getting power back and about cleaning up damaged or destroyed buildings, grain bins, homes and trees. There have been relatively few deaths and no reports of large-scale loss of livestock. But there are longer-term ramifications for those in the storm's path.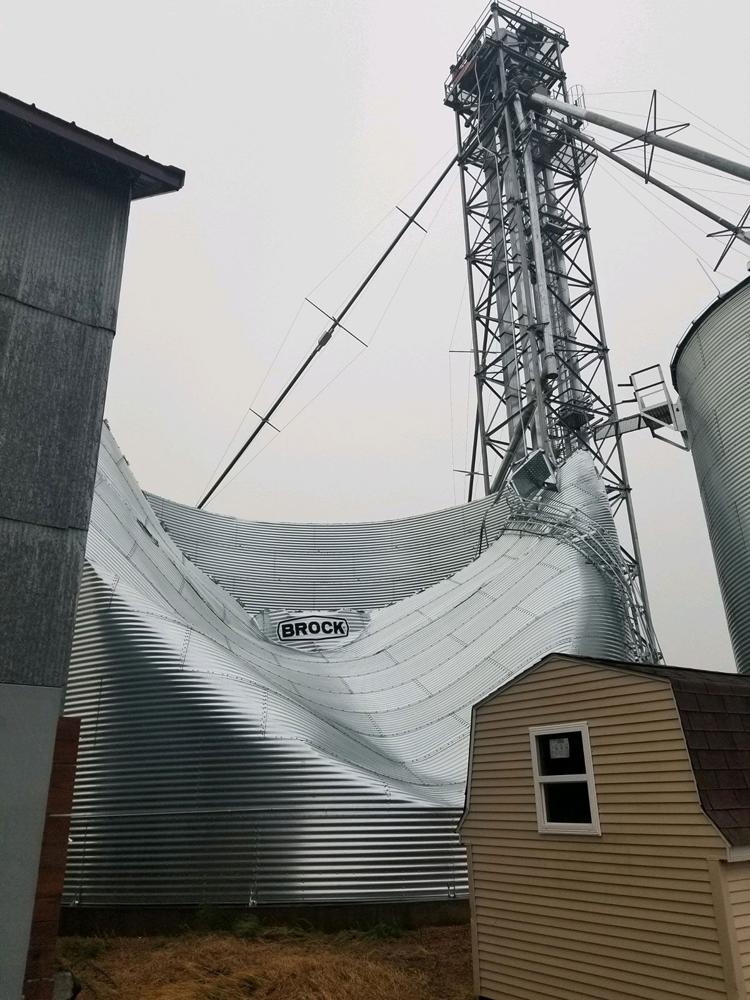 Although the extent of the crop damage is yet to be determined. there is clearly significant crop damage in large parts of Iowa, Hart said.
"We don't know for sure how badly the crops are damaged," he said.
Some fields were completely cut off and laid down. They may not be salvageable, he said. Others are damaged but there may still be corn to harvest. In still others, there is some kind of crop but it may need to be harvested as silage. There will almost certainly be grain quality issues this fall.
There will also be issues regarding grain storage, because numerous bins both on farms and at grain elevator locations were destroyed. With only weeks until harvest, few of those bins will be replaced in time to store crops coming out of the field this fall. 
"We were already short of storage," Hart said. "This exacerbates that situation."
Of course, farmers are hoping that the silver lining would be that at least the market would reflect those losses and lead to higher grain prices. Hart puts those ideas into perspective.
If 10 million acres were impacted that might mean about 3.5 billion bushels of corn. Not all of that disappeared. If 500 million bushels were lost it would impact the market. USDA's latest report estimated the 2020 U.S. corn crop at 15.278 billion bushels. A loss of 500 million bushels would lower that figure to 14.878 billion bushels. That is a smaller number, but it would still be one of the largest U.S. corn harvests in history.
Realistically, Hart said, the storm could possibly move corn prices from $3.10 to $3.35. But there would also be major basis factors that would change local markets, thanks in part to the loss of storage.
Many livestock producers lost sheds and hoop buildings, meaning shelter for livestock could be an issue in some places, according to Dal Grooms, communications director for the Iowa Pork Producers Association.
Many of those livestock producers also lost electricity, but most producers with confinement buildings have generators, allowing them to keep up ventilation and provide for the safety of those pigs, Grooms said.
But harvest is not far away, meaning some of these issues will not be solved before the combines roll. And in the midst of that effort, livestock producers will be trying to provide shelter for animals before winter. Most farmers were too busy cutting trees and hauling debris last week to worry about those longer-term issues, but they were calling insurance agents and starting to consider the options.
They were also starting to share their personal stories. Yates said his father was sitting in a semi-truck when the storm hit. Crow and his grandfather were sitting in a pickup truck at their sweet corn roadside stand as they watched the rain come at them sideways.
Once the wind stopped, they all started working on cleaning up the mess. Colfax area farmer Charles O'Roake stopped for a break in his clean-up efforts to take it all in.
"I just want to get 2020 over with," he said.
IFT editors Jeff DeYoung and Phyllis Coulter contributed to this story.