MANCHESTER, Iowa — When Jordan LeClere learned about the devastation caused by flooding along the Missouri River, he knew he wanted to do something.
He called his friend Josh Wendling to see if they could get a few people and resources together to help. They had no idea how much help they would receive.
Wendling said when they started, they were hoping for one semi-load of hay along with some pickups with supplies. When they left their hometown of Manchester, Iowa, on April 6, the final tally was six loads of hay (nearly 600 bales) and two gooseneck trailers of fencing materials.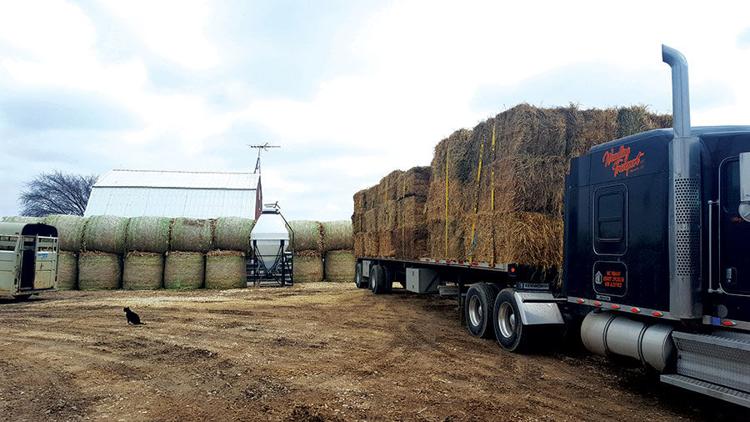 LeClere said with the cash donations that poured in, they bought more than $14,000 worth of fencing, which included up to 37 miles of barbed wire and "more posts than I can count."
"It's way higher than I ever thought," he said. "It's incredible. There's been such a willingness to give. When something like this happens, they don't know what to do.
"Sometimes there's donations set up where the money might not go directly to someone affected, but we are hauling stuff out that people are going to be able to grab and go to take care of their cattle."
They left their northeast Iowa town and took Highway 20 all the way to Verdigre, Nebraska, where they dropped off the supplies. On the way, the convoy grew, as they met up with two trucks from Ohio Relief Haulers who got separated from their own group.
Verdigre welcomed the group with a firetruck escort, and LeClere said their trucks were unloaded in an hour and a half. Afterwards, he said there were Maid-Rite sandwiches ready for the crew to dig in to.
"Before we left, there were two flatbed tow trucks that rolled in from Rochester, Minnesota, that had relief supplies on there," he said. "It was incredible that we weren't the only ones there. There was a steady flow of traffic."
He said the items they brought were snatched up quickly.
"I didn't see a lot of fencing material (left)," LeClere said. "I'm pretty sure that's what they were really needing."
The weeks of preparation were busy for Wendling and LeClere, who both have full-time jobs and their own farming operations. The destruction that some farmers had due to flooding put things in perspective.
"We were having a tough go of it calving, but then I saw what was going on out there and they had it way worse than we did," said Wendling. "We can fix our issues with medication. They can't."
LeClere, a farm loan officer and farmer in Manchester, said seeing what these people in western Iowa and eastern Nebraska have had to deal with made the long hours much easier to swallow.
"If you watch on social media, you see all these guys after bad snowstorms are digging their cows out of snow banks," he said.
"Now they have to go across the river with snorkels on their tractors just to get to them to try and get them some hay. That's one extreme to the other. It's hard to imagine what they go through in a situation like this. I don't think we've ever had anything like this happen to us."
Back from the trip, LeClere said they are hoping their donations made a difference, and they are hoping to take some well-earned time off.
"I think we are both happy to be back home and have done our part. Most of Sunday afternoon, it bugged me that we weren't out there still and there wasn't more we could do," he said.
"I think we had a great trip, but I wish we could have stayed a couple of days and helped out. We both hope someone else sees what we did and tries to do the same thing."