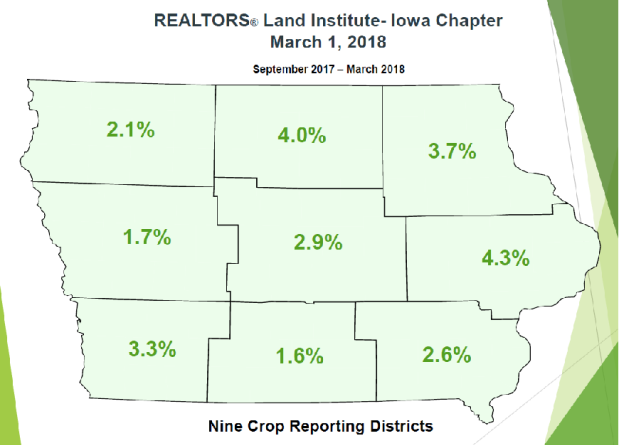 AMES, Iowa – Iowa farmland values are slowly creeping up, climbing 2.9 percent in the past six months and 4.9 percent in the past year to an average price of $6,951, according to the state's farmland realtors.
The Realtors Land Institute – Iowa Chapter surveys its members every six months in regards to farmland values. The latest survey, released on March 21, show a gradual increase statewide. But the group's leaders say they can't predict where prices will go from here.
"We're not sure exactly where the market is going to go," said Kyle Hansen, a realtor who leads the survey. "It's a volatile market."
The farmland market exploded between 2008 and 2013, doubling from an average Iowa price of $4,276 in 2008 to a high of $8,690 in 2013. It then dropped gradually for four years before climbing in the past year. Corn and soybean prices also soared from 2008 to 2013 but have since dropped back close to 2008 levels.
The question, Hansen said, is whether the traditional relationship between commodity prices and land prices will renew itself or whether land prices have reached a new plateau in relationship to commodity prices.
"I think we've seen a disconnect between actual production and land values," he said.
Part of that may be that farmers are still depending on profits made during the boom cycle. Part of it may be because most of the land being sold is coming from estates or trusts or other groups that inherited land, rather than from farmers who are liquidating operations in the face of poor finances.
Hansen said the realtors surveyed cited several reasons for the mild increase. The reasons included a small amount of land available, low interest rates, higher than anticipated yields last fall, movement of money from the stock market to land, and some increases in commodity prices early this year.
Negative factors cited included generally low commodity prices, tight operating capital, lower rents, projected increases in interest rates, and uncertainty both in regards to trade and to the farm bill.
And most buyers are farmers.
When divided by crop reporting districts, the increases were:
2.1 percent in Northwest Iowa
1.7 percent in West Central Iowa
3.3 percent in Southwest Iowa
4 percent in North Central Iowa
2.9 percent in Central Iowa
1.6 percent in South Central Iowa
3.7 percent in Northeast Iowa
4.3 percent in Northeast Iowa, and
2.6 percent in Southeast Iowa.
Values also went up for forage land and for timber, although those increases were not uniform statewide. For example, forage land dipped slightly in South Central Iowa.
END