AMES, Iowa — Iowa farmland values dropped 1 percent in the past six months and 2.7 percent over the past year, according to a survey of Iowa ag land agents released today.
The March 13 report by the Iowa chapter of the REALTORS Land Institute showed that cropland values slipped slightly from Sept. 1, 2018, through March 1, 2019. But the results varied widely across the state's crop reporting districts, with land values dropping 2.8 percent in North Central Iowa but rising 3 percent in Southeast Iowa.
Weather and crop conditions were major factors in the regional variability, according to Kyle Hansen, a Realtor with Hertz Farm Management in Nevada, Iowa. Southeast Iowa had seen several dry years in a row before late season rains last year boosted yields and increased farmer confidence.
Still, the drop in land values over the past year is in keeping with the results of the past several years.
The surveys in recent years show Iowa farmland values were at $4,276 in March of 2008. They then sky-rocketed, reaching a peak of $8,690 in March of 2013 before starting a long, gradual decline to today's average of $6,794.
The value of Iowa pasture and timber land also dropped, Hansen said.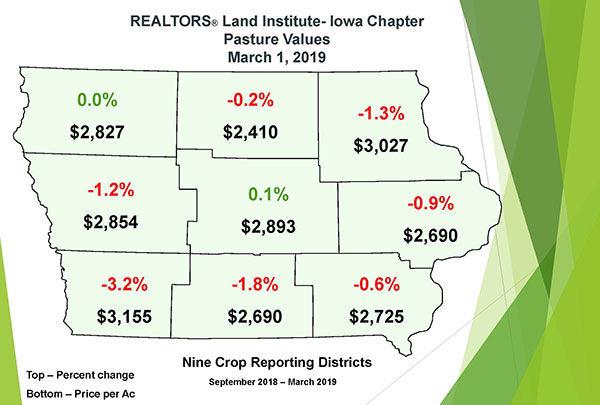 The survey indicates that the value of cropland rose 3 percent in Southeast Iowa and 0.4 percent in West Central Iowa. The other seven crop reporting districts reported drops in value, ranging from a 0.5 percent decline in Northwest Iowa to a 2.8 percent drop in North Central Iowa and a 2.7 percent drop in Northeast Iowa.
Other crop reporting district results in the survey were: Central Iowa down 1.9 percent; East Central Iowa down 1.3 percent; South Central Iowa down 1 percent; Southwest Iowa down 1.6 percent.
Positive factors impacting farmland values included a relatively small supply of land available, low interest rates, higher than anticipated yields, 1031 tax exchanges and volatility in the stock market.
Negative factors included low commodity prices, uncertainty over trade, some increase in interest rates, tight operating capital and a slight trend toward lower rents.
Hansen said it is difficult to predict where land values go from here, thanks in part to the uncertainty on the trade and commodity price front, as well as uncertainty about planting conditions and weather.
The bottom line, Hansen said, is that "land values are mixed, stable to softer."
Ray Massey, an ag economist for the University of Missouri, says land surveys and Federal Reserve reports all indicate something similar.
"In Missouri, most of the evidence is that (farmland values) are holding steady," he says.
He says some neighboring states, like Kansas and Iowa, have seen land values decline, which could be due to how land values moved during the relatively booming times of 2013 and 2014.
"In Iowa, their land values went up really high really fast," he says. "In Missouri it didn't go up as fast."
Location remains the key factor in determining land values.
"The No. 1 thing is it's location specific," Massey says. "If you get a piece of land between two farmers that really want it, then you've got a bidding war. On the flip side, if there's no surrounding interest, it's hard to get much. The farmers within a 10- or 20-mile radius are the ones who are going to bid hard for it."
Massey says good, tillable land remains the most in-demand, but he has noticed growing interest in 20- or 40-acre plots of timber that are popular for hunting or for leasing hunting rights.
Some auctioneers have been breaking up farms into smaller tracts to make them most attractive to buyers.
"Auctioneers take 20 or 30 acres of trees and separate them from 80 of crop ground," Massey says. "The land with trees takes away value from the 80 of crop ground. The 20 acres of trees are actually valuable themselves as hunting pieces."
Especially in tough economic times for farming, making land as attractive to buyers as possible is extra important, Massey says.
"What they're trying to do there is target a specific buyer," he says. "The auctioneers are probably earning their keep right now."
Massey says farmers are being a little cautious about buying farms right now, wanting to make sure they can budget a profit on them.
"Most farmers don't have a whole lot of available cash to add without a clear objective," he says.
Jeff Quinn, a broker with Missouri Land and Farm, says quality remains important to farmers.
"The good laying land is what's selling," he says. "The good stuff's still in high demand."
Quinn, who is based in Brookfield, Missouri, says most buyers are focused on rate of return.
"It's return, what they're going to get in their pocket," he says.
Some of the buyers have been farmers relocating from other states with higher property tax rates than Missouri.
"A lot of our farmers are coming from Nebraska and northern states," Quinn says.
Recently, Quinn says bigger tracts of land have been harder to find, but he's been selling a lot of smaller farms. The types of farms most in demand can fluctuate, as can their values.
"It's supply and demand," Quinn says.