DES MOINES — For thousands of Iowans, a trip to the state fair just isn't complete without a look at the butter cow. For Sarah Pratt, the tradition runs deeper.
"You know, my dad went to school with her kids," Pratt says of famous Iowa butter cow sculptor Norma "Duffy" Lyon.
"I went to school with her grandkids. We went to the same church."
When Pratt was just a kid herself, she helped out at the Tama County Fair and got the chance to come along with her friend, a member of the Lyon family, to the state fair.
"I thought that sounded fabulous," Pratt says.
Pratt grew up in town. Her farm friend soon discovered Sarah wasn't very good at helping with the livestock show. Somehow she ended up helping with the butter cow instead.
She loved it.
What started out as a lark became an annual tradition. And when her mentor retired from the job, Pratt became the butter cow lady in her own right.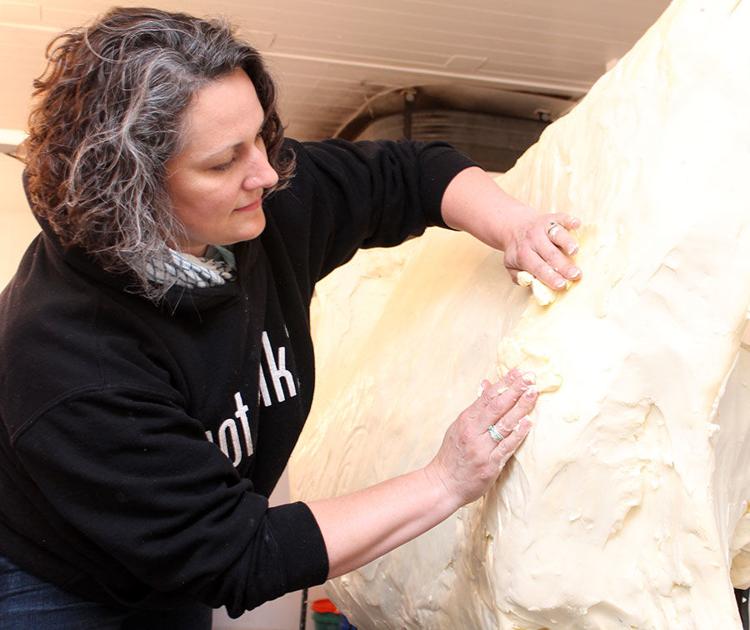 That was 2006. The Iowa State Fair had featured a butter cow for nearly a century. The first one was displayed in 1911. Duffy Lyon had helped out in 1959 and taken over the duties in 1960.
Pratt, who makes her living as a special education teacher, insists that sculpting a butter cow is really a team effort. First of all, there is the design. The main item is always a dairy cow, but there is always an additional sculpture or series of sculptures. In 2009 it was Neil Armstrong on the 40th anniversary of the moon landing. Last year it was a Waterloo Boy tractor in honor of the 100th year of John Deere tractors. This year the theme will be the 50th anniversary of Sesame Street.
And the sculptures are not made of solid blocks of butter. Instead, they're constructed on a wire frame.
"My brother is a mechanical engineer, so he helps with that," Pratt says.
The work begins well before the fair but continues into the first few days, so the visiting crowds can see Pratt working in the refrigerated display area.
The cow will include about 450 to 600 pounds of butter, and the total display will feature about 1,200 pounds of butter. And, no, you cannot take any of the butter to spread on your sandwich at the fair.
"You wouldn't want to do that," Pratt says with a laugh. "I reuse it year after year."
It's worth noting that Pratt doesn't confine her butter art to Iowa. She also sculpts butter cows for the Kansas and Illinois state fairs.
And she says it remains both a family project and a labor of love.
"My team is my family," she says.