KALONA, Iowa — Despite the weather outside being less than delightful, people found good reason to crowd downtown Kalona, Iowa, in early December.
Santa Claus made his annual appearance in the small southeast Iowa town, and people were willing to brave some rainy December weather to see him.
"We had a line out the door and all the way down (the block)," said Ben Curtis, director at the Kalona Chamber of Commerce.
While rain forced changes to outdoor events at this year's Christmas in Kalona, the community still made the event a success, Curtis said.
"We had good turnout at our handmade and our vendor shows," he said. "We were pretty happy with everything except for canceling the ice skating rink.
"Christmas in Kalona is a staple in the community. We have people that look forward to it and plan it as a Christmas tradition every year, which is really awesome."
There were two vendor fairs, with one held at the newly built Kalona Community Center, and a handmade craft show held in Kalona's Historical Village. Featuring everything from local businesses showing off their wares, to area crafters making anything from ornaments to wood carvings, there was plenty to see.
Two area woodworkers, Vicki Reynolds and Jody Freel, set up their collection and said the feeling during the day was terrific.
"The atmosphere is amazing," Reynolds said. "You get to meet such nice people. The people walking through or the other vendors, it's so much fun to be a part of this."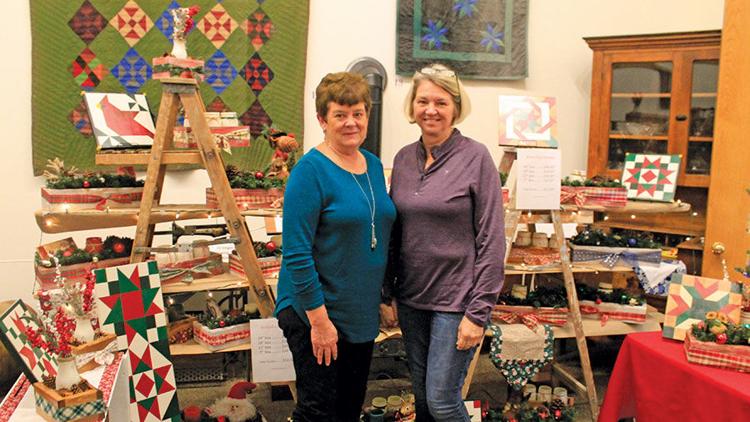 After Santa's arrival on a firetruck — the highlight of the day for many children and parents — the town hosts ornament and cookie decorating stations. Then families were able to wander the downtown streets and visit shops in what they call the Walking Stocking.
Similar to Trick-or-Treating, children visit businesses and pick up candy for their winter stash, while parents were able to participate in a business Bingo.
"It's a family event where families can come down and there is different activities for the kids," said Nancy Roth, managing director at the Kalona Historical Village. "The Walking Stocking has been really popular and it gives adults an idea of what is available in the community. It introduces what we have in the area for adults and kids."
Other events included wine sampling, a movie showing at the public library, an ugly sweater contest and a cookie walk, with more possibly on the way in 2019.
"Every year we are striving to do a little better and keep things new and fresh," Curtis said. "So I would tell people to stay tuned for a few new things next year and reworking a few of our traditions."
Regardless of the weather, the Christmas spirit was not going to be dampened in Kalona.
"I thought it went well," Roth said. "The weather wasn't necessarily on our side, but it's harder these days to have a nice Christmas event. There's all sorts of towns that are having their own venues and things. We had great vendors with some nice stuff and overall they were happy and did well. It's nice to support all our area people that make handmade items."