Forget all the debates over citizenship questions that have dogged the U.S. census. The Census of Agriculture is a different type of document, but one that is still very important to farmers.
After all, Congress will look at some of the numbers when making decisions about federal farm programs and how to best target funding. And input companies will look at it when deciding where to target their efforts.
And farmers will try to decide what the trends shown in the latest Census of Agriculture mean as they plot their future.
"There's a wealth of information that's there," says Gary Thessen, regional director of the USDA's National Agriculture Statistics Service in Des Moines.
Data from the 2017 Census of Agriculture started rolling out in April. Some of that information needs to be taken into context. By statute, USDA's definition of a farm includes some very small operations of only $1,000 in sales, so that can skew some of the numbers, according to J. Patrick Arbuckle, a rural sociologist at Iowa State University who uses some of the numbers in his work.
The census was first conducted in 1840 and in recent decades has been done every five years. The figures released earlier this year are from 2017.
Nationally, the information does not hold a huge number of surprises.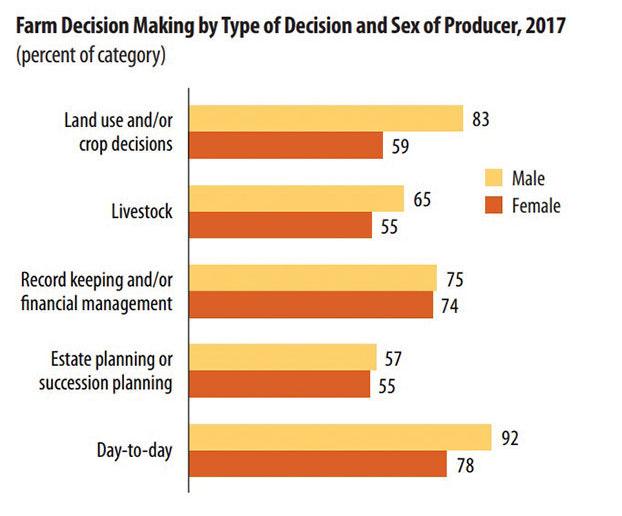 The average age of farmers in this survey is 57.5. That figure continues to rise. If was 55.6 in 2012 and 54.5 in 2007. Only 9.4% of farmers are under 35 years of age, but 27% are classified as new or beginning producers. There are now more farmers than ever over the age of 65.
There was a large increase in the number of female farm operators. The latest census shows 36% of producers as female.
Many of those numbers are part of long-term trends, but a few may reflect the fact that the 2012 census was taken at a time of high agricultural prices and the 2017 census was taken at a time of low agricultural prices.
"You can't always say that the numbers say this or that," says Iowa Farm Bureau Federation economist Sam Funk, who explains that in some cases the question or definition changed or the technology involved changed.
But he adds that the census does provide an important snapshot of agriculture that is used in a variety of ways.
He said one thing it shows is that the make-up of agriculture is gradually changing. There are more women farming. The average age of the farmer keeps going up. About 39% of farmers don't work off the farm at all, but another 40% work off the farm for more than 200 days a year. Agriculture remains predominantly white, with 95.4% of U.S. farmers listed as white.
Farmers who want to find out more can look online at https://bit.ly/2GgxAhN. The page even has a query feature, so farmers can ask about figures for a specific county or item.