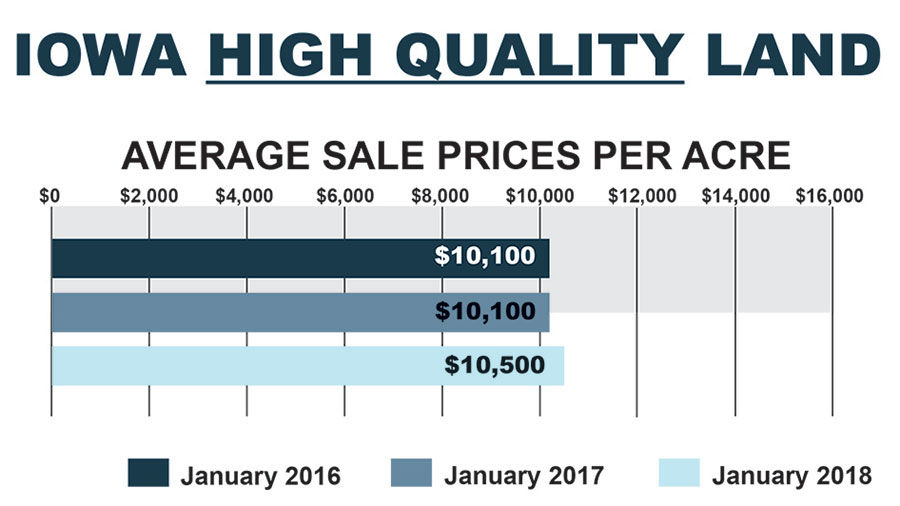 OMAHA, Neb. — The historic run-up in land prices during the decade leading up to and including 2013 faded in to the background as the past four years instead witnessed a steady and measured decline in values for crop and grazing land throughout the Midwest and Great Plains.
Good quality land generally declined less while lower quality tracts saw weak demand and a bigger price decline. At this time, the market for quality land is steady to slightly stronger.
So, what's next for land values, up or down?
Randy Dickhut, senior vice president of real estate operations for Farmers National Company, said there are a number of positive factors supporting current land values.
"The industry has experienced a post harvest bump in land prices in most grain producing areas," he said in a company news release. "With above-average crop yields in most locations, farmer optimism has increased, as has the bidding for quality crop land. The supply of land on the open market remains low while the number of buyers and demand is adequate."
Other factors also are providing support for today's land prices, Dickhut noted. Continued low interest rates are helping create a demand for ag land as a long-term investment for individuals and institutional funds.
"In general, there is still enough purchasing power in the hands of farmers to compete for good land or land that helps grow one's operation. We are also seeing a small increase in 1031 tax deferred exchange buyers as they move to trade into different land or to diversify out of other real estate holdings and into cropland," Dickhut said.
However, there also are factors on the horizon that could negatively affect land values, Dickhut noted.
Current farm economics are not conducive to strength in the land market. Low grain prices are keeping overall farm income levels depressed. That means that lower incomes are reducing the cash flow necessary to finance crop inputs, equipment needs and land payments, leaving less cash for land purchases.
"Individual and institutional investors are well aware of the lower grain prices and incomes. The resulting reduction in the return on investment for land has kept some investors out of the land market during the past few years," he said.
Another factor that may weigh on land prices is that lenders are being more cautious in the amount of money they will lend for agricultural land purchases. This could dampen demand as farmers and ranchers are the predominant buyers of crop and grazing land, Dickhut pointed out.
"Cash flow and equity concerns of farmers could generate additional land for sale in the market as some producers liquidate either land or equipment to shore up their finances. The magnitude of these additional land sales will probably be small and vary by region, but the potential for an increase in the supply of land on the market bears watching," he said.
The final factor that could have a downward effect on land values are the outside influences.
This could include negative outcomes for trade that U.S. agriculture depends on, unexpected consequences from tax laws and potential changes in the next farm bill.
"The next six months will determine the direction of land values. Economic and financial factors will become more evident for producers and lenders. The factors and the outside influences will become better defined as we move through 2018," he said.