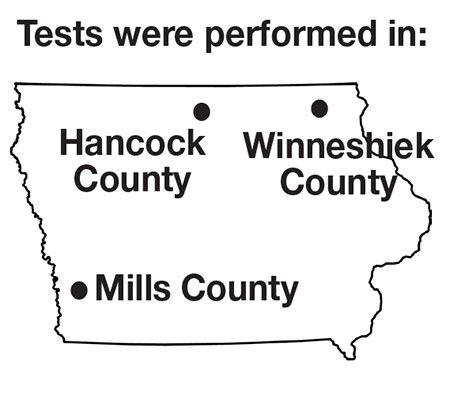 DECORAH, Iowa — The last time Bob Hemesath tested his drinking water was when he put in the well.
The Decorah, Iowa, farmer replaced his well in 2013, and while he didn't have too many concerns, he said he knew getting an updated test was a good thing.
"We probably don't do it regularly enough," he said.
The results Hemesath received from the University of Iowa State Hygienic Lab showed his water was safe in all aspects, with levels of coliform bacteria, E. coli, arsenic and nitrates all meeting satisfactory levels.
Hemesath has three wells on his farm, with two being on livestock sites. He tested the water of the well going to his house.
"It's always good to check your water, especially living here, and I want to see that it's healthy and good to drink," Hemesath said. "I wasn't surprised by the results because we've got good water and good wells around here. It's always one of those things you are conscious of."
He said the only additional treatment he does to the water is a purifier attached to his refrigerator.
Winneshiek County Environmental Specialist Doug Groux said he isn't surprised to see good results from his area.
"Normally our water tests pretty well here," Groux said.
He said older wells, such as windmill wells or wells that have old casings and aren't as deep, tend to have negative results.
Wells in this part of northeast Iowa range from 100 feet deep to 600 feet deep, depending on the location, with deeper wells tapping into the Jordan aquifer, which might provide higher gallons per minute. That kind of volume helps farms with livestock, Groux said.
He added any time there is a color or odor change, it's a good time to test your well. He recommended older wells be tested more frequently.
Hemesath said his 600-foot deep well is likely a good representation of the area.
"Most of the new wells around here are probably in the same vein," he said. "I know one neighbor drilled for his cattle lot and it wasn't that deep, but it wasn't for human consumption. They have good water anyway, so they went with it."