When Brian Dougherty made a career change, it resulted in a once-in-a-lifetime opportunity to travel the world — and also brought him back to northeast Iowa.
Dougherty grew up on a Waukon dairy farm. When he was in junior high, his parents enrolled in the dairy herd buyout. During high school he worked on neighboring dairy, beef and hog farms.
Eventually the family started milking again. In 1996 he and his brother Scott formed a partnership and started buying the cows and eventually the machinery and land from their parents.
But around 2011, Dougherty was looking to make a change. He could see that to remain a viable operation that supported both brothers, they would need to expand. He had no desire to milk 500 to 600 cows.
"You're more of a people manager," he said. "I decided to get out."
Scott bought some of his cows and the machinery. Dougherty still owns half the land and buildings, renting them to Scott.
At 37, Dougherty returned to school. He and his wife Kecia set out for Oregon State University, where he majored in ecological engineering.
"I was interested in environmental issues, and I've always been fascinated by science," he said.
As he pursued his degree, he realized many environmental issues tie back to agriculture. When he graduated, both he and Kecia were anxious to return to the Midwest. He was accepted in the ag and biosystems engineering graduate program at Iowa State University, where he was a research assistant for ISU ag engineer Matt Helmers. He investigated effects of cropping management practices on soil health and nutrient losses to subsurface drainage water.
While at ISU, Dougherty was selected for the Nuffield International Farming Scholars Program.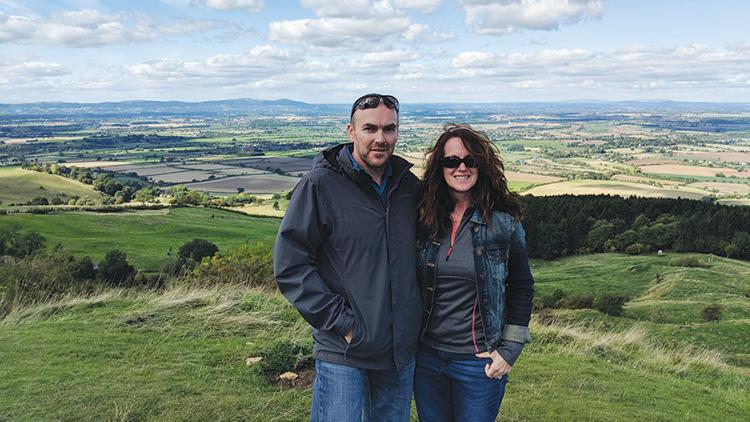 Nuffield, an international nonprofit organization, has three components. The first is a weeklong conference for all Nuffield Scholars. In 2018, the year Dougherty participated, it was in the Netherlands. They went on agricultural field trips and got acquainted with each other and the program.
The second component is a group trip. Dougherty toured with four Australians — a sheep and grain farmer, an agronomist, an avocado grower and a person who worked for a large poultry company. There was a business development manager from New Zealand, a robotic engineer from Wales and an organic vegetable grower from Ireland.
During March and April 2018, they traveled together for six weeks visiting Italy, Washington D.C., Texas, British Columbia, Argentina and Chile to learn about agriculture.
"You get in a van with complete strangers and travel the world together for six weeks, you learn a lot about yourself and dealing with other people and handling conflict,'' Dougherty said.
The third component is individual travel and study. Dougherty spent 10 days in New Zealand and 20 days in Australia, as well as traveling to France, the Netherlands, the United Kingdom and Ireland.
Kecia, who was working in human resources and student affairs at ISU, was able to accompany him for part of the trip.
He stayed with other Nuffield scholars, which cut down on costs and helped him in making local contacts. Since then, he has hosted Nuffield scholars here.
Wherever he went, he connected with people working on soil health and water quality issues. He looked at new manure management technologies in the Netherlands.
As he met with farmers worldwide, he learned they are all dealing with the same challenges — farmers are aging, land is expensive, and it is hard for young people to get started.
Dougherty visited several farmers who had adopted no-till or strip-till with cover crops. They were adding diversity to their operations to create new revenue streams.
He began to see how much farmers have in common instead of seeing them as competitors.
"They're all trying to raise a family and make a living farming," Dougherty said. "It gives me a new appreciation for food production around the world. We're all in the same boat."
After his international travel, Dougherty returned to Iowa to write his research report and give presentations to his funding organizations — the Iowa Corn Growers Association, Iowa Soybean Association, Iowa Pork Producers Association, Iowa Farm Bureau Federation and the National Pork Board.
As Dougherty was finishing his master's work, an ISU Extension ag engineering position opened up in northeast Iowa. He now works out of Dubuque County, serving farmers in 19 northeast Iowa counties.
His master's work and Nuffield study experiences are benefiting him. He spends about 30% of his time on water quality, soil health and drainage issues. The other 70% of his time is devoted to livestock-related concerns.
"It's a really fun job, and it's extremely handy that I was a dairy farmer," he said. "ISU Extension was a tremendous resource for me when I was farming. That's what drew me to this job."
Helmers, director of the Iowa Nutrient Research Center, said Dougherty's unique experiences during his graduate studies traveling internationally on the Nuffield fellowship "will pay dividends to clientele in northeast Iowa for years to come."
Learn more about Nuffield International Farming Scholars at www.nuffieldinternational.org.